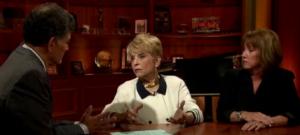 Illinois Comptroller Judy Baar Topinka, who died at the age of 70, is remembered for her personality, beliefs, and sense of style and humor. 
"She was a character. She was flamboyant, particularly for Illinois politics," said former executive director of the Illinois Campaign for Political Reform Cindi Canary, who knew Judy Baar Topinka since the mid-1990s. "In an environment that tends to be white shirts, suits and ties, Judy had bright red hair, elaborately put together outfits from the thrift store, a giant Big Gulp of coffee things, and usually a couple of dogs trailing her. She stood out right away."
Topinka also stood out for her beliefs.
"She wasn't shy about the fact of who she was, that she was pro-choice, and she believed in equal rights," Canary said. "Judy believed in what she believed in and stood by it."
Former Illinois Republican Party Chairman Pat Brady, who knew Topinka for more than 15 years, called Topinka the "gold standard" for winning statewide elections.
"She was a candidate who fit the state well—a fiscal conservative and more moderate on social issues. She didn't lead with those issues, and I think that had a lot of appeal to the general electorate," Brady said. "She was a good Republican because she was fiscally conservative, a good government representative. What differentiated her was marriage equality. At the marriage equality bill signing, she gave the best speech, I thought."
In her speech, Topinka said she wanted to embrace everybody and make life better for all, Brady said.
"She was the only Republican that spoke. She did what she believed was right and in the best interest of her constituents. You can't ask much more than that," he added.
A socially moderate Republican, Topinka was willing to work across the aisle.
"One of the things that always struck me about Judy—is really unusual in Illinois partisan politics—was she was always there. At union luncheons, Judy was there," Canary said. "She was a very socially moderate Republican who was very open and reached out, and she made a point to try and talk to everybody. And I think that was one of the reasons she was so loved."
When asked which memory or story she will always remember about Topinka, Canary said she'll always remember a particular phone call.
"Judy had gotten some funds transferred to her from [then-Gov.] George Ryan, and then Gov. Ryan got in a world of trouble. And I called Judy as this story was sort of percolating. I get this call back and I hear [whooshing noises]," Canary said. "[I ask her], 'Where the hell are you?' [She says], 'I'm standing by the side of the highway 55'—the big interstate in Springfield. And I ask her why? She says, 'I can't talk on the phone and drive.'"
During their conversation, Topinka said she was going to return the money to Ryan. When questioned by Canary how that would help anyone, Topinka changed her mind.
"She said, 'you're right. I'm giving it to the Humane Society,' which she did," Canary said. "I was always so struck that the State Comptroller just pulled over and trucks barreled by her so she could take a call."
Every time Brady met with Topinka, she always asked him, "What can I do for you?"
"I can't think of a time she didn't ask that," Brady said, adding Topinka asked him that same question the last time they met last week. "I just remember every time I met her, I ended up laughing about something… It was always some political stupidity or story. She had that kind of sense of humor. She always had a sense of humor and was always good fun. She'll be missed."
Topinka will be remembered for her personality.
"She was an original. She was an eccentric which makes politics more fun when you have people like that," Canary said. "[Judy] will be remembered for her convictions and for the fact that she was a fiscal conservative who took her job quite seriously, but she seemed to bring a lot of humor into her life, and I think [she will be] remembered and I hope remembered in a way that encourages others. She was somebody who was willing to cross the aisle to speak to everyone. She was just a very open, kind woman."
"She had a unique personality. She was a unique politician and a unique public servant. If you really talked to her and spent time with her, she could bend your ear for a long time about her son, who she was very, very proud of, her dogs, her cats, and her passions," Brady said. "She was a trailblazing woman. When women were referred to as broads, she fought the good ol' boy network, and she was a trailblazer as a woman leader in politics, and probably nationally."
In 2011, Canary and Topinka discussed the effect of the Blagojevich trial on the future of Illinois politics on Chicago Tonight. Watch the clip below.