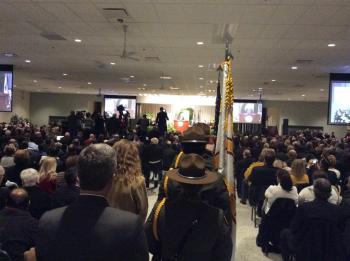 Hundreds of mourners gathered to remember Judy Baar Topinka today. Both Gov. Pat Quinn and Governor-elect Bruce Rauner were on hand, as was Mayor Rahm Emanuel. Topinka's friends and family offered heartfelt and oftentimes humorous tributes to the former lawmaker, treasurer, comptroller and candidate for governor.
But the question of who will succeed Topinka for the next four years as state bills pile up is still unresolved.
Topinka was remembered as the glass ceiling-shattering, rescue dog-loving, truth-telling, straight-talking politician who never left empty-handed at an estate sale, and never paid the asking price. The crowd packed the Operating Engineers Union Local 150 Hall in southwest suburban Countryside as dignitaries, friends and family offered reflections upon the loss.
"There's a hole in the hearts of the people of our state," said Gov. Quinn. "Judy Baar Topinka, time and again, as state representative, senator, state treasurer and comptroller, she was always known for telling the truth."
Rauner told the audience that he'd come to know and love Topinka over the last few years, and that he'd even recently received a tin of Christmas cookies from her at his house.
"A good life always ends too early," Rauner said. "We've got to learn from her, use her life as inspiration and reach even further together to make the world a better place, to improve the lives of families in Illinois."
Topinka died last Tuesday after having suffered a stroke. She had just won re-election to a second term as Illinois State Comptroller. On the day she died, Rauner held a press conference to call on Gov. Quinn to appoint Topinka's Chief of Staff Nancy Kimme as her successor for the remaining weeks of the current term, before Rauner appointed a successor for the new four-year term.
There have been whispers that Quinn might appoint someone to fulfill this term and the next term, potentially setting up a legal battle with the incoming governor. But Illinois Attorney General Lisa Madigan issued an opinion, saying language in the constitution called for two separate appointments from both governors.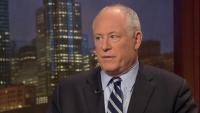 Kimme is one of Topinka's closest friends and a longtime political advisor. She tearfully recounted Topinka's blunt, no-nonsense style, and how it would sometimes give her staff fits. During the 2006 Republican primary for governor, Topinka had decided, as she did most years, to march in the gay pride parade. Kimme says she advised Topinka not to for fear of political backlash.
"She would have none of it, she insisted on doing it anyway," Kimme said, adding that she urged Topinka to sneak through a back way to avoid facing anti-gay protestors. "Protestors loved to go after her because she was the one Republican in that parade. I told her, 'Can we just go through the back?' And she said, 'No, Nancy, I'm not going to be controlled by those bigots.' And she'd go right through that front door."
Topinka's eulogy was given by her son Joseph, a U.S. Army veteran and currently a legal professor in the army. He told the public officials in attendance to carry on his mother's legacy.
"I urge the citizens of Illinois to join me and my family to step up and make our state great again," Topinka said. "I know Abraham Lincoln would've wanted that, and so would have mom."
Read my live tweets from the memorial.