Did a series of questionable bond deals with private banks cost Chicago Public Schools $100 million? And can the cash-strapped agency renegotiate or recover that money? The Chicago Tribune this week highlighted the controversial financing deals that were made between 2003-2007. The mayor says CPS is stuck with them, but some aldermen question why he isn't trying to change that.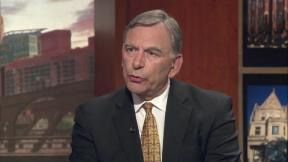 A group of aldermen are calling for hearings into these financing deals that CPS entered into with banks like Bank of America and Royal Bank of Canada, but Mayor Rahm Emanuel is essentially saying CPS is stuck with them.
This is in light of the Tribune investigation showing that between 2003-2007, CPS had hoped to lower borrowing costs by trading its fixed rate bonds for more exotic financial instruments like auction rate bonds and interest rate swaps. According to the investigation, and to various progressive groups that have sounded the alarm on these practices for the last few years, CPS ended up losing big – paying more than $100 million more over the life of these contracts than it would have had it stayed with the traditional bonds.
David Vitale, the current CPS board president who was then Chief Administrative Officer, played a central role in these borrowing decisions. Vitale has a long career in the banking industry. The Tribune investigation says Goldman Sachs, Bank of America, and a firm brought into analyze the deals for CPS, likely knew of the risks involved but failed to disclose them. Mayor Emanuel acknowledged the risks of these financial instruments but indicated he would not try and get out of the troubled bond deals.
"Under my tenure, there have been no swaps, and we've actually terminated about a billion dollars in value of swaps. This is about 10 years too late of a discussion, in my view," the mayor said. "I've told you what I've done, what you can do, and in other places where you can't, unfortunately there's a thing called a contract."
The Council's Progressive Caucus, frequently critical of the mayor, introduced the ordinance today calling for the hearings into the bond deals.
Last year, a group of community leaders met with Bank of America and were told by bank officials that the city could renegotiate, but had yet to reach out and come to the table. The aldermen say if one party didn't disclose what it was federally required to, the contract should be made void.
"The mayor's not an attorney but he has good attorneys in the city who could get us out of that contract especially if Bank of America didn't disclose everything to CPS when they got into these deals," said Ald. Scott Waguespack (32nd). "I don't see how you can't look into this and figure out a way to do it when other cities and governmental bodies are."
"Isn't it interesting when a mayor says we can't break a bond deal like this?" said mayoral candidate Ald. Bob Fioretti (2nd). "But we can break all the pension contracts that affect every worker in this city."
Chicago is not the only city or government that got involved in these complicated borrowing deals; some have restructured. The city of Oakland, Calif., has vowed not to do business again with Goldman Sachs unless they restructure the swap deals they have with that city.