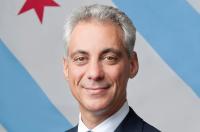 Mayor Rahm Emanuel reveals his proposed budget for 2015. Paris Schutz details the fees, fines, and taxes that will increase under the mayor's budget.
Emanuel presented the proposed 2015 city budget to the City Council. The $8.9 billion budget balances does not include new property, sales or gasoline taxes. Despite this, the city faces a $297.3 million deficit next year. But the proposed budget does not include a $550 million contribution to police and fire pension funds, which will have to be paid in 2016 under current state law. While the budget doesn't address the funding of those pensions, Emanuel did mention pensions in a press release about the budget:
"For the fourth year in a row, we will balance our budget and hold the line on property, sales and gas taxes. Like our past budgets, this budget restores money into the rainy day fund instead of raiding it. And this budget does something different than all prior budgets. It starts our journey to properly fund our pensions so our workers can have the retirement security they deserve and have earned. For the last three years, we have talked about the dangers of our looming pension crisis. Finally, we are doing something about it. Working with our partners in organized labor, we passed reforms that will shore up the pension plans serving half of our city's workforce – making sure that both retirees and taxpayers are respected."
The budget does include a 2 percent parking tax at public lots, marking the third time the mayor has increased or changed parking rates to bring more revenue to the city. Emanuel's proposed budget also includes investments in neighborhood services, including additional graffiti removal crews and a 30 percent increase in rodent control crews.
Education and children and youth programming will also get a boost in the proposed budget. The budget calls for $14.3 million for afterschool opportunities for nearly 17,000 children, $16.1 million in summer jobs for 24,000 youth, and $15.5 million in early education opportunities.
The full City Council is expected to vote on the budget on Wednesday, Nov. 19. A panel of aldermen discuss the budget on Chicago Tonight.