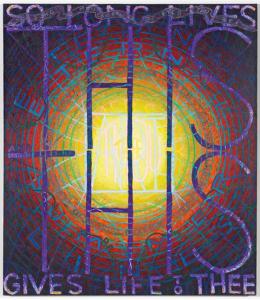 A free exhibition explores the artful use of language by contemporary Illinois painters and sculptors.
From the Belgian surrealist Rene Magritte to the pop artist Ed Ruscha, the skillful use of words on canvas has been called "a defining development in visual art of the 20th century." [From the book "Art and Text" by David Beech, Black Dog Publishing, 2009.]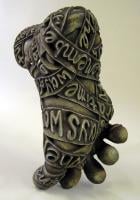 Naturally this artist's tool retains its power in the era of abbreviated messages and tweets. Text in art can challenge viewers, tempting them to interpret the work or reframe the meaning of a particular word. Often the words on canvas add a mysterious dimension to the surrounding visuals and vice versa.
As curator Robert Sill put it: "A hybrid is born…when words, poetry or type fragments combine with any form of visual art. It can trigger new thoughts, create narratives, or evoke feelings." As an example he cites the iconic "LOVE" sculptures created by Robert Indiana.
The exhibition is called "Pro-Text: When Words Enter Visual Art." Works include "Elapsed Time," made with expired watch batteries, and a full scale replica of a whaling boat engraved with messages about safety.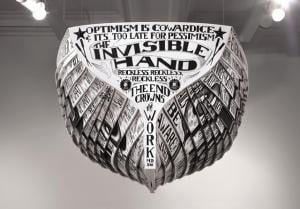 Significant Illinois artists are represented, including Philip Hanson (an original Imagist) and the late Hollis Sigler, as well as reputable Chicago galleries such as Packer Schopf Gallery and Corbett vs. Dempsey.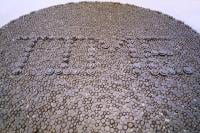 The exhibition is at the Illinois State Museum's Chicago Gallery located in the Thompson Center. It is free of charge and runs through Feb. 6, 2015.