The video cannot be displayed.
We spotlight a little-known gallery that focuses on artists from Illinois on Chicago Tonight at 7:00 pm.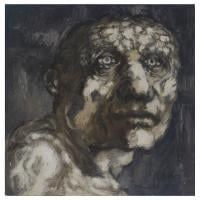 The Chicago Gallery of the Illinois State Museum's latest exhibit, Figurism: Narrative and Fantastic Figurative Art, has over a century of pieces representing the human figure, from artists across the Midwest. View a gallery of pieces in the exhibit.
The figurism movement was particularly strong in the Midwest, according to assistant curator Doug Stapleton, as a reaction to the abstract art popular in New York City in the middle of the 20th century.
"In my readings, there was this constant mention of the figure as something that still held currency for artists [in the Midwest]," he said.
Figurism often refers to the Chicago Imagists of the late 1960s, Stapleton said, but also includes the lesser known Monster Roster from the late 1940s, with artists such as Leon Golub and June Leaf.
"The Monster Roster had a lot of non-Western influences, and were trying to encapsulate that sense of horror about what humanity had done to each other during the [Second World] War," Stapleton said. "There's an aggressive, ghastly quality to some of their representation."
The exhibit includes a piece by Fred Berger, Untitled (head). "It has that same feel—sensitive face, but bulbous, distorted, emphasized flesh."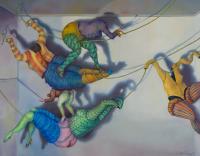 The figures are not always human and are sometimes fantastical. The Gray Room by Eleanor Spiess-Ferris depicts women's clothing, seemingly alive, strung up by rope. Spiess-Ferris is interested in addressing stereotypes and societal roles, often using dreamlike settings, Stapleton said.
"They're women balancing precariously on these ropes—basically doing the tightrope walk, but they're not doing it well, almost buffoonish," he said. "It's a commentary on the roles we play in public."
While some figurism was a reaction to abstraction, the movement had a wide range. Lorri Gunn's Limber Limbs in Limbo and a Trunk is part abstraction itself.
"It does veer more towards abstraction," Stapleton said. "But there's still a sense of a figure that's embedded in there…an energetic, expressive figure, like a dancing bug, in a wonderful, frenetic way."