A number of CPS principals say the new, privately-contracted custodial company isn't up to the job, and their schools aren't being cleaned properly. And principals fear it will only get worse, as Aramark announces custodial layoffs. 
---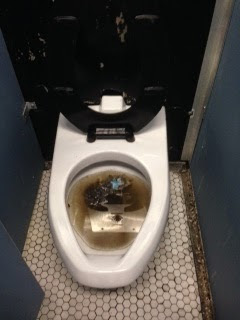 The smell of sour milk, dusty lockers and bookshelves, and overflowing garbage cans—these are just a few of the complaints from principals in Chicago Public Schools who say the private company managing custodial services in their schools are not getting the job done.
It's all gotten the attention of CPS and the mayor's office in recent days.
A sub-organization of the Chicago Principals and Administrators Association conducted a survey near the end of the summer of 230 principals on the quality of the custodial services they were receiving from the two companies contracted by CPS: Aramark and Sodexo.
The group is called the Administrators Alliance for Proven Policy and Legislation in Education (AAPPLE).
The organization's Chair Troy Laraviere said he began noticing a problem at his own school, Blaine Elementary, then began to hear much more from teachers during professional development sessions over the summer.
Watch an interview with LaRaviere:​
That's what sparked the interest in the survey, which found most principals noticed a big change in the level of custodial service they were receiving.
Principals have also complained about garbage cans not being emptied, bathrooms weren't being sanitized, and the smell of sour milk or urine permeated parts of some schools.
The principal of Morrill Elementary sent Chicago Tonight pictures of trash inside the fire alarm and a dead mouse on a mouse trap that apparently hadn't been cleaned up.
View a slideshow of the sanitation complaints:
Hanson Park Elementary in the Belmont-Cragin neighborhood has about 1,600 enrolled students. The principal introduced us to a janitor who just started at Hanson Park last week and had just been told he'd be at another school by the end of the month.
Many principals have complained that there's a rotating crop of custodians coming through their schools, and they often can't even find out who they are.
Many teachers said they've started to do the extra cleaning themselves.
And they're concerned that it's only going to get worse. Aramark recently announced the layoffs of 468 custodians.
So for schools like Hanson Park, for example, where there's a staff of six custodians are expected to lose up to three janitors.
CPS and the local that represents the custodians, SEIU Local 1, released the following statements in response to the recent layoffs by Aramark.
"While the majority of schools enjoyed a smooth transition, CPS officials are working closely with Aramark to address the transition issues and Aramark is bringing in more than 50 custodial staff at its own expense to ensure our schools have the clean, comfortable learning environment that our students deserve."

-CPS Spokesman Bill McCaffrey
 "SEIU Local 1 has told Aramark in our ongoing discussions that while the company's plans do create some efficiencies, when it comes to the janitors, Aramark's cuts run way too deep to maintain the same level of cleanliness. Local 1 can work with Aramark and principals on a number that enables schools to be maintained at their previous level of cleanliness."

-SEIU Local 1
Aramark told Chicago Tonight in a statement that they understood the concern and will do their best to continue to provide efficient service despite a smaller pool.
"We recognize the importance of a smooth transition and are meeting with every principal in the district to address their concerns, as well as review our program, which we have placed at hundreds of school districts across the country. We have been training all CPS custodial staff on new equipment, environmentally-friendly cleaning techniques, and are confident this program will deliver the results and savings promised..."

-Aramark
The mayor's office has yet to release an official statement, but they've said publicly that they're looking into the issue and that these problems are unacceptable.