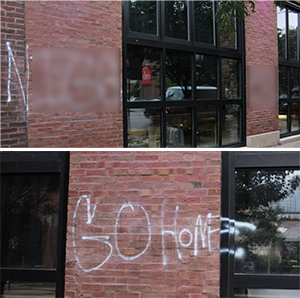 Chicago's predominantly-white River North neighborhood was the scene of a candlelight protest to promote racial diversity.
The African-American owners of the Nouveau Tavern led the "silent segregation rally" Wednesday night following weeks of what they claim to be discrimination against the restaurant and nightclub.
The club has been at odds with the block following recent eggings and vandalism to the building and its patrons by residents according to Nouveau Tavern Executive Teddy Gilmore.
And just last week the building was tagged with racist graffiti which read "N***** go home." Words that left the owners and customers disgusted.
"Things that have happened down here over the past 14 days have pretty much been repulsive, especially in a world-class city like Chicago," Gilmore said to a crowd of supporters.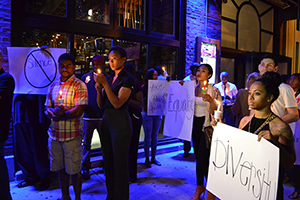 "I think that's pretty disturbing," Kassie Bhuyan, a diner at Nouveau Tavern, said. "I feel as though we've progressed enough to where diversity is something that's accepted, and it should be accepted and I don't like that's been happening."
42nd Ward Ald. Brendan Reilly's office, which is two doors from Nouveau Tavern, declined to comment on the rally or racial graffiti.
Gilmore believes these racial incidents are happening because of his poor leadership.
"I think it's poor leadership, I think his silence has spoken volumes to African-Americans," Gilmore said. "He's showing that we don't matter in his ward."
The club's owners have filed a lawsuit against Ald. Brendan Reilly and the city over illegal harassment by city liquor inspectors. But residents think the problem is the lack of communication.
"I just don't think the communication was there, I just don't," Holly Conrad said. "'The alderman this, the alderman that;' the alderman doesn't live here as far as I'm concerned."
Conrad, a resident of River North for more than five years was one a several neighbors who joined in the rally to address some problems they've been having with Nouveau Tavern. For Conrad, the complaints were less about race and more about respect.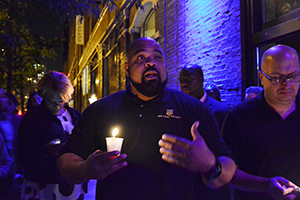 "I called in several complaints because I didn't like the fact that there was broken glass and condoms on my street when I woke up in the morning," Conrad said.
Lately the club has made several changes to limit extra noise and street activity including having patrons exit east of Orleans to avoid the condominiums.
"As of late, I've really noticed a big change. I think they've been able to kind of get a handle on their business," Conrad said.
"I'm OK with making those changes because we're trying to come down here, and we're trying to fit in and be good neighbors," Gilmore said.
For now, the club plans to continue to put the pressure on Ald. Reilly and defend their right to be in River North.
View a slideshow of the rally.
--Photos by Josclynn Brandon