Artistic Director Frank Chaves talks about the evolution of his dance company, River North Dance Chicago. One of his goals is to welcome new and challenging choreographers because his dancers "are ready for anything."
To celebrate their 25th anniversary season, River North Dance Chicago will feature a combination of world premieres and company classics in its Fall Engagement. Among the world premiere's is one by Chaves called "In the End," which will feature all six of the company's male dancers.
"I have had an all-male piece ruminating within me for a while, initially sparked by my first male duet in 'The Good Goodbyes' (2012)," Chaves said in a press release. "It is now revealing itself to me, through the music, to be a celebration of strength and beauty."
Chaves brings Spanish choreographer Iván Pérez for an athletic and emotion-filled look at lovers in the U.S. premiere of "Flesh." Set for eight dancers, the highly emotive and elegant work dedicated to Pérez's parents after their death, is inspired by Keith Douglas's poem, "The Knife."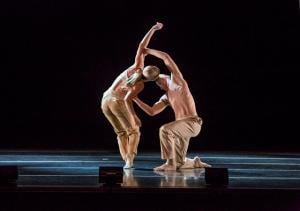 "In the poem, Douglas reveals the mystery of living in memory, the reminiscence of a past love and the permanence beyond flesh," Perez said in River North Dance Chicago press release. "I could not think of a better way to present 'Flesh' for the first time in the United States than with River North Dance Chicago. It is truly an honor and I am thrilled for this personal piece to be presented during this extraordinary company's 25th Anniversary Season."
Company classics include Shery Zunker's "Reality of a Dreamer," which made its debut in 1992 and was choreographed by the company's first artistic director, and Adam Barruch's "I Close My Eyes Until the End."
The Fall Engagement kicks off tonight at 6:00 pm and will continue Friday, Oct. 10, and Saturday, Oct. 11, at 8:00 pm. Performances will be at the Harris Theatre, located at 205 E. Randolph Drive.