---
---
The story I thought I was going to tell was about a painter named Antonio Davis. And that would have been interesting enough because Antonio is quadriplegic and paints by holding the brush in his mouth.
Antonio was injured 20 years ago, when he was 19. He was shot in the chest during a fight.
"I fell, and I couldn't get up," he said. "So I knew right then that something was seriously wrong."
Antonio is paralyzed from the waist down, and has limited hand and arm function.
He studied graphic design and art in high school. But when an occupational therapist suggested that he try painting with his mouth, at first he thought it sounded crazy. But, he says it's changed his life.
"I mean, I can't see my life without painting right now," he said. "My wife knows it, my family knows it. After a couple of days, I have to run into this little room and paint. I have to. It keeps me sane."
So that's the story that I thought I would tell: painting brings a disabled guy back to life after a terrible injury.
But, then I met Antonio's wife, Juanita Butler. Juanita is talkative, funny and irreverent. And some kind of magic happened when the two of them met at his nursing home, not long after the injury.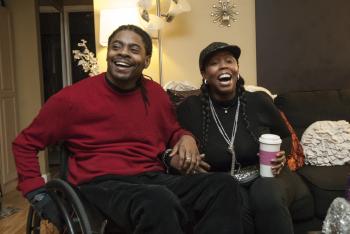 "I was actually living with her father. Me and her father were roommates," he said.
"I walked into the nursing home one day, and I seen this particular dude talking to  a lady at the front desk, and it looked strange because I was like, what is this young guy doing in a nursing home?" said Juanita.
"So she grabbed the back of my chair and spinned it around," said Antonio.
"I grabbed the back of his chair and I spinned it around, and I was like, 'oh, my God, you're so cute! What are you doing here?'" said Juanita.
"I looked up and told her, 'well, I live here,'" said Antonio.
"And I said, 'you live here?! Oh, my God! I got to get you out of here!'" said Juanita.
Juanita began visiting more often, but she's says her attraction to him surprised her.
"The ironic thing about this is, when I was growing up as a little girl, I was scared of people in wheelchairs. I would literally run from them. It was like some freak show," she said. "When I met him, something happened, and I saw past his wheelchair. There was a sadness to him and he was downcast, but something in me saw the great in him."
"And from that day on, we have been inseparable, and that was 1997," said Antonio.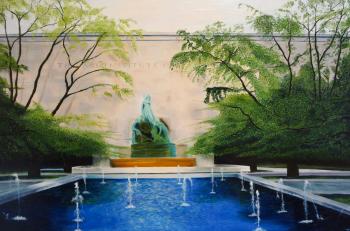 Juanita and Antonio were married exactly one year from the day they first met. But not everyone thought it was a good idea.
"It was said to me, 'why would you want to marry someone in a wheelchair? You're going to have to take care of him for the rest of your life.' The God in me said, 'not so,'" said Juanita.
"When I first met her, I was totally still dependent. And just seeing her and the love that she gave, the unconditional love, for me being in this situation, she never gave across that I was less than a man because I was in a wheelchair, which inspired me to get independent," said Antonio.
But just a few months before they got married, it became clear that the caretaking would have to go both ways. Juanita was diagnosed with lupus in 1997. And then other lung and muscle diseases followed that affect her strength and her voice. Though apparently not her spirit.
"Tables have turned. Now, he works. He's taking care of me. This painting has brought him to the point where he could afford us this condo. I'm so proud of him," said Juanita. "I don't even have to dress him anymore. I used to have to pick him up, put him in the car. His tenacity, his ambition was so strong that he said, 'you won't have to do this for me, I'm going to help you.' And he did it. He's standing. And a lot of people have been through 15 men in the 16 years that I've been with one man, and he has shown out completely through this art."
Antonio's painting has become a source of income, thanks in large part to the Mouth & Foot Painting Artists. The MFPA is run by quadriplegic artists who raise money through reproductions of the art, and then pay salaries to the artists whose work they have deemed to be of high enough quality.
Antonio also sells some of his paintings directly to individuals, and at fundraising exhibitions at the Rehabilitation Institute of Chicago, or RIC.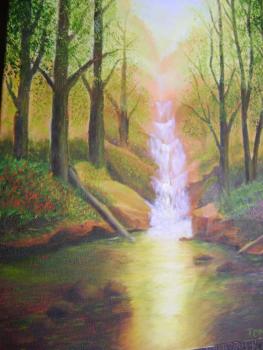 Each painting takes several months to complete. Juanita helps him when necessary, and is not shy about offering feedback.
"She's my worst critic. She'll come in and say, 'what is that?' And I'll think it's my best work," said Antonio. "It pushes me to make it better because when I first started everything, she said, 'it's cartoony, it looks like a cartoon.' So I had to really push, get my A-game, because I want it to come across as vibrant and as real as possible."
After 16 years together, Antonio and Juanita are used to the well-meaning comments of strangers.
"Sometimes people will see us, we'll go to church and people will say, 'oh, God's going to bless you, you're going to get out of the chair.' And do you know sometimes I got the nerve to get nervous, like my husband's going to stand and walk? He's going to find something I'm hiding from him, like a clothing bill or something!" said Juanita. "But that would be so amazing if he started walking. I just got to find new hiding places."
Note: This story originally aired on Feb. 5, 2014.
Your next chance to see an exhibit of Antonio Davis's paintings will be July 12 at the Invitational Fine Art Festival. 
---
Related Links:
---
View a photo gallery of Antonio's work and behind-the-scenes photos from the original shoot.