We take another look at the often overlooked paintings that adorn the ceiling of The Chicago Theatre -- and hear about the artistry of the man who made them. Louis Grell was the go-to painter for the Balaban and Katz Theater Corporation. Grell's fine art training in Europe and longtime residency at Chicago's Tree Studios artist colony set the stage for his memorable paintings of mythology and allegory.
---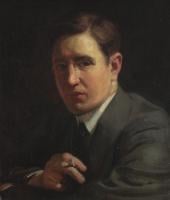 Read an interview with Grell's grand-nephew Richard Grell, who runs the Louis Grell Foundation.
Can you tell me about how you first got involved in this mission to learn more about Louis Grell?
I knew quite a bit about him growing up. We had family rumors and this and that. I heard about him from his younger sister Helen, who passed away in 1999. She always bragged about her older brother. Then, my father passed in December of 2011. After that, a local businessman in Council Bluffs [Iowa] approached the family and got ahold of me and asked if we would be willing to display some of his work in the local courthouse. He was interested in doing a two-man show with him and Grant Wood.
He found out about Grell while doing research on Grant Wood at the local library. He found paintings by him that were donated to the city of Council Bluffs. The local art historian stopped and asked about them, and he contacted our family. He emailed me four articles published in the local paper about Louis. After I read them, it hit me to start researching his life and career. I took a year off from work, and I fell in love with his story. I put together a show in Omaha and traveled across the country to find and photograph his art. It snowballed. Dick Miller, who is a board member of the Bluff Arts Council, researched Grant Wood and decided to have the Grell paintings join the show.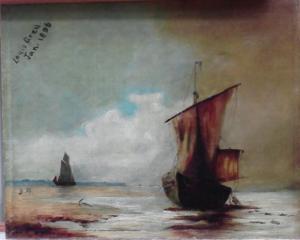 To go from rural Iowa to training in European academies, how difficult would that be, given the time period?
At the age of 8, he drew "Sailing Vessels" and the family started taking him seriously as an artist. We still have it in his collection. By age 12, they decided to send him to his grandmother in Hamburg to attend middle school and high school. While he was doing that, he joined a preparatory art class. He learned German. He was a top student. He was accepted to the School of Applied Arts in Hamburg.
My understanding is he didn't speak much German, but came back with a German accent. And the Omaha World-Herald said he finished first in a class of 3,000 students. He earned a scholarship to the Royal Academy of Fine Arts, which was one of the top art schools in Europe at the time.
You've mentioned his influence on Walt Disney; how was that connection made?  
Clearly [Disney] was a student of his in Chicago, at the Chicago Academy of Fine Arts. When he was 16 or 17, he took a night class at the Chicago Academy of Fine Arts under Louis when he was teaching there. I can confirm that he attended from September 1917 to about March 1918.
I contacted the Walt Disney Museum. I got ahold of Diane Disney-Miller and explained the story. She authorized the release of his transcripts. I have the only known copy. It's never been released to anyone else. That was very exciting. It has his signature on there twice. He was already signing with that famous "D."

Grell's been quoted as saying, "I will continue to do things my way, be the best at it, and be extremely successful doing it." Despite that, would one see much change in his style throughout the years?
I really didn't. I did not see much change. I'm not an art expert. In the '40s or '50s, with modernism gaining in popularity, he still landed major commissions with his traditional style. His brush stroke and use of color maybe changed. He turned to deeper greens later in his career.
In '42 he landed a commission at Union Station in St. Louis. This was well after modernism began. He continued into the '40s and '50s. He really painted in his own way and was not influenced by the modernist trends of the time during his 55-year career. They actually found the St. Louis commission in March. It disappeared, and then they found it in the basement. They conserved it for $20,000. At some point this fall, they're going to rehang it.
Do you know much about the restoration or preservation work that must go into maintaining his art?
That particular painting was a 7-by-28-foot-long mural. It was made into three sections to fit into the theater. They spent $20,000 putting it back together. In our family collection, we've had 20 paintings conserved. It's $2,000 to $4,000 each to have them conserved. We have a close working relationship with the Gerald Ford Conservation Center in Omaha. They've helped. It's detailed and meticulous work—matching colors and getting wrinkles out—it's very technical.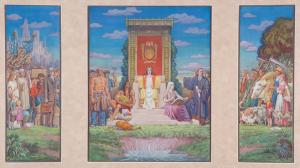 If someone in Chicago were interested in seeing some of his works, where could you point them to?
There's The Chicago Theatre; the People's Church of Chicago; Notre Dame de Chicago; Assumption Greek Orthodox Church. Those are the ones we know about now. Another fun one close by is in Springfield at the Amtrak station. There were murals discovered last year, around November up in Wisconsin. And a lady found a painting in Denmark—she contacted me through the website.
This interview has been edited and condensed.
View a sildeshow of Grell's artwork.
-- Artwork courtesy of the Louis Grell Foundation
Watch a documentary on Louis Grell.