Veteran politician Rep. Tom Cross faces DuPage County Auditor Bob Grogan in the GOP Primary for Illinois State Treasurer. The winner will face Democrat Mike Frerichs, who is running unopposed. Sitting Treasurer Dan Rutherford is running for governor. Cross and Grogan join us. Got any questions for the candidates? Post them below, and we may use your question on the air.
---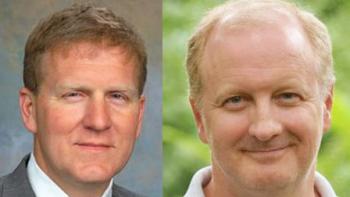 Rep. Cross, 55, was first elected to the Illinois House in 1992. A decade later, he began his 11-year run as House Minority Leader. In August of 2013, he resigned his leadership post to run for Illinois Treasurer. Cross faces Grogan, 46, a certified public accountant and two-term DuPage County Auditor. This is a first statewide run for Grogan who was unopposed twice for auditor in DuPage.
Grogan has a bit of an uphill race against Cross, battling lower name recognition, fewer dollars in his campaign coffers, and trailing poll numbers. However, in this poll by Battleground Polling, undecided voters are leading this contest with 60 percent of voters still uncertain who to vote for Treasurer. Cross leads with 27 percent of voters and Grogan is supported by 13 percent of voters. According to the State Board of Elections, Cross started the year with nearly $389,000 and Grogan had about $21,000.
Both candidates have notched endorsements and both candidates believe the state should have a balanced budget, but don't agree how to achieve that goal. However, according to the State's Constitution, the only responsibility of the Treasurer is, "the safekeeping and investment of monies and securities deposited with him, and for their disbursement upon order of the Comptroller." Both candidates said they support the idea of merging the offices of treasurer and comptroller.
The winner of the Republican Primary for state treasurer will face Democrat Mike Frerichs in the fall, as he is running unopposed. Frerichs is a state senator from Champaign. The sitting treasurer, Republican Dan Rutherford, is running for governor.