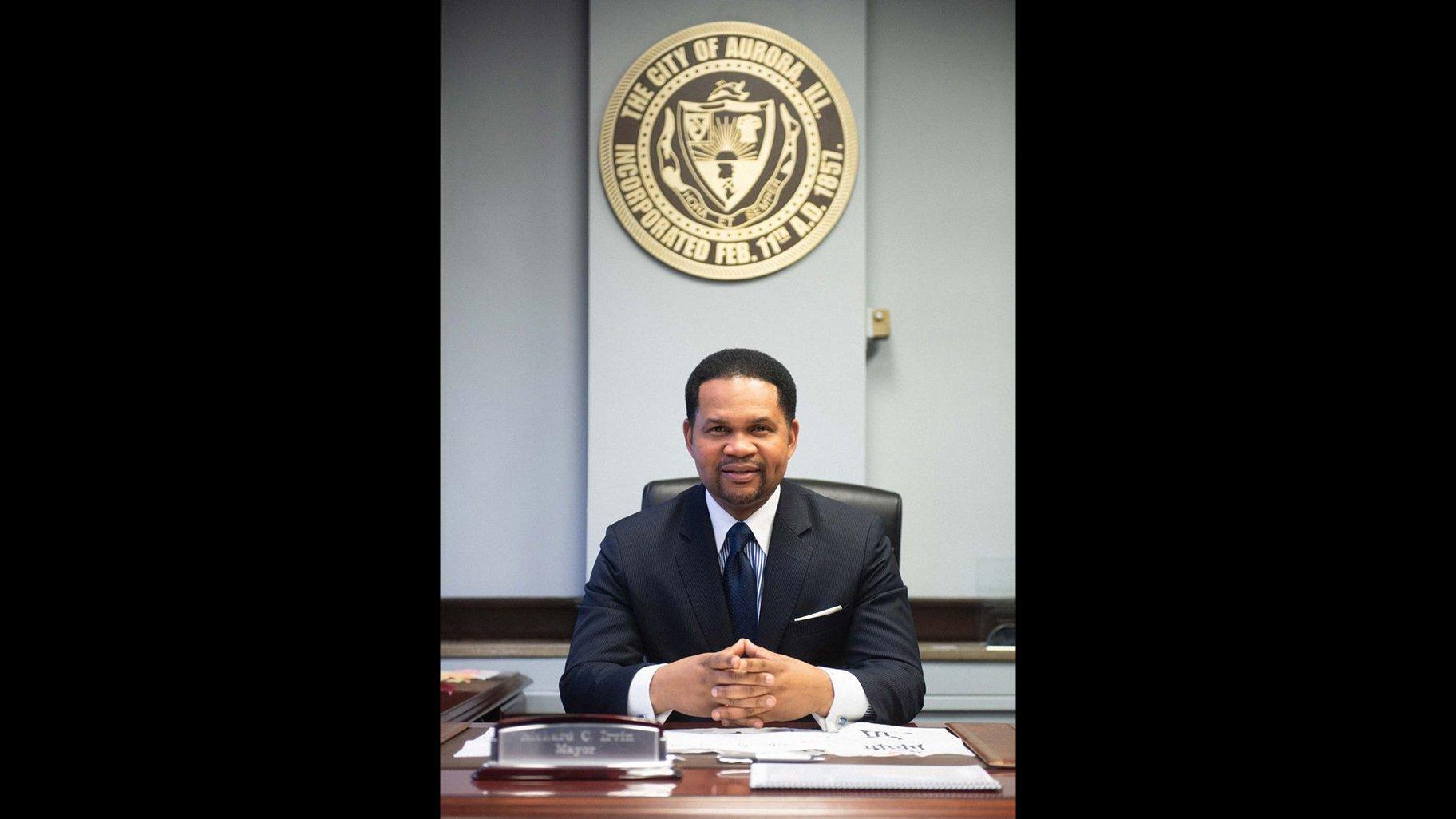 Aurora Mayor Richard C. Irvin (Aurora Mayor's Office)
The Republican gubernatorial primary field is about to get a new entrant who could potentially have hundreds of millions of dollars in campaign cash to spend.
Multiple sources tell WTTW News that Aurora Mayor Richard Irvin is currently planning to announce his candidacy for governor on Jan. 17, Martin Luther King Jr. Day. According to previous media reports, Irvin could have the financial backing of the state's wealthiest resident, Citadel founder and CEO Ken Griffin.
Griffin, who has not publically confirmed his chosen candidate, previously said he would "go all in" on financing someone who could defeat the incumbent Democratic governor, adding that he believes Pritzker "doesn't deserve to be governor of our state." Griffin has been particularly critical of Pritzker's handling of rising crime numbers in Chicago and throughout Illinois.
Although a spokesperson for Irvin did not respond to multiple requests for comment, sources say the current plan has the Aurora mayor announcing his candidacy alongside state Rep. Avery Bourne (R-Morrisonville) for lieutenant governor. Bourne did not return a request for comment.
At an Economic Club of Chicago event in October, Griffin doubled down on his criticism and hinted at his plans to support a slate of candidates.
"We have a government in our state that continually puts votes in front of people, votes in front of lives, and votes in front of schools, and we need to take the state back inch by inch from people who put their politics first and our people second," Griffin said.
Elected in 2017 and currently in his second term, Irvin is Aurora's first African American mayor. The Aurora native is a former state prosecutor and Army veteran who served in the Middle East.
Other names being floated for the potential slate are already declared candidates including John Milhiser, a former U.S. Attorney from the Central District of Illinois who has announced a campaign for secretary of state; state Rep. Tom Demmer (R-Dixon), who has announced a run for state treasurer; attorney and former political adviser Steve Kim for attorney general; and McHenry County Auditor Shannon Teresi for comptroller.
Multiple veterans of former Gov. Bruce Rauner's administration will run the campaign, including former Rauner Chief of Staff Mike Zolnierowicz, sources confirm to WTTW News.
Zolnierowicz was involved in Griffin's successful multi-million-dollar campaign to sink Pritzker's fair tax amendment proposal. He did not return multiple calls and messages seeking comment.
However, Griffin's support for Irvin is not a done deal. A source close to Griffin told WTTW News that the hedge fund billionaire has not yet decided on who to back in these races.
Irvin is expected to lean in heavily on the issue of crime, especially on recently passed state laws that Republicans say make it tougher for prosecutors and police to do their jobs and put more criminals back on the streets, sources said.
Many within the Illinois Republican Party have questioned Irvin's conservative credentials, noting that he has voted multiple times in Democratic primaries. Others contend he would be beholden to Griffin and policies that would run counter to those held by the party's base, making it difficult to survive a primary.
For instance, after Irvin contracted COVID-19 in the spring of 2020 he was critical of people not following state mitigation measures.
"There are those that still don't recognize that this is serious, that don't shelter in place, that don't practice social distancing, and I'm here to tell you, this is not something you want to risk," Irvin told WTTW News in April 2020. "I just want people to know to take this seriously."
Former Illinois Republican Party Chairman Pat Brady said a slate venture is a "very risky strategy."
"It's very odd for a group to try and present a slate. Republicans don't do slates, and Republican activists don't like being told what to do or who to vote for," Brady said.
Brady is an informal adviser to another Republican candidate for governor, businessman Gary Rabine. 
The Democratic Party of Illinois is wasting no time tying Republican candidates to Griffin and Rauner.
 "While Mr. Griffin attempts to satisfy some personal vendetta and the crowded field of radical GOP candidates trip over themselves to win his attention, Illinois Democrats remain focused on delivering wins on the issues that actually matter to the people of this state," a November statement from the party read.
State Sen. Darren Bailey (R-Xenia), lawyer Paul Schimpf, Rabine, and little know venture capitalist Jesse Sullivan have all announced their campaigns for the Republican gubernatorial nomination.
Thursday was the first day candidates for office in Illinois could start circulating nominating petitions to appear on the June primary ballot. Petitions are due between March 7 and 14, according to the Illinois State Board of Elections.
---