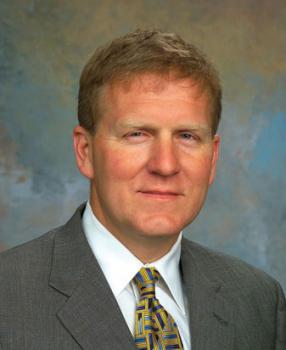 Tom Cross is in the Illinois House of Representatives and represents the 97th District.
Rep. Cross was first elected in 1992. His district includes northern and eastern Oswego Township in Kendall County and portions of Plainfield, Troy and Wheatland Townships in Will County.
This legislative session, he is pushing an aggressive legislative agenda to create jobs and protect Illinois families.
With the state billions of dollars behind in its bills and in debt, one of Rep. Cross' highest priorities this legislative session is to improve Illinois' economy and get people back to work-a stable economy can lead to a more stable government. Rep. Cross is leading the charge to cut wasteful government spending and structurally change the way the state of Illinois does its business.
Rep. Cross will continue to be mindful of the needs of the business community by initiating comprehensive jobs packages and tort reforms to help existing employers thrive while attracting new jobs to our communities. He also supported landmark workers' compensation reforms that will improve benefits for labor while lowering cost for employers.
Rep. Cross practices law with Mahoney, Silverman, and Cross in Joliet. Before joining the firm, he practiced private law after serving eight years as a prosecutor in the Kendall County State's Attorney's Office.
He is a graduate of Yorkville High School and Illinois Wesleyan University. He received his J.D. from Cumberland Law School in Alabama.
Rep. Cross also is very involved in the community including serving as a member of the Board of Directors of the Juvenile Diabetes Research Foundation, Illinois Chapter.
He and his wife, the former Genie Hovater, live in Oswego with their two children. They belong to the Oswego Church of the Good Shepherd United Methodist.
Awards include: YMCA 2012 Legislative Hero, 2011 IL Career and Tech Education Students "For Your Continued Support," 2010 Outstanding Advocate Award from the Easter Seals, 2009 Highest Voting Record Supporting the Ag Community from Will Co. Farm Bureau, 2007 Outstanding Member of the House from Model IL Government, among others.
Source: Tom Cross' website