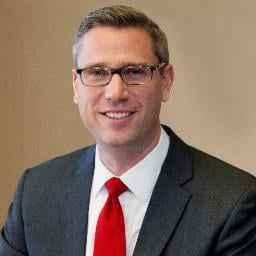 Mike Frerichs was born and raised in the small farming community of Gifford, Illinois. His father was a Teamster truck driver and his mother was an AFSCME university secretary.
He graduated from Rantoul Township High School (1991) and four years later graduated from Yale University (1995). Mike returned home with a desire to serve his community.
He taught at his alma mater Rantoul Township High School and managed a local safety engineering company, Smart Structures. Later he was elected twice to the Champaign County Board and served four years as Champaign County Auditor, where he became a Certified Public Finance Officer. Mike also served as a volunteer firefighter and on the board of a local non-profit nursing home.
Mike was elected to the General Assembly in 2006. Since being elected, Mike has stood tall for the 52nd district. As the most recent Chairman of the Agricultural Committee, he has provided financial assistance to farmers and advocated for alternative fuels. As the current Chairman of the Higher Education Committee, Frerichs has funded improvements at the University of Illinois while fighting to reduce Illinois' disparities in education funding. Mike also was the lead sponsor in eliminating the legislative scholarships that had been a source for corruption and insider deals for years.
During the 97th General Assembly, Mike co-chaired a special committee designed to preserve and extend Enterprise Zones across Illinois. Because of his work on this committee, Illinois' business climate has been able to stay competitive with neighboring states and Illinois has been able to preserve and create millions of jobs and billions of dollars in investments.
Mike has been frequently recognized for his hard work by organizations from across the state and is considered one of the rising stars of the Illinois General Assembly. He has received the Illinois Farm Bureau's "Friend of Agriculture" Award, the "Legislator of the Year" Award from both the Association of Illinois Soil and Water Conservation Districts and the Illinois Professional Land Surveyors Association, and was named "Man of the Year" by Central Illinois Business Magazine in 2012.
Mike is the only candidate for Treasurer who has run, and won, in competitive elections. His first election to the State Senate was to a seat that had not sent a Democrat to Springfield since the 1930s and Mike won it by just over 540 votes. However, since then he has expanded his re-election margins from 1% in 2006, to 23% in 2010 and 30% in 2012.
Despite representing a Republican leaning Senate seat, Mike has assembled an impressive progressive legislative record; voting to end the death penalty, leading the charge to regulate the fracking industry and protect our natural areas, supporting a woman's right to choose, voting for gay marriage and civil unions, reducing college costs and supporting opportunities to register and exercise a voter's ability to participate in the electoral system through early voting and online registration.
Mike currently resides in Champaign and has a daughter named Ella. His slogan, "Standing Tall for Illinois," is a play on his height. At 6 feet 8 inches, Mike is one of the tallest legislators in Illinois history, standing four inches taller than Abraham Lincoln.
Source: Mike Frerichs' website