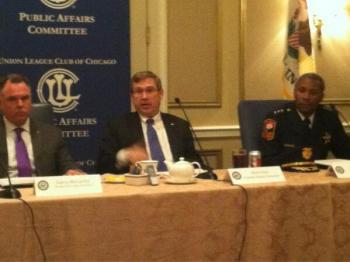 Republican U.S. Sen. Mark Kirk says he felt compelled to champion Mayor Rahm Emanuel's law calling for tougher gun sentences after he met with the parents of slain teenager Hadiya Pendleton.
"This tragedy, a 15-year-old cheerleader who had just finished participating in the president's inaugural being blown away," said Kirk. "You think, how, as a senator, can I ensure that doesn't happen?"
Kirk appeared today with Chicago Police Superintendent Garry McCarthy.
"Because Garry McCarthy came to me with this issue, I'm going to use my bully pulpit as a senator and back his effort," said Kirk.
The two, along with law enforcement officials from Lake County, referenced a chart showing how the proposed law would differ from current law. For instance: a felon caught illegally possessing a gun would go to jail a minimum of three years and have to serve at least 85 percent of that sentence. Currently, the minimum is two years and oftentimes offenders serve less than half of their sentence. The bill reflects the wishes of Mayor Emanuel and McCarthy, who have been beating the drum for tougher sentences constantly at press conferences following major shooting incidents.
But the House sponsor of the bill says the final version is likely to look different than the one Kirk described today. He says he is working feverishly to modify it to get the necessary votes for passage.
"It's fair to say everything within the bill is under negotiation," said State Rep. Mike Zalewski (D) Chicago.
Today, a legislative hearing on the bill was canceled because the sponsor says he wants to continue negotiating with opponents. They include the General Assembly's Black Caucus, who fear the new laws would disproportionately target their communities and the NRA, who believe the law would target otherwise-law abiding citizens who either make a mistake or might carry firearms for public safety.
"We had a 17-year-old kid who carried a gun to school because he was afraid of getting hit by gang members," said NRA lobbyist Todd Vandermyde. "Do we need to destroy that kid's life and put him in jail for three years?"
Vandermyde says the NRA would support the bill if it lightens the sentences for non-felons.
"If you want to talk about a mandatory three-year sentence for gang members, we can agree to that," he said.
John Maki of the John Howard Association, a non-partisan prison watchdog group, says there's scant to no evidence that proves longer sentences reduce gun crime. In fact, he says it could make the problem worse.
"I would argue a three-year mandatory minimum intensifies the problem for offenders when they come out," he said, noting that incarceration often leads to recidivism.
McCarthy responded to criticism from the John Howard Association and other criminologists who say the law wouldn't impact the homicide rate.
"There's a lot of people doing research who aren't from the ground," said McCarthy. "Some of the folks doing that research probably couldn't find Englewood on a map, or haven't spoken to offenders who are laughing at the system. People arrested for guns have called it a joke."
But Maki says criminals aren't likely to think twice about using a gun just because prison sentences are harsher.
"Prison doesn't deter crime," he said. "If it did, we would've solved crime long ago."