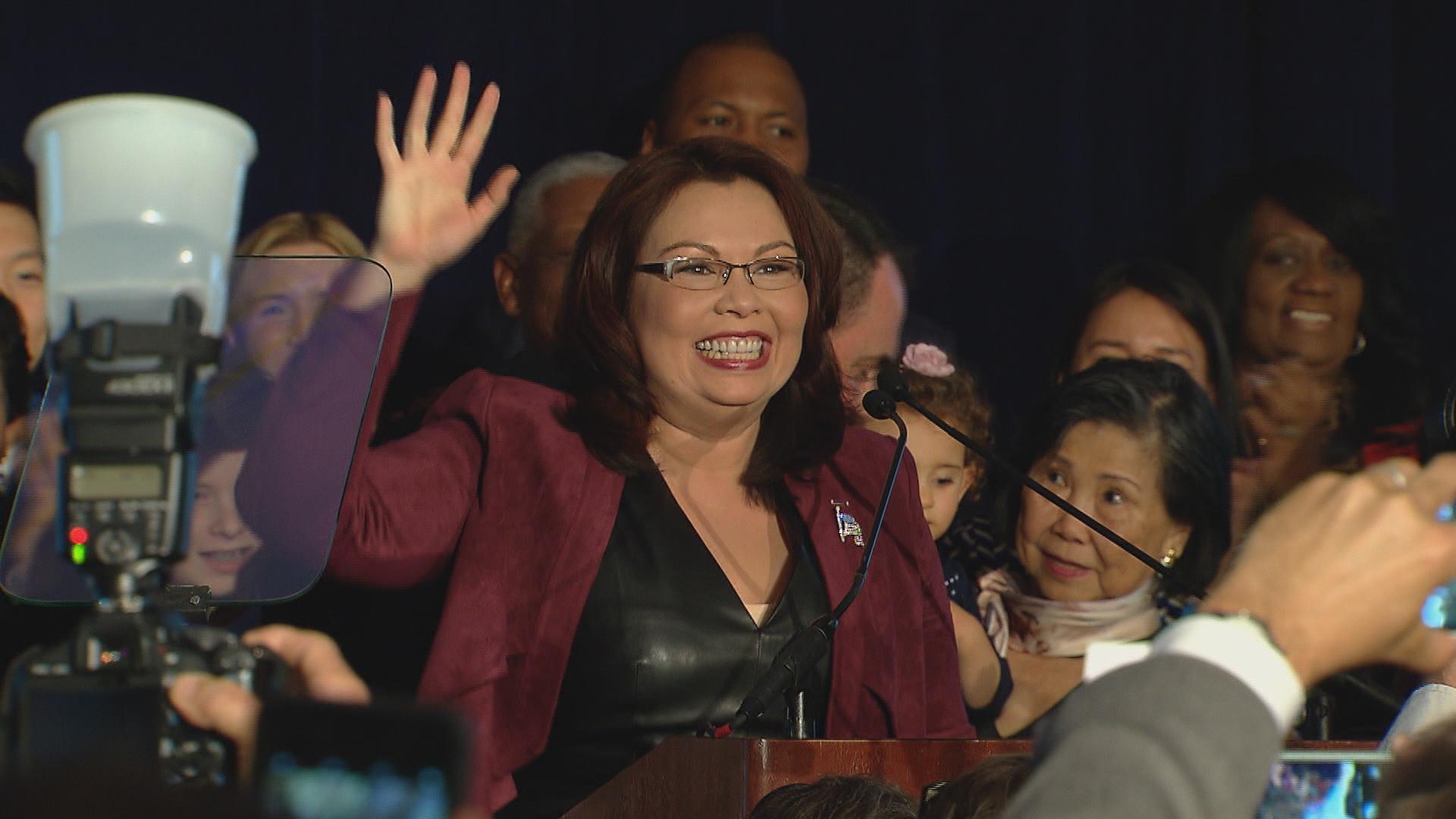 Tammy Duckworth has defeated incumbent Illinois U.S. Sen. Mark Kirk, who had long acknowledged his underdog status in the race after trailing for most of the last several months in the polls.
The results left supporters ecstatic at the JW Marriott in the Loop, where Duckworth held her election night rally. Illinois' senior Sen. Dick Durbin, Congressman Mike Quigley and State Treasurer Mike Frerichs were among those in attendance. 
"Tonight, we showed a campaign that respects voters and is focused on practical solutions rather than shopworn slogans can be successful," Duckworth said during her victory speech. "We showed that a relentless focus on rebuilding Illinois' middle class and respecting hard worth rather than wealth can be successful, too."
Duckworth was flanked by her husband, mother, young daughter Abigail, other family members and elected officials and recounted the oft-told story of how she barely survived a rocket propelled grenade that struck her Blackhawk helicopter.
"I started that day flying high, doing what I loved. I ended it knocked down and laid low, bleeding, surviving only because my buddies refused to leave me and wouldn't stop, even as they struggled to carry me. Dropping me. Falling. Getting back up. Stumbling forward again, lifting my dead weight, their heats bursting from the exertion. One of those heroes is in the room."
Kirk conceded his race just after 8 p.m. and pledged again to meet his opponent for a beer summit at the Billy Goat tavern to show kids that "opponents can peacefully bury the hatchet after a tough election."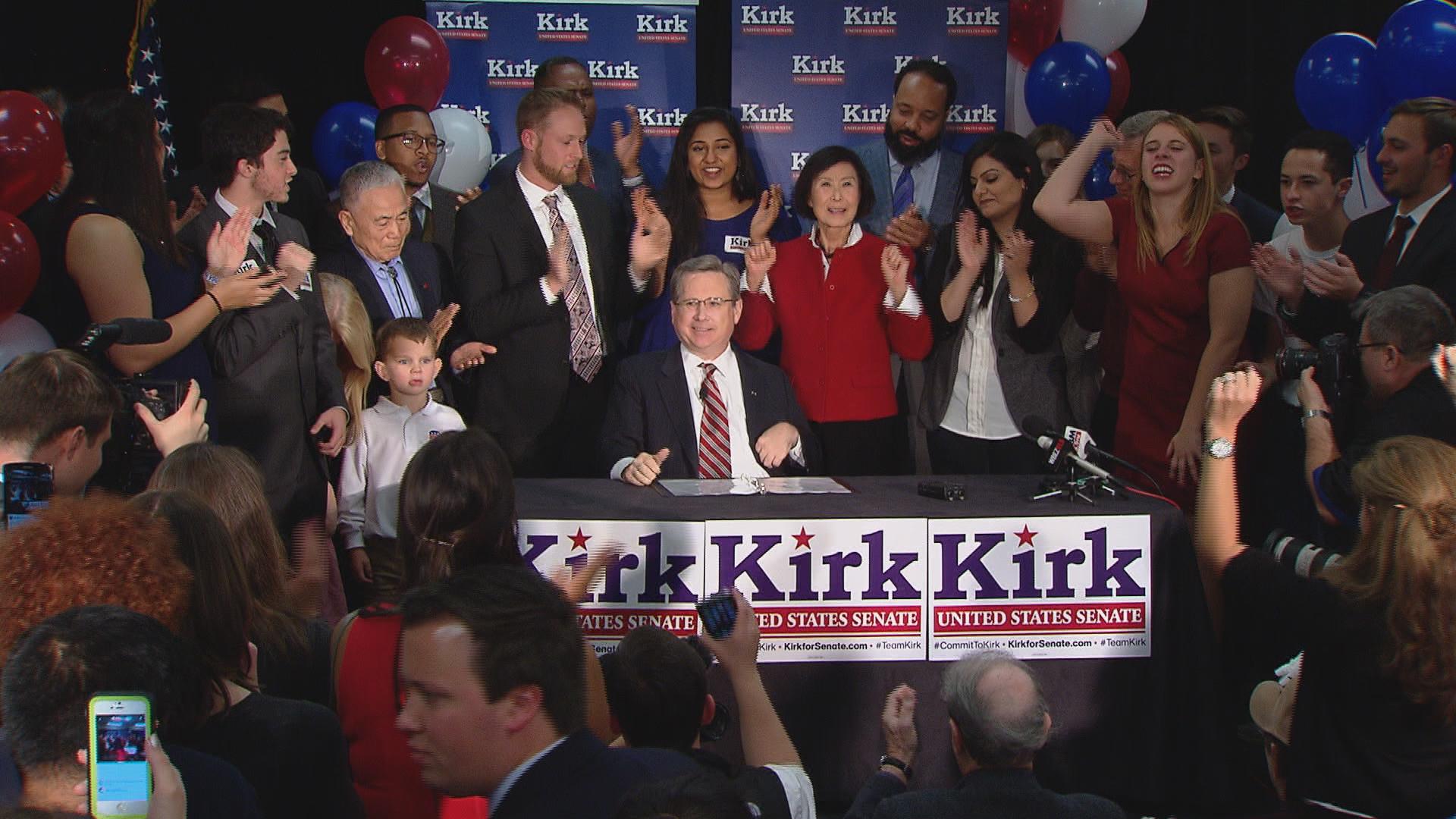 About 100 supporters greeted Kirk with cheers in the meeting room at the Renaissance Chicago North Shore in Northbrook.
"What unites us as Americans is much stronger than what divides us," he said.
Duckworth's victory could help secure the control of the Senate for Democrats, with several other races yet to be called. Kirk leaves having served one six-year term that was marked by a stroke he suffered in 2012 that left him partially physically handicapped. 

The race for U.S. Senate in Illinois was a heated affair, thrust into the national spotlight because of its significance in Senate Democrats' efforts to regain a majority, and because of a series of verbal miscues.
Both Kirk and Duckworth touted veterans' issues as being at the core of their platforms. Kirk is a former intelligence officer in the naval reserve who has admitted to exaggerating his service record. Duckworth is a military veteran, having served as a U.S. Army helicopter pilot in the Iraq war where she lost both of her legs and was awarded a Purple Heart.
Kirk, in his six years as senator, has railed against conditions at the Hines VA Medical center in Maywood and throughout the VA system. "A person that served this country ought to be treated with the ultimate dignity," he said in an interview with WBEZ.
Duckworth served as Director of Veterans Affairs in Illinois and later in the U.S. Department of Veterans Affairs before winning her seat in Congress in 2012. A Chicago Tribune story found some of the accomplishments she lists during her time as VA director and congresswoman have been exaggerated.
"I haven't accomplished so many of the things I've wanted to do, I've tried to work across the aisle and work for the long-term goal," Duckworth said during a Chicago Tonight interview. "Sometimes that hasn't always resulted in immediate returns. At the VA for example, I'm proud of work we did to reduce veterans' homelessness, but there were programs there that were not as successful. I wish I could have made them work faster or make them work sooner."
Kirk has positioned himself as a moderate Republican, with the calculation that a socially liberal and fiscally conservative worldview would best represent the state. He was the first Republican senator to openly support gay marriage and has also supported gun control.
"I seek to be the glue between both parties," Kirk said. "There may be some people that think 'Kirk is too moderate,' but the basic Illinois voter is pretty moderate."
Kirk has also notably tried to distance himself from Republican presidential candidate Donald Trump, referring to him as a "malignant clown," and vowing not to endorse or vote for him. Who Kirk will vote for has been a subject of scrutiny, with Kirk alternately mentioning he would write in former CIA Director David Petraeus or former Secretary of State Colin Powell. His most recent statements indicate that he hasn't decided yet what he'll do.
"I'm pretty frustrated at the choice we have," he told WBEZ. "We can do much better than this."
Kirk's recent performance at a downstate debate drew swift reaction and condemnation. Duckworth, whose mother is of Chinese descent born in Thailand, referred to herself as a "daughter of the American Revolution," because she says there's a history of military service on her father's side dating back to the Revolutionary War.
"I'd forgotten that your parents came all the way from Thailand to serve George Washington," Kirk said during the debate. He later apologized, but not before losing the endorsements of the Human Rights Campaign and Gabrielle Giffords' Americans for Responsible Solutions, a gun-control group.
Kirk's comment followed a string of verbal gaffes that prompted observers, including the Chicago Tribune editorial board, to question whether or not he has fully recovered from the stroke he suffered in 2012, and whether he is mentally capable of holding the position as U.S. senator.
Duckworth, for her part, has been dogged by a wrongful termination lawsuit filed by two former employees at the Anna Veterans' Home in downstate Union County. The case was dismissed twice, but then refiled. Duckworth says she had intended to fire the employee but mistakenly thought that employee was "at-will." The employee was reinstated in her job a day later. Duckworth thinks the lawsuit is politically motivated, egged on by the Kirk campaign.
"The lawsuit has been thrown out multiple times, the judge calls it a nuisance workplace suit," Duckworth said.
Follow Paris Schutz on Twitter: @paschutz
---
Related stories: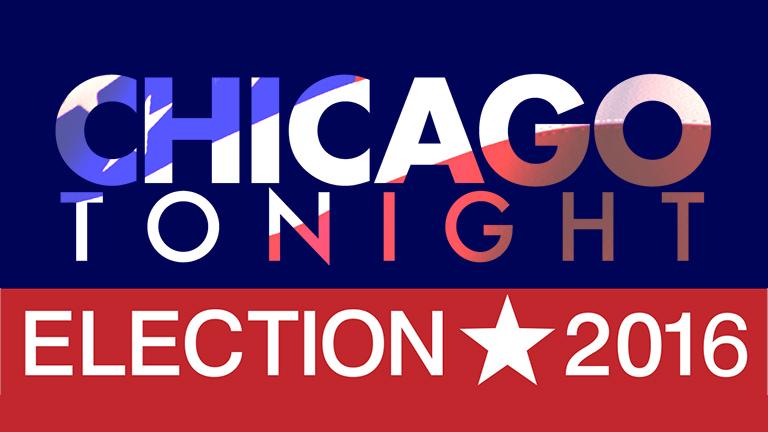 Election 2016 Analysis, Results with Chicago Tonight
Nov. 8: Join us on Election Day for a look at what's at stake in key state, county and local races; and to check results once polls close and final tallies are in.
---
Oct. 26: Tammy Duckworth hopes to lead the Democratic Party back to the majority in the U.S. Senate. Carol Marin goes one-on-one with the candidate.
---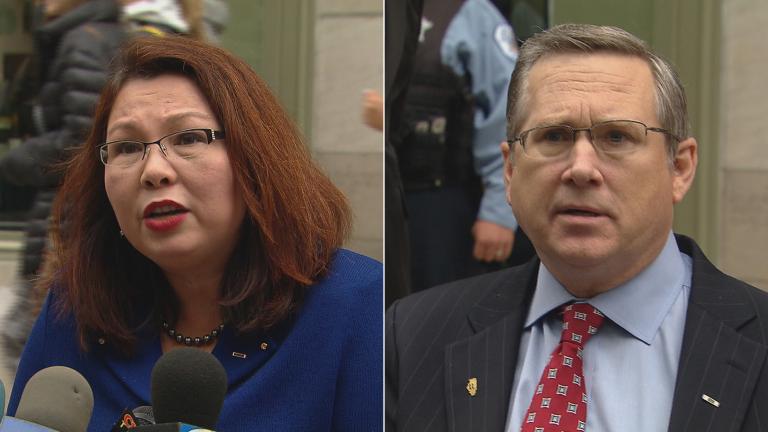 Duckworth, Kirk Face Off in 1st Senate Debate
Oct. 3: Illinois' U.S. Senate candidates, incumbent Republican Mark Kirk and Democrat Tammy Duckworth, square off in a debate for the first time. Why it may be their last.
---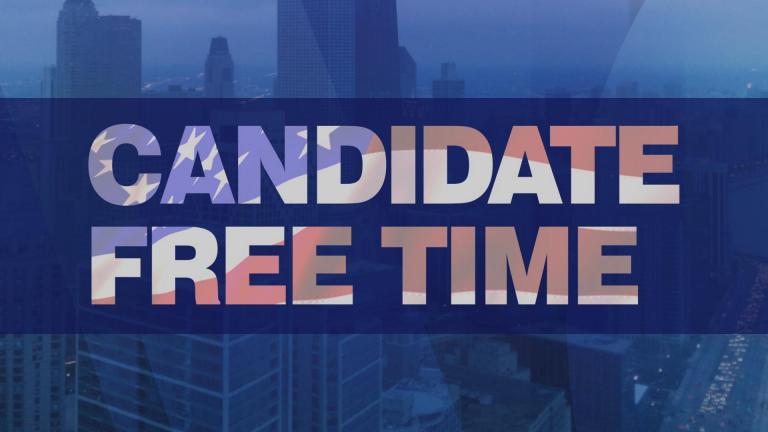 Candidate Free Time: US Senate
Candidates were given two minutes to tell voters where they stand on the issues, why they feel they are best qualified and what they intend to do if elected or re-elected.
---