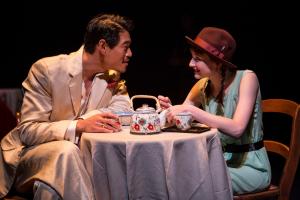 The Lookingglass Theater Company opened their 26th season on Saturday night with the deeply sensual drama, The North China Lover.
Tony Award-winner Deanna Dunagan (August: Osage County) anchors the show with seemingly effortless authority. Dunagan remains on stage for much of the play's 90 minutes -- setting the scene, watching the action, and echoing key moments. She plays a writer looking back across the years at her bittersweet first love affair.
Rae Gray portrays "The Child," an impoverished teenager who falls for an older Chinese man from a wealthy family. "The Lover" is played by the suave Tim Chiou with just the right air of carefree entitlement.
Gray is ideally cast as a conflicted girl full of insight and rebellion. She looks like she's still growing up. [See her here in Chicago Tonight's story about Slowgirl at Steppenwolf] Still, she carries a large presence as the headstrong young woman -- and then suddenly looks small when next to Chiou. Physically, the casting of the lovers is perfect. Among the strong supporting cast, Allison Torem stands out as a teenager giddy with hormones.
Lookingglass shows can wow you with spectacle. The North China Lover wisely opts for restraint. It's deceptively simple; slashes of light, pools of color, multi-layered action, and a rotating stage merge time and place.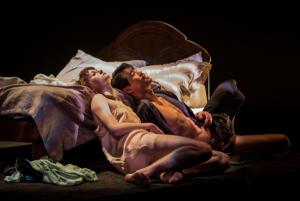 Director Heidi Stillman adapted the work, an autobiographical novel by the French novelist Marguerite Duras. Stillman tells the story with focus and nuance, and the effect is mesmerizing. Limiting the play to one act allows for the hypnotic effect to remain unbroken.
Not everything is quite so harmonious: some of the family dynamic come across as muddled, but The North China Lover works best when it matters most. It's a memorable production about first love, sacrifice and regret. And a wonderful opportunity to catch two fine Chicago actresses portraying the same character at different points in her fascinating life.
[PLEASE NOTE: The show contains mature sexual themes and nudity. The North China Lover plays at Lookingglass Theatre through November 10.]