Film and TV veteran William Petersen returns to town to do a two-character play with a promising young Chicago actress, Rae Gray, at Steppenwolf Theatre. We have a conversation with the two stars of the Chicago premiere of Greg Pierce's Slowgirl on Chicago Tonight at 7:00 pm.
We learned more about Slowgirl from Randall Arney, the play's director. Arney was the Artistic Director of Steppenwolf from 1987-1995, and is currently the Artistic Director of the Geffen Playhouse in Los Angeles.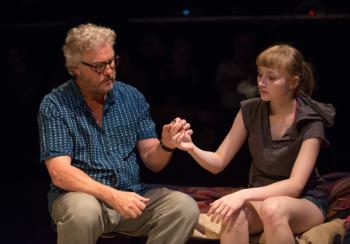 You were at Steppenwolf for a long time before relocating to Los Angeles. Has coming back to direct this show been a special experience for you?
It's always great. I lived in Chicago for 17 years. I don't get back as often as I wish I could. Last time was for a play I directed called The Seafarer about five years ago. We've had a great time with Slowgirl. It's a wonderfully quiet yet profound little play. The older I get, the more I feel like it's a real artistic home for me, no matter where the road has taken me. I love getting back not only for the work, but for the restaurants in Chicago too.
Why did you decide to direct this play? What drew you in?
It's a wonderful two-character play, and it's an incredible piece for two actors. I'm struck by the uniqueness of the situation. It's unusual to have a play about an uncle and a niece set in the jungle in Costa Rica. The uncle has really done everything he can to run away from his life, and then this young, energetic 17-year-old girl comes along. Initially, he doesn't know how to deal with her, but they end up forming a bond. It's about so many things that people can relate to. Some of the issues of bullying are really current right now. It's also about family and guilt. Guilt is a paralyzing thing, and until you can take responsibility for your actions, you don't get to move on.
What kind of an audience is this play for?
It's really for everybody, and that's one of the great appeals of the play. Central to the play is a 17-year old girl -- played by Rae Gray-- and she's just amazing in the part. Our playwright, Greg Pierce, who lives in New York City, said he got some of the inspiration for the niece's character by overhearing groups of teenage girls talking loudly in the city. Those observations helped him create a unique voice for this 17-year-old girl who shows up at her uncle's house.
There's also her uncle, a 60-year-old man who has some shady things in his past that he's feeling guilty about. Since the two characters are so different, the play really speaks to a wide audience. Anyone who has ever done anything that they have felt guilty about will be able to relate.
What's the chemistry like between the two actors, Rae Gray and William Petersen?
They are such pros. We've had such a good time working on this play. They actually came out to Los Angeles to spend the first three weeks of rehearsal here at Geffen Playhouse, and we all really bonded during those first few weeks. They are incredible together.
How has the audience reacted to the play so far?
The audience response has been really gratifying. They laugh, and they're moved. The play sends you out uplifted.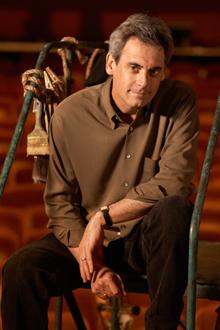 Slowgirl is performed in the newly reconfigured, intimate Upstairs Theatre. Has that setting had an impact on the show in any way?
The stage is kind of an island in the middle, and there are seats on both sides of the stage. Therefore, no matter where you're sitting, you are not far from the stage at all. It creates a real intimacy, which is important for a two-person play, where the two characters are bonding late at night in the jungle.
Something that's particularly interesting about this play is how rich the sounds are. Because it's set in the jungle, our sound designers have created a really good soundscape. They are different during the day and night scenes. From the crickets to the bugs, to birds flying overheard, the sounds are great.
You have directed several plays at Steppenwolf over the years. What's unique about this one?
I've absolutely loved how fresh and new it is. It was nice to have Greg Pierce, the young playwright, around to work on the play. He made tweaks and changes that were specific for Rae Gray and William Petersen. And I just love it as an actor piece.
Would you classify this as a drama?
The play is surprising, fresh and funny, but it has deeper, darker tones as well. The 17-year- old niece is brash and outright, and she says what's on her mind with no filter, so it's fun. On the other hand, the reason she shows up at her uncle's house is because she has found herself in some deep trouble after something bad happened at a house party in Massachusetts. The audience will laugh and feel empathy for these two characters, and it ends in an uplifting and affirming way that people have been connecting to.
What do you hope people take away from this performance?
I hope they just a have a wonderful evening at the theater. It's an incredible ride. They will laugh and be moved, and hopefully come away from it knowing a little more about themselves.
During your long career at Steppenwolf, you helped establish the current Steppenwolf space at 1650 N. Halsted St. in Chicago. What was it like to be part of that project?
It was great. It was so exciting to be a part of the design and creation, and to literally watch it go up from a hole in the ground. We knew it was important to anchor the theater in Chicago, and we knew that in order to do that we had to establish a permanent home for us. It's a state-of-the art performing space, and I think it really established the company's commitment to the city, and also the city's commitment to the theater. And it really was a citywide endeavor. It was a group effort that required many donations, and the help of many people in the community.
When was that completed?
1990.
You are both an actor and a director. Which do you prefer these days?
I really like them equally. As many of us were, I was an actor first. But I really think they feed each other. I think I'm a better director because I know what an actor does, and I know their concerns, and vice versa. I really love them both.
What do you miss most about Steppenwolf?
It's just such a wonderful place. I was affiliated with it for about 30 years, so those people are truly family. I've been in Los Angeles for 15 years, and Chicago still feels like home.
This interview has been condensed and edited.