Chicago Sun-Times Theater Critic Hedy Weiss joins us on Chicago Tonight at 7:00 pm to review shows currently on Chicago area stages, including Shrek the Musical at Chicago Shakespeare Theater, Slowgirl at Steppenwolf Theatre Company, and Mojada at Victory Gardens Theater. For our online audience, Weiss will also review Rooms:  A Rock Romance at Broken Nose Theatre. Learn more about the plays below, and watch Hedy's web extra video review.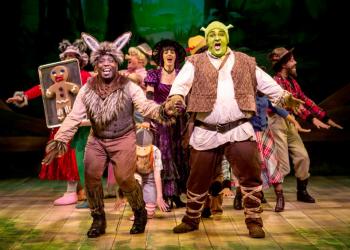 Shrek the Musical
This summer, Chicago Shakespeare Theater presents a beloved fairy tale about a green ogre and a delightful, wise-cracking donkey. Based on the award-winning DreamWorks Animation Motion Picture and the book by William Steig, Shrek the Musical is the perfect show to see with the kids. The 75-minute musical, which is performed at the Jentes Family Auditorium at Navy Pier, is about a swamp-dwelling ogre who goes on a life-changing adventure to reclaim his home. The musical is directed by Jeff Award-winning director Rachel Rockwell, who was named the 2012 Chicagoan of the Year in Theater by the Chicago Tribune. Hedy Weiss says the production is "so packed with A-list talent, visual delights and hip wit, and so expertly trimmed to 75 minutes of perfectly propelled storytelling — that adults who initially arrive with kids in tow for this 'family entertainment' might well be tempted to return for a second time by themselves." The show runs through September 1, 2013 and tickets cost from $18-$25. The musical is recommended for kids ages 5 and older. For more information about the show and to purchase tickets, click here.
Chicago Shakespeare Theater
Jentes Family Auditorium on Navy Pier
800 E. Grand Ave
Chicago, IL 60611
(312) 595 -5600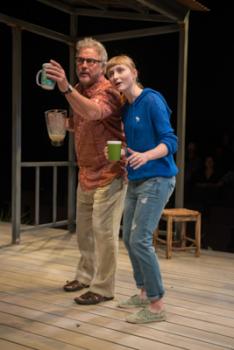 Slowgirl
Owning up to past mistakes can be a hard. This summer, Slowgirl at Steppenwolf Theatre, demonstrates that through a production about a teenage girl who flees to her uncle's isolated retreat in the Costa Rican jungle after a harrowing accident at a house party in Massachusetts. Written by Greg Pierce, the show is about an uncle (played by William Petersen, former star of CSI) and niece who get reacquainted over the course of a week. During their time together, startling details about their pasts slowly unfold. Describing the two-character play, Chicago Tribune theater critic Chris Jones says, "You'll likely find yourself touched by how well it charts the loving complexities of families. More interestingly yet, Pierce also touches on how terrible things can happen in our lives at different speeds." The play is performed in Steppenwolf's newly reconfigured intimate Upstairs Theatre, and runs for 1 hour and 30 minutes. The show will be performed through August 25. There is no intermission, and tickets cost between $20 and $78. For more information about the show and to purchase tickets, click here.
Steppenwolf Theatre Company
1650 N. Halsted St.
Chicago, IL 60614
(312) 335-1650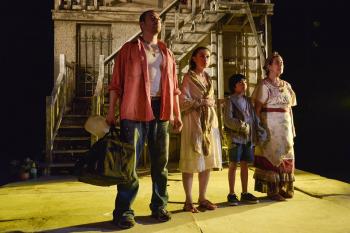 Mojada
In a world premiere of an old tale with a modern twist, Mojada at Victory Garden Theater delivers a re-imagination of Euripides' Medea that takes place in Chicago's Pilsen neighborhood. The modern take on the Greek myth tackles American immigration, family, tradition, mysticism, and the explosive moment when they all collide. The story was written by MacArthur Genius Grant recipient Luis Alfaro, the playwright of last season's critically acclaimed Oedipus el Rey. Referring to Alfaro, Hedy Weiss says, "he has transformed that tale of exile and catastrophe into a powerhouse of modern mythmaking that now unfolds in the backyard of a shabby two-story brick building in Pilsen." Tickets for the show, which runs 2 hours and 20 minutes, cost from $30-$60. There is one intermission, and the production is recommended for ages 14 and up. For more information about the show and to purchase tickets, click here.
Victory Gardens Biograph Theater
2433 N. Lincoln Ave.
Chicago, IL 60614
(773) 871-3000
Watch Hedy Weiss review Rooms: A Rock Romance in the following web extra video review: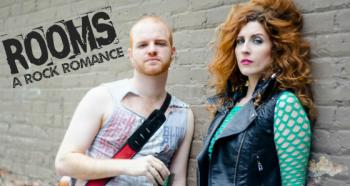 Rooms: A Rock Romance
After successful runs in New York, Los Angeles and London, Rooms: A Rock Romance makes its Chicago premiere at Broken Nose Theatre. The musical, which is set in 1977, is about an ambitious singer and a reclusive rocker who form a band and travel from Glasgow to London to New York in their rise to stardom. During their adventure, the duo is confronted with the hard choices that come with trying to have it all. The production, by Paul Scott Goodman and Miriam Gordon, is directed by Artistic Director Benjamin Brownson with music direction by Jeff Award winner Austin Cook. In his review of the show for Time Out Chicago, Kris Vire says "what's vital to our continued engagement with the tale are compelling songs, of which Goodman has a handful, and two very charming actors." And Chicago Theater Beat calls it "a fun-loving, flirtatious frolic." Tickets for the play, which runs through August 11, cost $30. For more information about the show and to purchase tickets, click here.
Collaboraction's Pentagon Theater
Flat Iron Arts Building
1579 N. Milwaukee Ave.
Chicago, IL 60622