Heard a mysterious, wonderful new song that sent me digging for lyrics. What is this all about?
It's a story song called "Bonesetter" by the Chicago folk duo The Horse's Ha. Arranged as a classic English ballad, it's a tune about a beaten-down race horse and her ignorant owner. The dramatic finale feels like Flannery O'Connor rewrote Black Beauty. Listen below:
"Bonesetter" was written and recorded by Janet Beveridge Bean and James Elkington. Bean tells us "Bonesetter" is a "doomed relationship saga." About the structure, she says, "It's unrelenting because you have no break from it since there's no chorus." It gathers power in their voices: she sings like a wounded angel, and he croons like a devil mending his reputation. The song is just one gem in a jewel box of a new album called Waterdrawn (Fluff & Gravy Records.)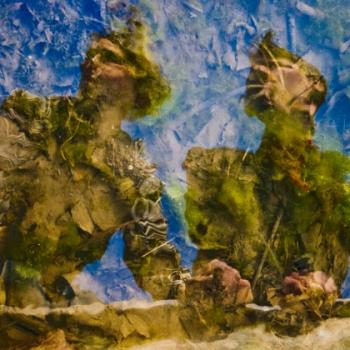 The song got me thinking about other story songs that sweep you up in their narratives. There are obvious ones: "Papa was a Rolling Stone" and "The Wreck of the Edmund Fitzgerald," but what about songs written by Chicago songwriters?
The list is surely long, but here's a start (in no particular order):
"My Old Man," by Steve Goodman. The obvious choice from Goodman would be "The City of New Orleans," but for me this is more primal. A son recounts his father's bittersweet life with a touch of regret. If this doesn't bring a tear to your eye, you probably don't like your old man.
"Somebody Buy Me a Drink," by Oscar Brown Jr. from his classic Sin and Soul jazz LP of 1960. The story of a drunk, complete with slurred words and woozy horns. Makes you wish Sinatra had recorded it, but it probably wouldn't have eclipsed the original.
"Thin Red Line," by hip hop group Typical Cats. An impressionistic slice-of-life featuring sharp-eyed observations of the city from the elevated tracks: "Reasons run thin by the end of the line/ But the signs can be read if you learn them in time." You can picture it being written on the Red Line to the rhythm of a chugging train.
"Bruised Orange (Chain of Sorrow)" and "Unwed Fathers" – try picking just one John Prine song. The bard of Maywood wrote "Bruised Orange" about an altar boy hit by a train on his way to church. "Unwed Fathers" has just a handful of lyrics but packs an emotional wallop. And of course Prine also wrote "Sam Stone," "Lake Marie," "Angel from Montgomery…"
"Night Accident," a dark dialogue from Robbie Fulks. Vengeance is served hot and cold when a car crashes onto railroad tracks, trapping a pair of old friends with unfinished business. It's like a fine, 6-minute episode of Alfred Hitchcock Presents.
What other memorable story songs were written by Chicago songwriters? I'm all ears. Share your thoughts below.