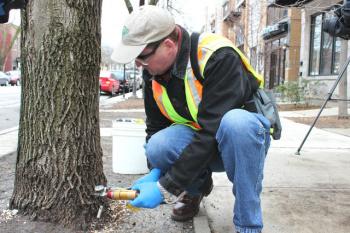 Over the last five years, tens of thousands of ash trees in the Chicago area have become victims of the Emerald Ash Borer. The tiny, parasitic insect burrows into the tops of the trees, and then its larva gradually eats away through the trunk until the tree dies. For a while, the only way to deal with the destructive insect was to cut down the entire tree. But, the City of Chicago is now expanding a treatment program that officials claim is not only very effective but that will also save the city money.
Not long ago, Chicago Streets and Sanitation employee Lawrence Pardo might have been taking a chainsaw to this ash tree in the West Loop. But instead, he is now one of dozens of city workers acting as doctors to the sick trees. Like many of the estimated 85,000 ash trees in Chicago, the ones on South Laflin Street are infected with the destructive Emerald Ash Borer, and they carry some of the distinctive signs.
"You can see along the edge of the bark there what they call the fleck marks on there, and that's where you have woodpeckers coming in and they're basically peeling off some of the bark looking for larva that are burrowing down below," said John Lough, Chicago Streets and Sanitation Forester. "It's a very good telltale sign early on. You also see some of those inner branches, and a little bit higher up, there's sprouting coming up along the branches. And that essentially is a response the tree has to the damage that the beetle causes below."
The metallic green Emerald Ash Borer was first spotted in the Chicago area around 2007. It's presumed to have arrived here from Asia in wooden packing crates. The tiny beetle took a rapid foothold throughout Chicago and began a path of widespread destruction that at first could only be stopped by cutting down entire trees. But there is now an inoculation that trees with early stages of symptoms can receive.
"It moves throughout the entire tree. Any larva that are in the tree at the time or any beetles that are feeding, adult beetles that might be up in the canopy feeding on the leaves, it will kill them as well," said Lough.
When the inoculation pesticide first became available in 2009, the city began treating ash trees just in certain pockets of town. But this year, the program has gone citywide, and so far this year, 21,000 ash trees have been inoculated.
City foresters say the treatment that carries the brand name TREE-age is highly effective. But perhaps, more importantly, they say it's far cheaper than cutting down an entire tree.
"Realistically, for the city of Chicago to remove trees, it's going to cost a little over $1000 to remove and replace a mature ash tree," said Lough.
Officials say the cost of treatment is just $46 per tree. But there's something of a catch. Twenty-one city crews are now designated to treat the diseased ash trees at a cost of $2 million a year. And the treatment has to be ongoing; each tree needs a fresh inoculation every two to three years.
Just north of the border from Chicago, forestry crews in Evanston are still applying chainsaws to infected ash trees. City officials there give a vastly different estimate for the costs of removal versus treatment.
Take one ash tree for example.
"To remove it, say it's $300. To treat that tree, that's about a 16-inch diameter tree, so you're close to $200 to treat that tree. So one-time treatment, you'll have the tree for two years," said Mark Younger, City of Evanston Forester. "The second time you treat it, it's going to exceed that cost for the removal and the replacement cost also."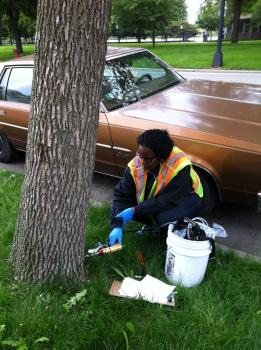 Evanston has opted to take down all the ash trees that become infected with the Emerald Ash Borer. But the city is offering residents a treatment option. If they want to pay for it themselves and take care of the ash trees outside their homes, they're welcome to do it.  But the Emerald Ash Borer has led to a new vision for Evanston's tree plans.
"For us, we want to diversify our parkways, so our program involves removing the infested trees, and we're replacing them with several varieties of trees, so that we can reduce the chance of this happening in the future if another insect or disease comes about," said Younger.
The City of Chicago, however, maintains that ash trees are worth saving and the inoculation treatment has appeared to work in more than 90 percent of the trees treated.
"At this point, we're trying to maintain and preserve these trees as long as we can," said Lough. "That way, we're able to encourage some of our young canopy, some of our smaller trees that have been planted in recent years to mature and continue to grow larger, and then eventually take the place of the ash trees."
Which means that for years to come Chicago ash trees could be getting regular shots to keep them alive. But whether it will greatly curtail the Emerald Ash Borer infestation is still an unknown.
The City of Chicago says its goal is to treat 35,000 ash trees in all 50 wards this summer, and an additional 35,000 next summer.