Morton Arboretum Tree Improvement Specialist Joe Rothleutner using a magnification visor to get an up-close view of buckeye flowers. (Morton Arboretum)
According to a 2010 survey conducted by the USDA, less than half of the plant life in the Chicago region is native to the area.
It's Joe Rothleutner's job, in part, to make sure the region's native plants are protected. He's the Morton Arboretum's tree improvement specialist, and he breeds new tree and shrub cultivars – plants grown for specific traits – to benefit the future of the Chicago area's natural landscape.
His work at the arboretum's New Plant Development Program covers the leafy spectrum, from cloning ornamental plants that produce beautiful flowers to cultivating cross-bred tree species resistant to invasive pests. He targets plants hardy enough to withstand Chicago's harsh winter, urban pollution and the increasing effects of climate change.
According to Rothleutner, the biggest immediate threat to Chicago's urban forest is undoubtedly the emerald ash borer. Since the June 2006 discovery of this wood-boring invasive pest in Illinois, millions of ash trees have been killed by the insect's burrowing larvae, which feed on inner bark.
"If your ash trees aren't being treated with insecticide, they're pretty much doomed," Rothleutner said.
In 2005, 2008 and 2011, scientists from the Morton Arboretum and other public gardens made trips to north-central China to collect seeds of Asian ash trees that may have co-evolved with the invasive pest and developed a resistance to it. Rothleutner said the seeds have germinated, but any verdict on whether the plants could replace the area's fallen ash trees will take years.
The emerald ash borer isn't the first invasive pest the arboretum has taken on.
In the 1930s, elm trees in the U.S. began dying from Dutch elm disease, which is caused by fungi spread from elm bark beetles. In 1924, the Morton Arboretum planted a hybrid of a Japanese elm and Wilson's elm, which grew into a new elm cultivar resistant to the disease.
"The American elms didn't have a resistance to the disease, but the Asian ones generally do," Rothleutner said. "So this tree has the same shape of an American elm with the disease resistance of an Asian elm."
The original hybrid elm tree, known as the Accolade Elm, is still standing at the Morton Arboretum. It's survived three epidemics of Dutch elm disease and since the 1980s, has been marketed and planted not only in Chicago, but throughout North America as a disease-resistant alternative to the American elm.
Invasive insects aren't the only threats to urban plant life. Sometimes trees need to be protected from their own kind.
"Native woodlots or prairies are essentially refuges for native plants and wildlife," Rothleutner said. "When exotic species seed into these areas and grow, they can displace or outcompete the native plants and change the function of that ecosystem. Exotic trees and plants can play an important role in modifying our environments, but when they start to appear in places we didn't plan them, they can be an issue."
He said exotic plants can block the sun for native flora, change the soil composition and even "physically muscle out" other plants.
Even exotic trees planted along the street can make their way into native woodland if their seeds travel far enough. For this reason, Rothleutner is working on breeding sterile tree cultivars that don't produce seeds.
One exotic tree that's spread like wildfire is European buckthorn, the most common tree in the region – by a lot. According to the same 2010 USDA survey, 28.2 percent of the trees in the regional forest are European buckthorn. Fruit from the tree is readily eaten by birds, which spread the seeds in their droppings.
"Buckthorn is a monster," Rothleutner said. "It was brought in at one point in our past horticulture, but it jumped the fence and ran rampant at that point. When we make a new introduction, we want to make sure it's not the next buckthorn."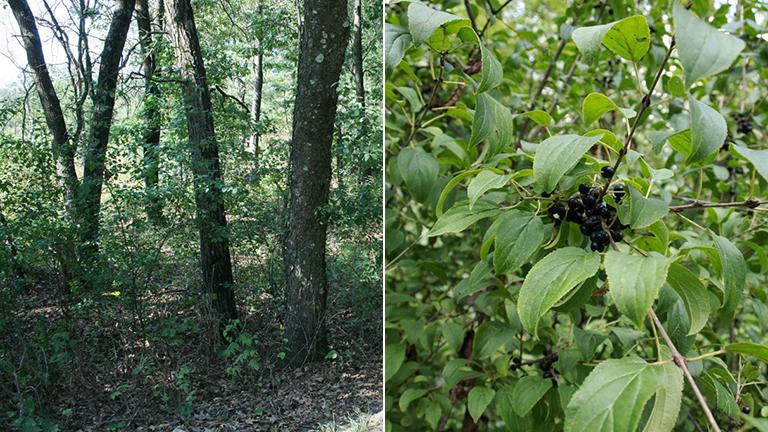 The European buckthorn is the most common tree species in the Chicago region due to how quickly the invasive plant spreads. (Morton Arboretum)
Rothleutner said he aims to breed plants with "good behavior." The beautiful flowers produced by the Callery pear tree, for example, have ornamental appeal, but the trees are able to invade large areas because their seeds are so fertile. By cross-breeding a Callery pear tree with a crabapple tree, Rothleutner said the resulting hybrid could flower attractively without wildly self-propagating.
As a tree specialist, Rothleutner's work may take decades to reach fruition, but it's that long-term observational study that he said is so important – and rare – these days.
"Universities are migrating away from horticulture and applied plant sciences because funding has gotten very difficult," Rothleutner said. "In the academic world, it's 'publish or perish.' If you don't have short-term projects that you can turn over every one or two years, it's difficult to stay in the game."
For that reason, Rothleutner said the Morton Aboretum is a valuable asset – and since he's only 28 years old, he has plenty of time to watch the trees grow. 
Follow Evan Garcia on Twitter: @EvanRGarcia
---
Related 'Chicago Tonight' Stories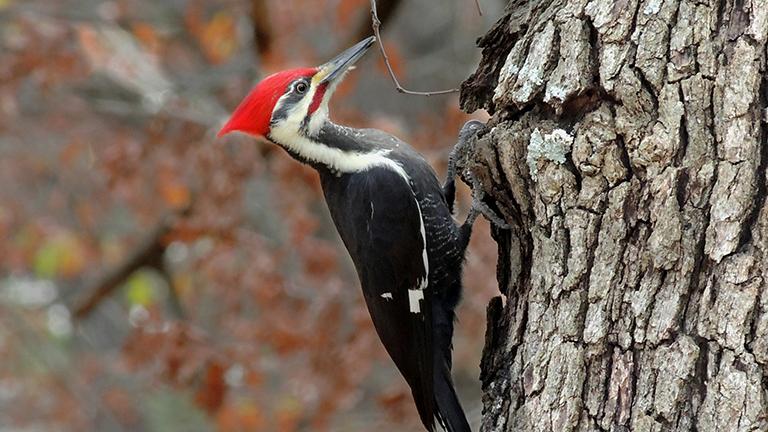 More Pileated Woodpeckers: Emerald Ash Borer or Healthier Habitat?
April 7, 2016: Recent news coverage has suggested a spike in pileated woodpecker sightings in the western suburbs may be linked to the emerald ash borer. But according to at least two wildlife experts, it probably has more to do with the restoration of local habitat.
---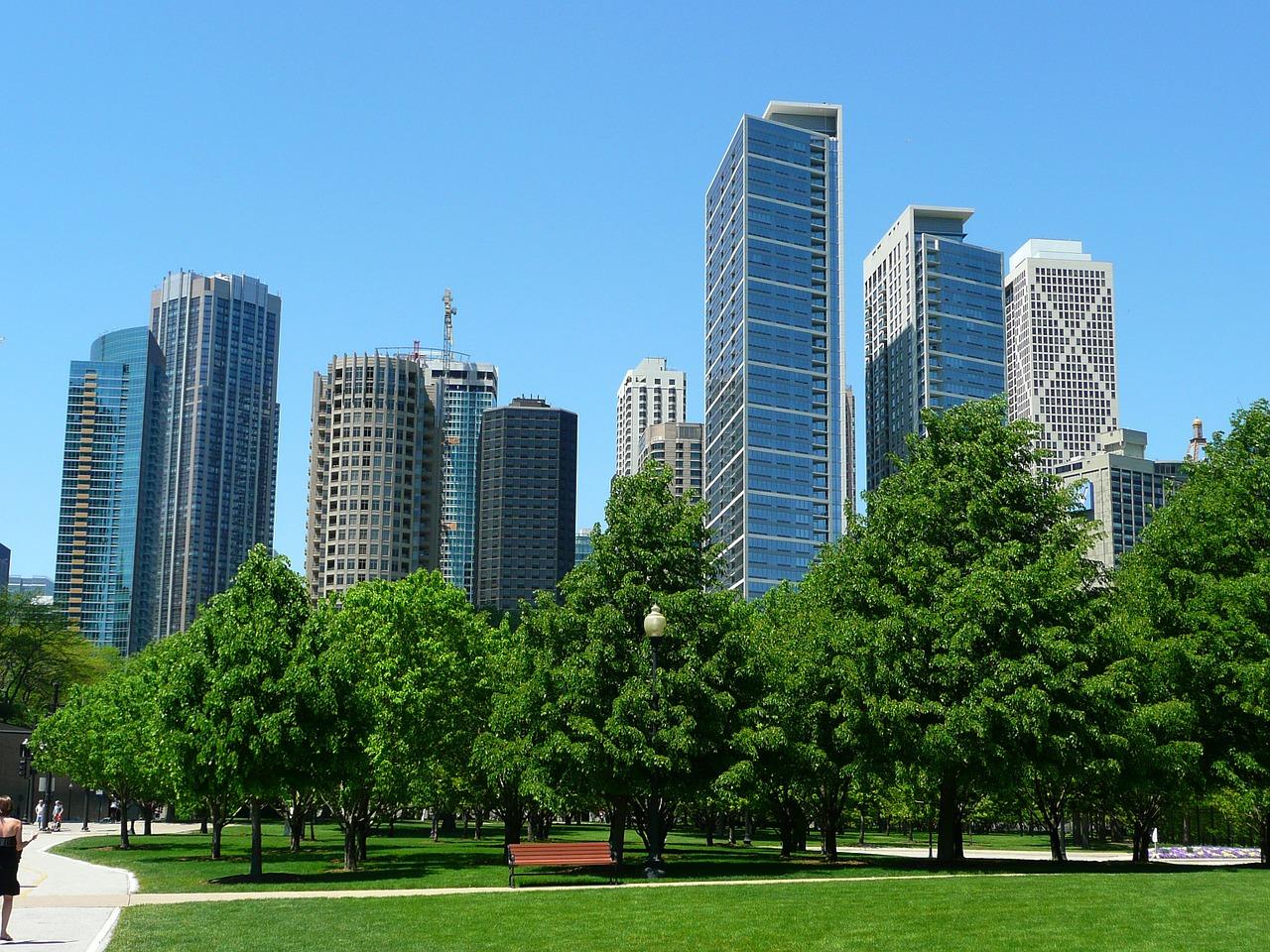 The State of Chicago Trees
April 30, 2015: One in five parkway trees in Chicago is threatened by the Emerald Ash Borer beetle. So what can people do to stop the shrinking of the region's tree canopy? The Morton Arboretum's CEO, Gerry Donnelly, joins us to talk about reversing tree loss.
---