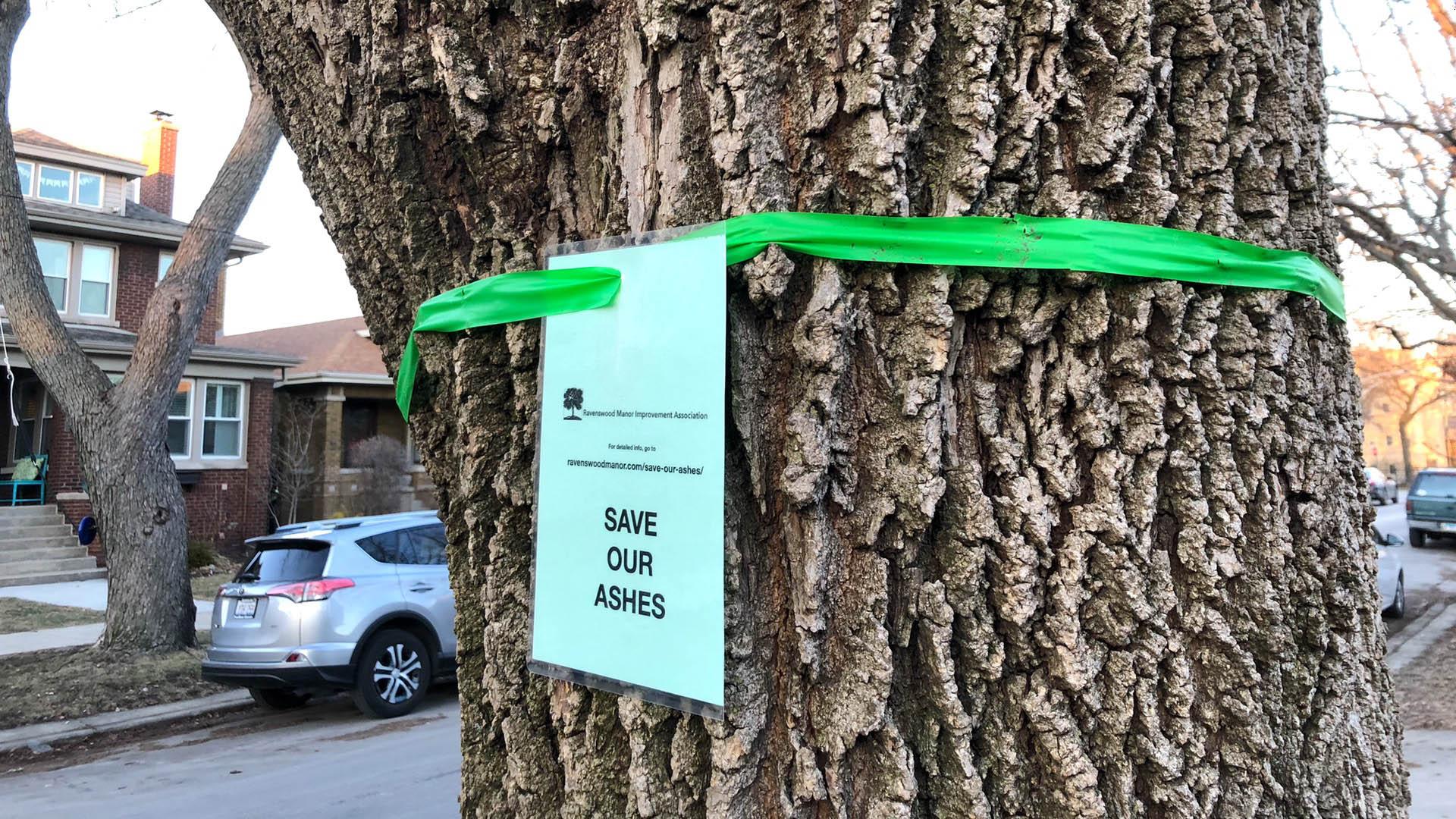 (Patty Wetli / WTTW News)
With a large swath of the country in the grip of frigid temperatures, the U.S. Fish and Wildlife Service offered up a reminder that the deep freeze has a silver lining: It kills emerald ash borer beetle larvae.
"Not a fan of the cold? There are some perks!" the service posted to social media. "Studies suggest that cold temperatures help reduce the number of emerald ash borer larvae that survive the winter." 
Sounds harsh, to root for a creature's demise, but the borers have been merciless in their destruction of ash trees. It's the larvae that damage ash by feeding on inner bark — creating the beetle's telltale tunneling patterns — and cutting off nutrients.
In less than 15 years, the beetle has felled 6 million ash in the Chicago region alone, and left another 4 million mortally wounded. Of the 3 million ash trees still standing in the area, more than one-third are fragile saplings, according to a 2020 tree census.
But here's the catch to the killer cold research: The study in question was conducted by the University of Minnesota, and to Minnesotans, "cold" is a relative term. 
According to the study, at 0°F, only about 5% of larvae die off. It's not until temperatures plummet to 10-below that significant die off occurs — an estimated 34% of larvae. For every 10 degrees colder, fewer and fewer beetle larvae survive: about 79% die at -20°F and 98% at -30°F.
Note, those are air temperatures, not wind chills.
So, when's the last time Chicago reached -30°F?
Never. It has never been that cold in Chicago.
The lowest air temperature ever measured since records began being kept in the 1870s was -27°F on Jan. 20, 1985. For perspective, in 150 years, Chicago has only experienced 43 days of temperatures -16°F or colder (and 15 of those days occurred before 1900), typically overnight lows.
It's looking like a 95% survival year for larvae. 
Contact Patty Wetli: @pattywetli | (773) 509-5623 |  [email protected]
---