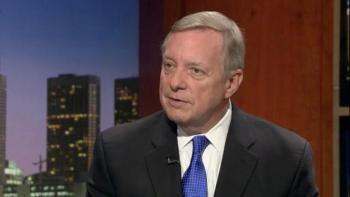 As thousands rallied downtown Wednesday to support comprehensive immigration reform, Sen. Dick Durbin addressed the crowd on a bill that would create a path to citizenship for the estimated 11 million illegal immigrants in America.
"We have the best chance we've had in 25 years to pass comprehensive immigration reform this year in Washington, D.C," said Durbin, referring to the bill he co-sponsored, calling it a "once-in-a-lifetime opportunity."
Durbin joins us on Chicago Tonight at 7:00 pm to discuss his bill, and the latest news from the Hill.
The bill, written by a bipartisan team of eight senators, creates a 13-year-long path to citizenship for immigrants living here illegally, dependent on national security "triggers," such as extending fencing along the border with Mexico.
The bill's Democratic sponsors are Durbin, of Illinois, Chuck Schumer of New York, Robert Menendez of New Jersey, and Michael Bennet of Colorado. The Republicans in the so-called "Gang of Eight" are John McCain and Jeff Flake of Arizona, Marco Rubio of Florida, and Lindsay Graham of South Carolina.
Many of the bill's provisions are contingent on billions of dollars of spending from the Department of Homeland Security to step up enforcement and expanded screening systems. The federal government would need to create a system to track when non-citizens leave the country, and employers would have to verify the legal status of all new hires using a government photo-matching system.
"We are going to have a stronger border with Mexico, we are going to have 11 million people come forward and have an opportunity to register with our government, out of the shadows," Durbin said last month on NBC's Meet the Press. "We are going to have verification of employment in the workplace, and we're finally going to have a system where we can track visa holders who visit the United States to make sure they leave when they've supposed to."
If those conditions are met, illegal immigrants would be able to receive Registered Provision Immigrant Status (RPI). After a decade, they could apply for a green card.
The system for green cards itself would be overhauled, incorporating a merit-based point system as one of two options for applicants. Job skills, education level, and family ties would all contribute to applicants' points, as high-tech companies look to hire more skilled workers.
A separate path would not depend on points, and would be open to immigrants who have been legally employed for at least 10 years. This is the path that RPIs would enter.
Opponents of the bill, including the Heritage Foundation, have called the plan amnesty, and Sen. Chuck Grassley of Iowa, the ranking Republican on the Senate Judiciary Committee, has not voiced his support.
The bill's sponsors want it to attract at least 70 votes in the Senate. That would persuade House Republicans, they say, to support the sweeping plan instead of incremental changes.
Despite the recent failure of background check legislation, which was also the product of a bipartisan group of senators, Durbin has been cautiously optimistic about the immigration bill's chances.
"The national Republican Party knows they are locked out of the White House unless they change their position on immigration." Durbin told the AP.