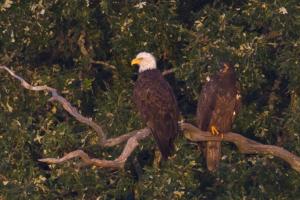 This spring, a nest of bald eaglets hatched in Cook County -- the first in over a century. Now, at least one of those young eagles has gone through the difficult process of fledging, or learning how to fly. Nature photographer Jerry Goldner recently caught pictures of the young eagle out of its nest. View a photo gallery of the eagles.
The juvenile bald eagle can be distinguished from its adult parents by the absence of the white head and white tail feathers. Bald eagles don't develop this signature look until they reach the age of 4 or 5.
Since April, forest preserve staff and Goldner have been watching the nest through the trees at a distance of 150 yards, so as not to interfere with the nesting.
View the nesting bald eagles in the following video, courtesy of Goldner.