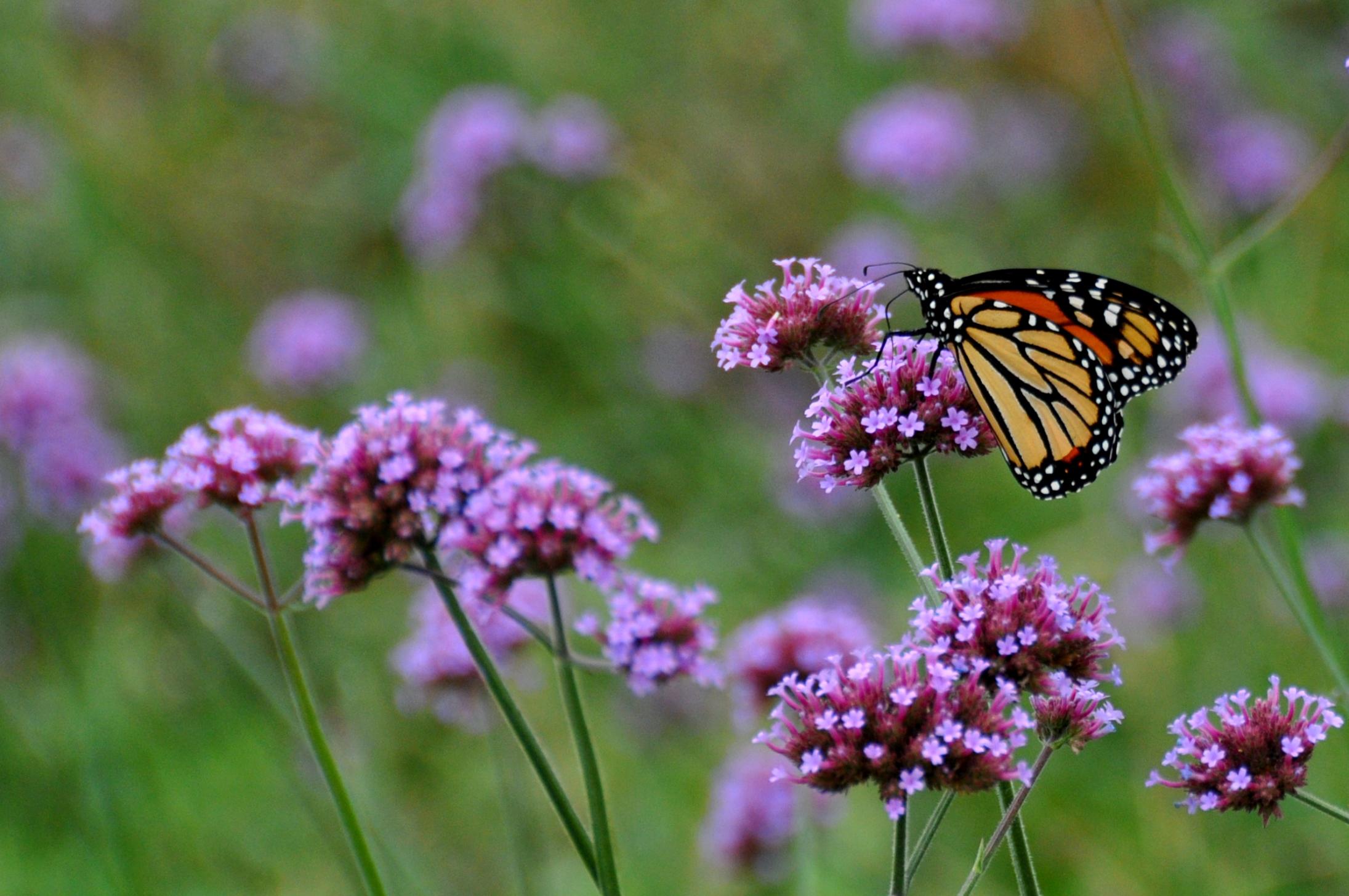 The population of the monarch butterfly -- seen here in Chicago's Grant Park -- has declined by more than 80 percent over the past two decades. A 2016 study claims the decline of milkweed plants in the Midwest is a contributing factor. (Oriol Gascón i Cabestany / Flickr)
The annual migration of the monarch butterfly from North America to Mexico and back has been called "one of the most spectacular natural phenomena in the world" by scientist Lincoln Brower, considered the world's foremost expert on the species. But the iconic North American insect that makes this extensive journey is not only in decline – it's closer to extinction than previously thought, research shows.
In 1994, annual recordkeeping of the overwintering monarch population in Mexico began. Until 2000, the butterflies covered between 12 and 50 acres of land. But data from recent years show a rapid decline, with monarchs covering less than three acres per year in 2012, 2013 and 2014. Last season's population saw an increase to nearly 10 acres, but wildlife experts are still very worried about the monarch's fate.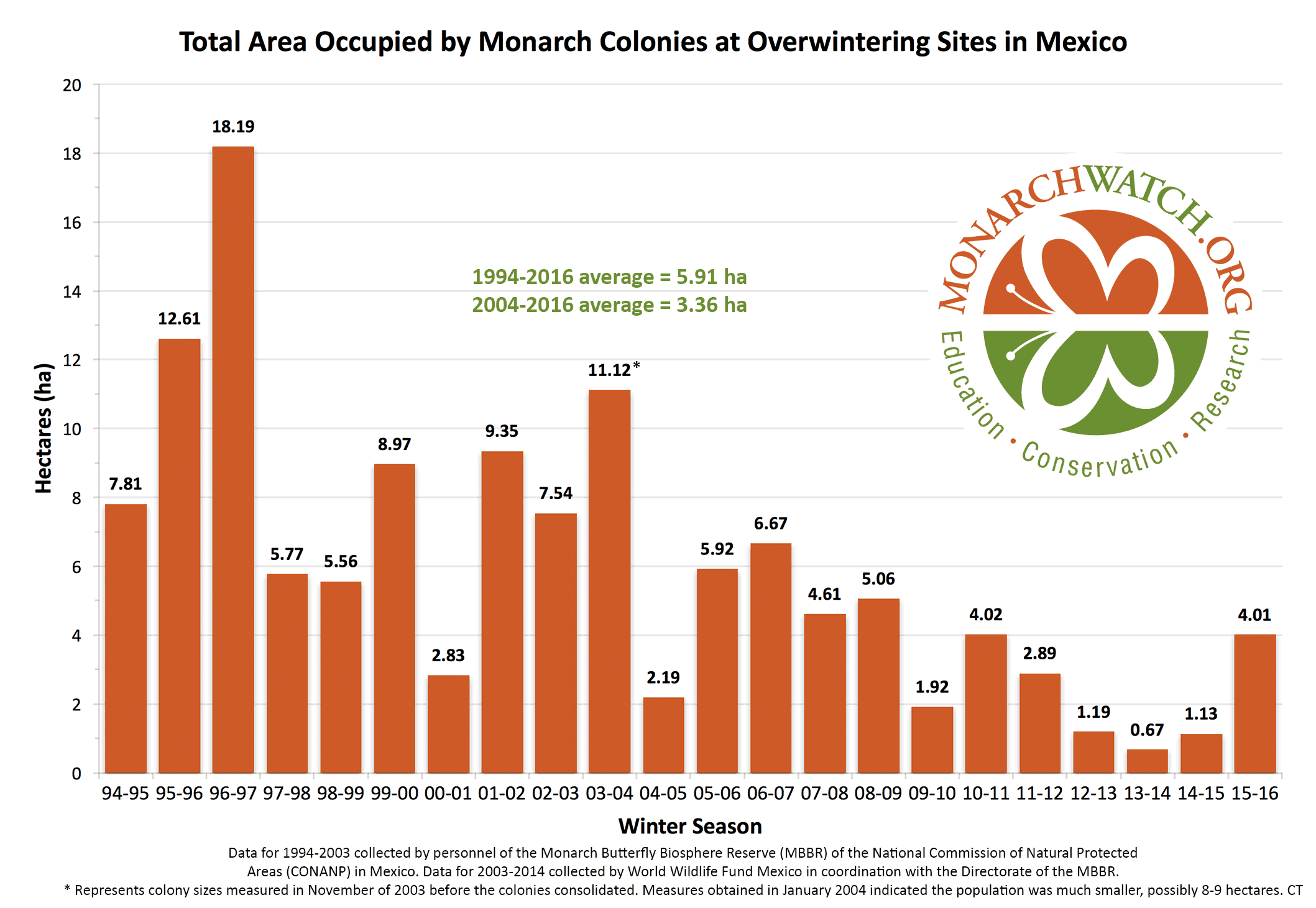 The overwintering monarch population in Mexico is measured by area with the metric unit hectare (equal to approximately 2.47 acres). Although last season saw an increase, numbers have been much lower since the 1990s and scientists are worried for the monarch's future. (MonarchWatch.org)
A new study from the U.S. Geological Survey and other scientists predicts monarch butterflies have an 11 to 56 percent chance of quasi-extinction over the next 20 years. Quasi-extinction occurs when a species has so few surviving individuals that population recovery is considered impossible.
The study also points out that monarch numbers have declined by over 80 percent in the past 20 years. That population drop correlates with a decline in milkweed availability.
The monarch and the milkweed
Adult monarchs will only lay eggs on milkweed and the plant is the sole food source for monarch caterpillar larvae. The plant also offers protection: caterpillars ingest a toxic steroid from milkweed that's distasteful to predators like birds or mice.
"It's a very unique relationship between the monarch and the milkweed," said Boyce Tankersley, director of living plant documentation at the Chicago Botanic Garden. "The pollen and nectar from the flowers are also utilized by adult butterflies to provide energy and nutrition as they migrate south towards Mexico and then back again north."
The distance covered by that two-way migratory journey distinguishes monarchs from any other butterfly species. Every fall, monarchs east of the Rocky Mountains, where the majority of the world's population is, fly to about a dozen specific mountain areas in Mexico to roost in large, crowded clusters. According to the U.S. Forest Service, some travel as far as 3,000 miles to reach the mountainous oyamel fir forest, which has a moist, cool climate that keeps the butterflies from drying out or freezing. By March, they begin their northward trip back. At least five generations of monarchs partake in the annual cycle.
The Midwest is prime breeding territory for monarchs, and Midwestern states were previously meccas for milkweed, where corn and soybean crops dominate the agriculture industry. Common milkweed used to grow in corn and soybean fields, but the plants have disappeared from agricultural areas due to the use of herbicides, particularly as more farmers in the Midwest grow genetically modified corn and soybeans, crops that are resistant to herbicides like glyphosate, better known by its trade name Roundup. Tracts of land are sprayed with herbicide, killing virtually everything that's not intended – including milkweed, which becomes less available for migrating monarchs.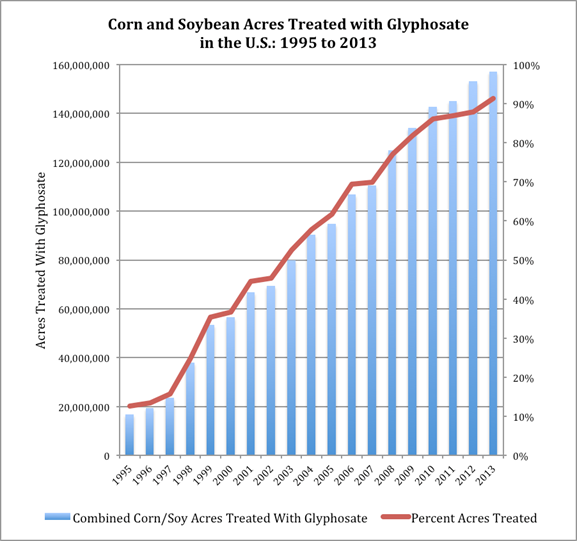 Use of glyphosate, a herbicide, has increased in the United States, inversely affecting milkweed abundance and monarch population numbers. (Center for Food Safety)
How Chicagoans can help
In 1987, chief curator Doug Taron of the Peggy Notebaert Nature Museum founded the Illinois Butterfly Monitoring Network, a volunteer-driven organization that conducts annual censuses of butterfly species in the state. Taron said the monarch population in the greater Chicago area, where the group focuses its surveys, has remained largely stable despite reports of global declines. He hypothesizes that monarchs are now depending more on city landscapes for milkweed.
"Milkweed is declining in agricultural areas, so monarchs are concentrating in more urban areas because that's where the plant still is," Taron said. "Milkweed is very tolerant of human disturbance, so it can be found all over the place in the city, like vacant lots, parks, forest preserves, backyards. It can grow anywhere."
Taron said if Chicagoans want to help monarchs, they can purchase and plant milkweed seeds, of which there are several different kinds. Common milkweed is the most widespread naturally growing species in Illinois, while butterfly milkweed is a popular ornamental plant producing large, flat-topped bunches of orange flowers.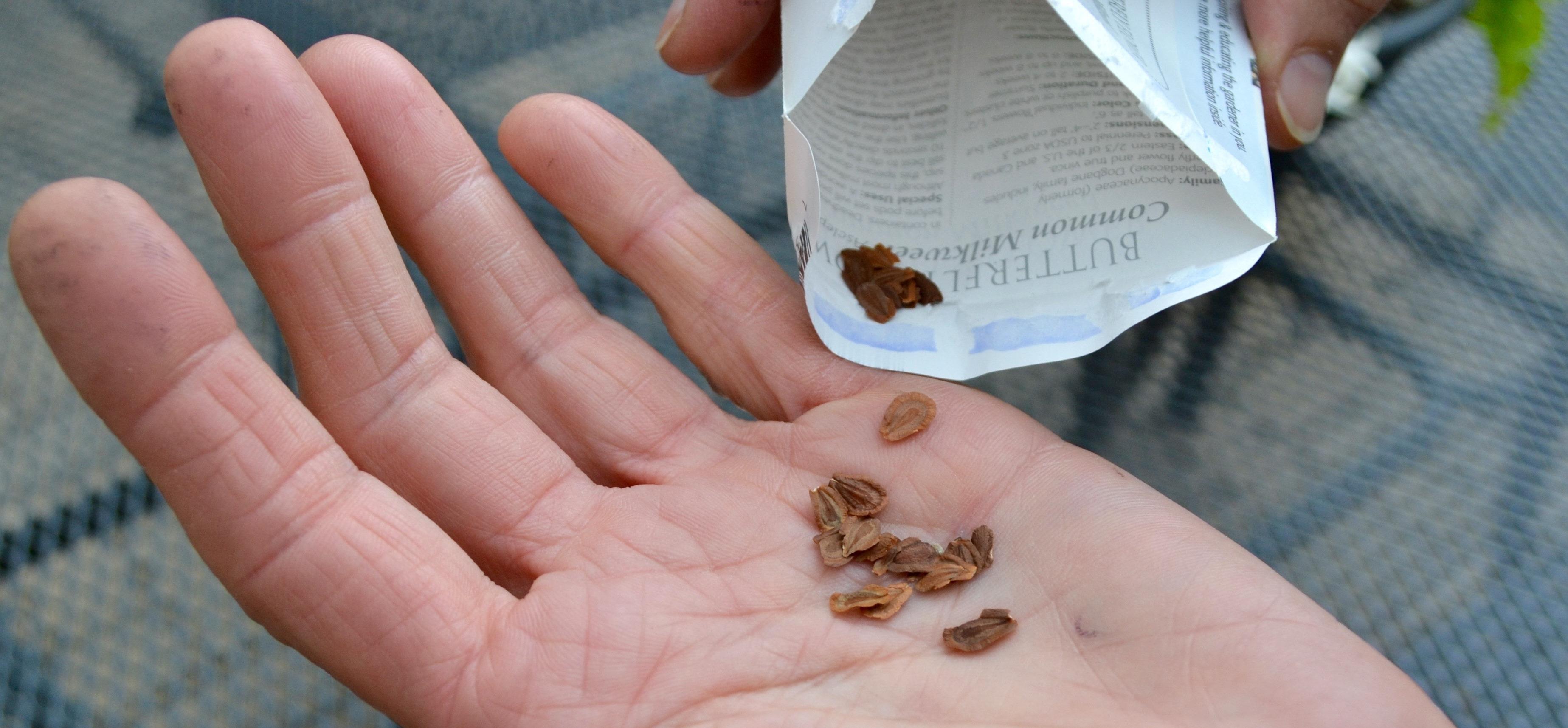 The Gethsemane Garden Center in Edgewater sells multiple varieties of milkweed seeds. (Evan Garcia)
Because milkweed is, by definition, a weed, chances are it's already growing in your garden. Taron said milkweed can be distinguished by its milky sap, from which the plant gets its name.
"It's got big, oval-shaped leaves," Taron said. "If you cut off a small tip of a leaf, it'll start oozing a milky white sap, which is how you know it's milkweed."
Tierra Curry, senior scientist at the nonprofit Center for Biological Diversity, said people can wield their consumer power by purchasing organic corn and soy products that weren't treated with herbicides.
"The more pressure consumers put on the system to not raise those crops, the better chances that milkweed can recover in agricultural fields," Curry said.
Protecting a natural legacy
Very few insects have the same cultural significance as the monarch butterfly. It's the state insect or butterfly of seven U.S. states, including Illinois. It was even nominated to be the national insect of the United States in 1990 (the legislation didn't make it through Congress).
Taron said the monarch is on the minds of many visitors to the Peggy Notebaert Nature Museum's butterfly exhibit.
"The butterfly everyone always wants to talk about is the monarch," Taron said. "People are concerned about the news they've been hearing and worried they might not get to see them anymore.
"Without a doubt, it's the most-loved butterfly in the country, possibly the entire world."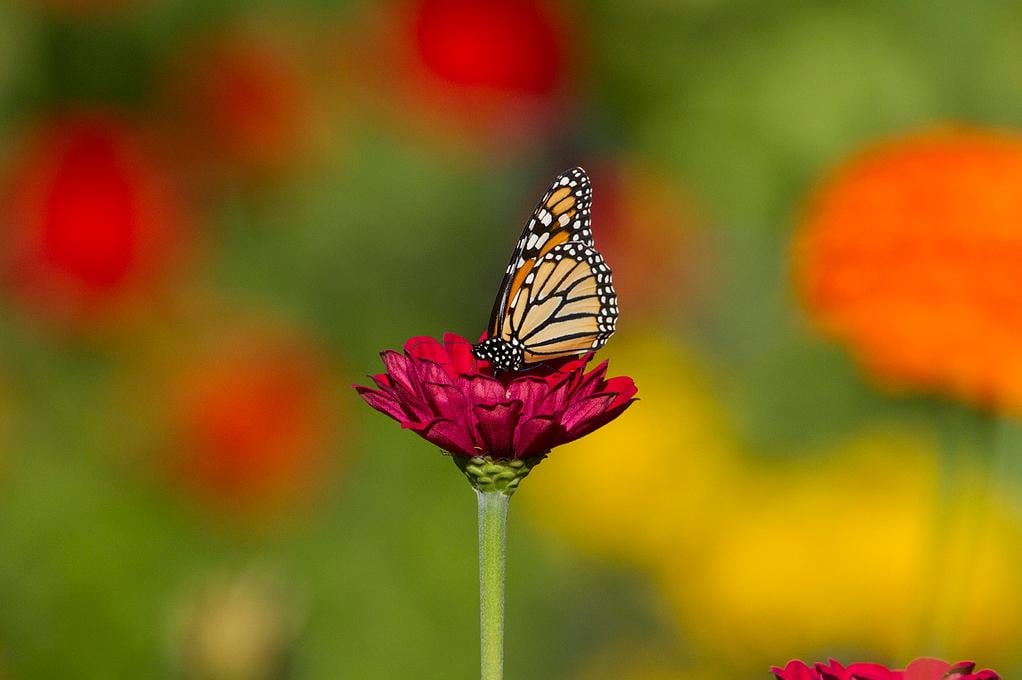 A monarch butterfly at the Chicago Botanic Garden. (Jerry Goldner)
Curry said it would be a disservice to future generations if the monarch dies out on our watch.
"We'd lose this beautiful, iconic animal that was once a part of every generation of Americans," she said. "Millions of Americans grew up with monarchs in their backyard and watched their metamorphosis in classrooms."
The northward migration of monarchs out of Mexico and into the U.S. has officially begun. Monarch butterflies are now entering Texas, although their spring migration this year is "lagging."
Illinois residents can expect to start seeing monarchs enter the state in May.
Follow Evan Garcia on Twitter: @EvanRGarcia
---
Related 'Chicago Tonight' Stories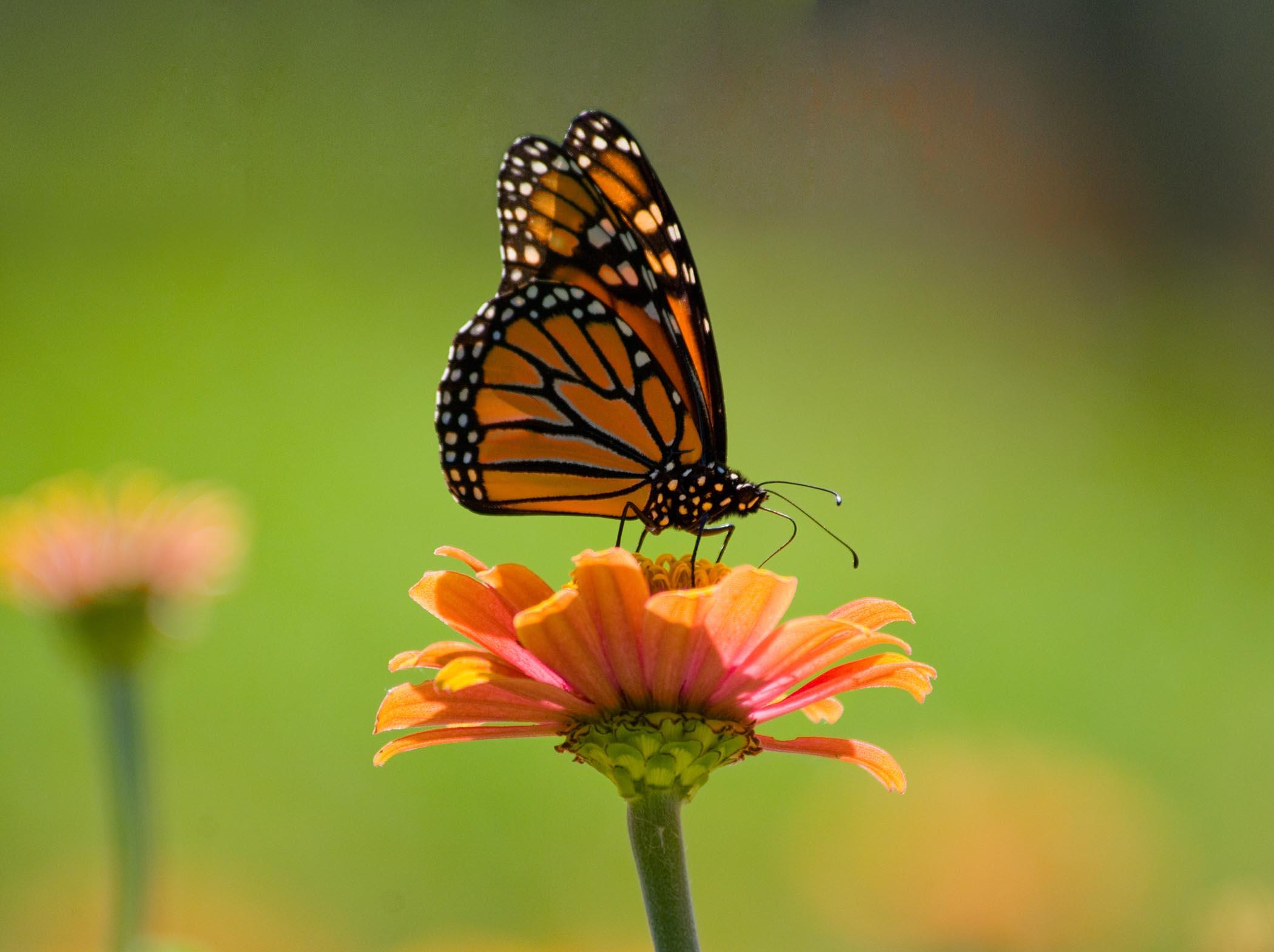 Bringing Back Monarch Butterflies
June 5, 2014: Over the past 10 years, monarch butterfly populations have been declining in North America. Tune in to learn simple ways to promote the creature's habitat in your backyard.
---
May 24, 2010: When he's not playing French horn with the Chicago Symphony Orchestra, he has a rather unusual hobby. We meet Dan Gingrich and his monarch butterflies.