Sweet music will be made all day long Thursday in Chicago -- and around the world. We have the details on Chicago Tonight at 7:00 pm from the Creative Director of Make Music Chicago, Deborah Sobol.
On June 21, the city celebrates the second annual Make Music Chicago, a completely free music festival taking place across the city at venues spanning from Hyde Park to Evanston. The all-day event coincides with World Music Day, a global event – always on June 21 – that began in France more than 30 years ago and is now celebrated in 110 countries and 460 cities around the world.
"We launched Make Music Chicago last year knowing that we wanted to join in this international day of music-making," said Sobol in a statement. "The enthusiasm that radiated from the whole city was palpable. Everyone taking part knew that they were part of something much larger than themselves – they're joining people all over the world in making music."
Presented by Rush Hour Concerts and broadcast live by 98.7 WFMT (WTTW's sister radio station,) this year's Make Music Chicago festival has more than doubled in scope from last year to include more than 700 local artists performing at 75 sites around the city.
Performance sites include public spaces citywide; among them Daley Plaza, Millennium Park, both Apple stores (Michigan Avenue and North Avenue,) Macy's State Street, John Hancock Center, Museum Campus, Northerly Island and over 25 Chicago Park District sites, among many others.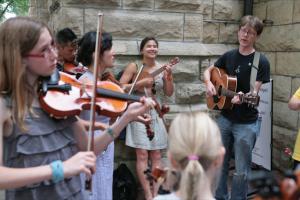 As far as performances go, the Chicago Symphony Orchestra hosts an open rehearsal, offering unprecedented access to practice sessions of the world-renowned groups. Pianist Winston Choi is scheduled to perform at four different locations throughout the day. The event culminates with the Make Music Chicago Grand Finale at the St. James Cathedral, which includes a performance of "Sweet Home Chicago" that invites all instrumentalists (hand clapping counts!) and vocalists to join in.
"Since this is the citizens and residents of Chicago making music, it's a very participatory thing and very communal. Whatever part of city you're in, you're part of a citywide—and world event," said Kelly Jocius, executive director of Rush Hour Concerts.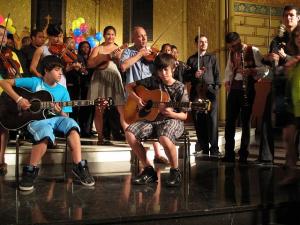 Jocius said there was a steep learning curve to coordinating an event of this scope. Rush Hour Concerts had about six months to book venues, organize musicians and coordinate last year's inaugural event. With more time to plan and a team of about 100 volunteers this year, Jocius said Rush Hour Concerts was able to push the event into Chicago communities they weren't able to reach last year.
"We didn't reinvent the wheel when it came to planning this again, but because there are so many new sites this year, there was still a lot to discover," said Jocius.The result, according to Jason McInnes, a music teacher at the Old Town School of Folk Music who's participating in this year's festival, is a hyper-local musical community that's accessible to everyone.
"Something like this gives people a chance to enjoy music more accessibly," said McInnes. "They don't have to work very hard to experience something new, and I hope that opens doors for some people."
To view the full schedule of musicial events, click here.