The video cannot be displayed.
For 12 years, the James Beard Foundation has honored the best of the best in the North American food industry – from chefs to food journalists to restaurant architects – at the annual James Beard Foundation Award Ceremony. Held annually at the Avery Fisher Hall in New York City, the awards are named after renowned American chef and food writer James Beard, and are one of the highest recognitions a restaurateur can receive.
At this year's ceremony, two Chicago chefs were recognized for their culinary excellence: Mindy Segal of Bucktown's Hot Chocolate and Bruce Sherman of Lake View's North Pond. We get to know Chicago's Beard Award winners on Chicago Tonight at 7:00 pm. Learn more about the winners and the foundation below, and visit our behind-the-scenes blog post of Segal's kitchen.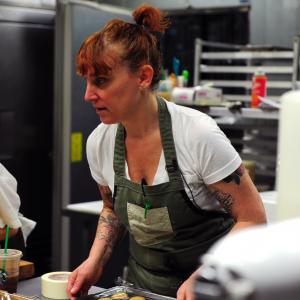 Mindy Segal (Outstanding Pastry Chef: Hot Chocolate) – After graduating from Chicago's Kendall College, Segal began her career under then-Ambria pastry chef Judy Contino (Contino now runs Lakeview bakery Bittersweet.) After stints at Spago, Gordon, Charlie Trotter's and MK, Segal opened up her own place, Hot Chocolate, a Bucktown restaurant and dessert bar that's earned Segal the James Beard Foundation's "Outstanding Pastry Chef" nomination five years running since 2007 before this year's win. After closing the restaurant for renovations on April 22, it is reopening on May 10 under the new name: Mindy's Hot Chocolate Craft Food & Drink.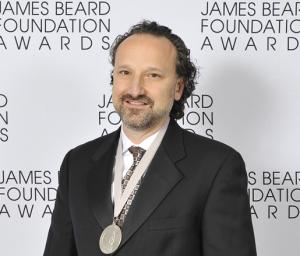 Bruce Sherman (Best Chef: Great Lakes Region: North Pond) – Native Chicagoan Bruce Sherman began his culinary career in Boston managing restaurants. Unsatisfied with the business end of the food industry, Sherman tried his hand at food preparation and never looked back. After moving to Washington D.C. to start a catering business, Sherman and his wife relocated to India for four years, giving Sherman the opportunity to immerse himself in the country's deep culinary traditions and the practice of cooking with seasonal ingredients. Sherman relocated again, this time to Paris to enroll at the French cooking school École Superieure de Cuisine Française while honing his training on the side at Parisian restaurants. After completing the year-long program, Sherman returned to Chicago. He assumed the position as Chef at North Pond in 1999. Like Segal, Sherman has been nominated for the James Beard Foundation "Best Chef: Great Lakes Region" award five years running before this year's win. 
Also honored at this year's James Beard Awards: Grant Achatz, who was inducted into the foundation's "Who's Who of Food & Beverages in America" and whose restaurant, Next, took home the "Best New Restaurant" award; and Charlie Trotter, who was honored as the 2012 Humanitarian of the Year through his work through the Charlie Trotter's Culinary Education Foundation.
Watch a video detailing Charlie Trotter's humanitarian efforts.
For more information about the James Beard Foundation, check out the video below.
Visit the links below for the full list of the 2012 James Beard Award winners.