The James Beard Awards, often called the Oscars of food because of its influence on the United States' culinary scene, took place Monday in Chicago at the Civic Opera House. Out of 14 Chicago finalists, four took home awards.
Greg Wade of Publican Quality Bread won Outstanding Baker in his third year of being nominated. "I looked to make sure it actually said my name," he said after winning. He took the chance to call on people to pay more attention to our food system and how climate change endangers it – and the potential of food to bring people together: "We only have one food system, one way to feed everyone, whether rich or poor. It's time that we come together to cultivate a better, healthier food system for all." When he was nominated two years ago, he discussed the influence of James Beard and shared his favorite Beard recipe with WTTW.
Firm Parts and Labor Design won Outstanding Restaurant Design in the 76 Seats and Over category for Pacific Standard Time, the acclaimed restaurant that opened last year with chef Erling Wu-Bower at its head. 
Beverly Kim and Johnny Clark of Parachute won Best Chef: Great Lakes out of a field of six Chicago chefs, on their third year as finalists in the category. They have been featured by WTTW frequently: they answered Catherine De Orio's questions about their modern Korean food and their favorite Korean joint in Chicago, and Kim also appeared on "Dishalicious" and shared a recipe for a miso-spiked baked apple dessert. "This is our fourth nomination, so we didn't feel as much anticipation this year," Clark said. "We're used to sitting there and just waiting, so we're so happy to be here, and it feels a bit surreal," Kim added. They're planning on opening a new restaurant this year.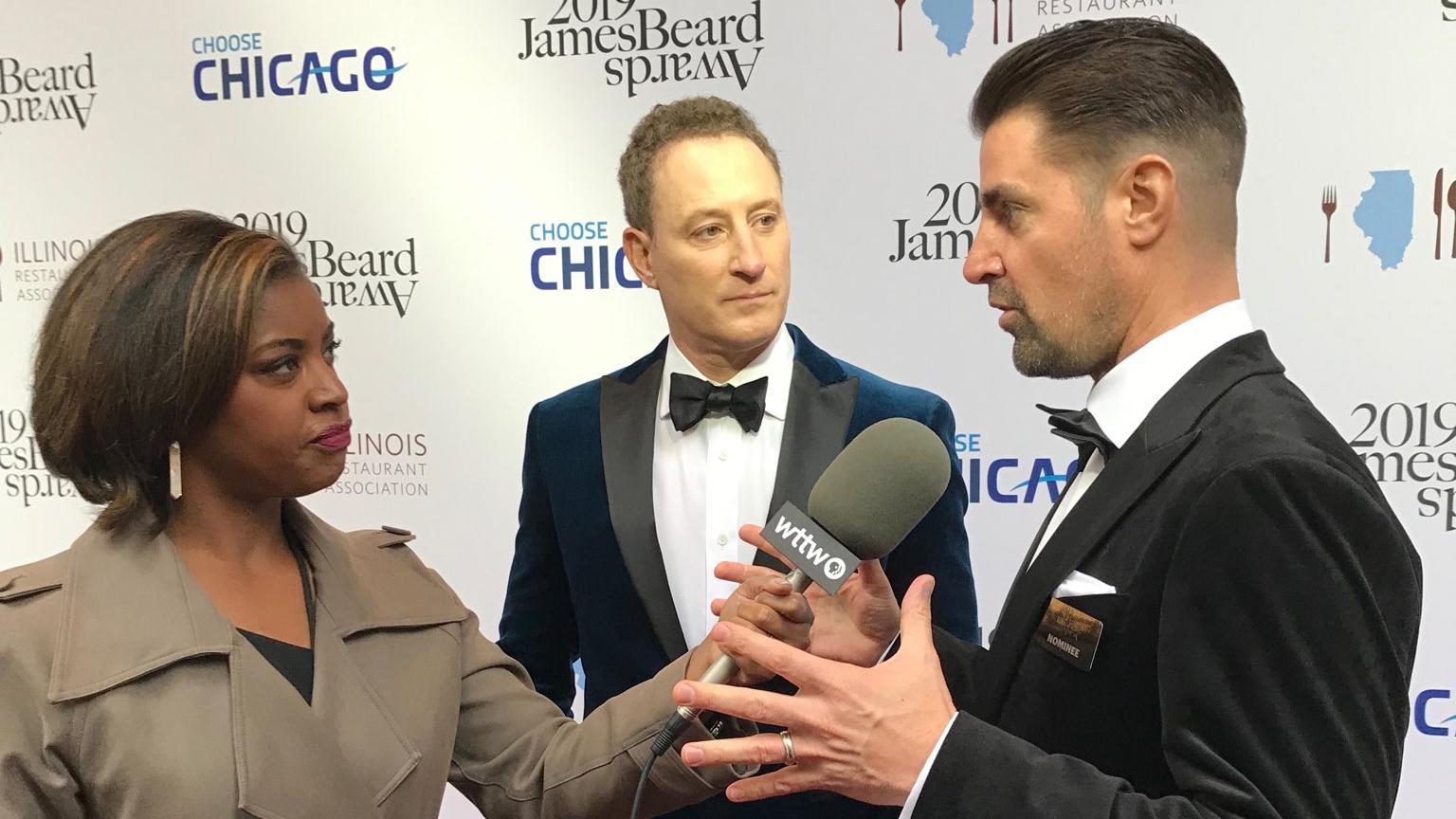 Brandis Friedman talks with James Beard Award winners and Boka Restaurant Group co-founders Rob Katz, left, and Kevin Boehm on Monday, May 6, 2019 before the awards ceremony.
Finally, Rob Katz and Kevin Boehm of the Boka Restaurant Group, which is responsible for Stephanie Izard's Girl and the Goat restaurant, plus GT Fish and Oyster, Boka, Momotaro and other Chicago stalwarts, won Outstanding Restaurateur on their fourth nomination. Both the chef, Lee Wolen, and pastry chef, Meg Galus, of Boka may not have taken home an award this year, but the restaurant group still has a big win. 
Last fall, the James Beard Foundation announced several changes to the policies governing the selection of the awards in an attempt to make them more inclusive and diverse. Last year, in the wake of #MeToo allegations against various prominent chefs, the foundation encouraged voters to take into account nominees' behavior even before the policy changes were made. Last year, 11 of the top 16 categories awarded to individuals were won by women or people of color. This year, 10 of those 16 were won by women or people of color. 
The James Beard Media Awards, which cover books, television, digital series and journalism, took place on April 26 in New York City. Among the winners were two PBS series: Chef Marcus Samuelsson won Outstanding Personality for hosting "No Passport Required," which visited Chicago's Mexican community in one episode and is available to stream; and "Pati's Mexican Table – Tijuana: Stories from the Border" won Television Program, in Studio or Fixed Location. 
---
Related stories:
Chicago to Host James Beard Awards Through 2027
New WTTW Food Show 'Dishalicious' Takes Competition Out of Cooking
From 'Top Chef' to Best Chef, Local Restaurateur Wins Big at Beard
---