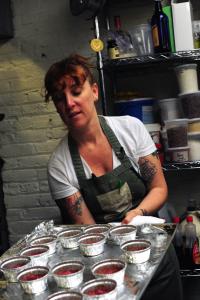 Not often does a young journalist and self-identified food fanatic get a backstage pass to the kitchen of a James Beard Award winner. So imagine my delight when Chicago Tonight reporter Ash-har Quraishi said he needed a helping hand while shooting a piece on the 2012 Outstanding Pastry Chef award winner, Mindy Segal.
A veteran of the Chicago food industry for more than 20 years, Segal is reopening her Bucktown restaurant and dessert bar Thursday under an updated name: Mindy's Hot Chocolate Craft Food & Drink. Formerly known as Hot Chocolate, the 7-year-old restaurant has been shuttered for nearly three weeks to allow some time for a both an architectural and culinary facelift.
"We're really getting away from this artistry of cooking and composed plates, and sort of really working on our craft," says Segal, as her cooks slice strawberries, rolled pasta and chopped onions in preparation for the restaurants grand reopening.
As opening time draws near, Segal is visibly nervous, and admits to feeling anxious about her new venture, as she runs around directing her cooks.
"We're going to roll the dice and we'll see," says Segal. "If I wasn't nervous, I wouldn't be a human being."
Menu-wise, Segal is ditching the more structured, elaborate plates for more a-la-carte style (the menu is broken down into jars, plates, bowls, salads and sandwiches.) The staples of the savory menu, like the burgers and macaroni and cheese, have been slightly tweaked.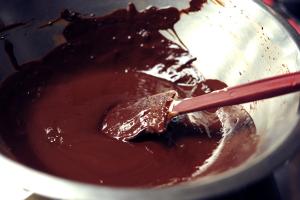 The same can't be said of the desserts, which Segal says she's reinvented – a bold move for someone who just won an award for her old stylings. Segal says she'll be focusing on one pastry element – a chocolate cake, a butterscotch pie, Bavarian custard – and reinventing them through temperatures and textures.
Aesthetically, the new Mindy's Hot Chocolate goes for an even more masculine look than its predecessor. Segal took her redesign cues from the restaurant building's former life as a metal stamping plant. The look is more industrial and features repurposed and reclaimed furniture with wood and metal elements. The front of the restaurant has been opened up with floor-to-ceiling glass doors that can be opened for nice weather, and skylights have been added toward the back of the restaurant to add more natural light.
"I'm very excited. I don't want to let my staff down, and I don't want to let my customers down," says Segal. "I want to open and learn from what we're going to do, and see the change, and I hope everyone enjoys it."