The video cannot be displayed.
The Chicago Sun-Times may be getting new owners, and unemployment rates are the lowest since 2009. Kris Kridel of WBBM Newsradio 780 and 105.9FM has those stories and more top business headlines.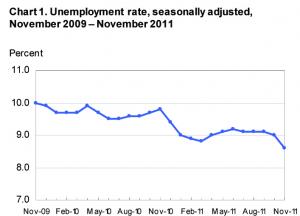 Unemployment levels dropped to their lowest since March 2009, falling from a stagnant 9 percent to 8.6 percent this November. Despite European debt woes and suspicions of another recession, American employers added 120,000 jobs last month and the U.S. stock exchange rose, a positive response to European plans to shore up confidence in the euro.
The drop in joblessness isn't solely attributed to the addition of jobs; 100,000 jobs were added in October, making the upward trend only a marginal increase. And in November, 315,000 people stopped looking for jobs, which is crucial to the unemployment numbers, as people who stop looking for jobs are also no longer considered unemployed.
More than 13 million Americans remain unemployed, a marginal decrease of 594,000 individuals from October, and only 64 percent of Americans are currently participating in the work force.
For more information, view the PDF and visit the links below.