Chicago-based United Airlines is doing the CEO shuffle; Chicago's biggest craft beer brewer Lagunitas is selling 50 percent of the company to heavyweight Heineken; Oakbrook-based McDonald's is switching to cage-free eggs; and the Fox TV hit series Empire, which is shot in Chicago, is pulling in huge advertising revenues this year.
Here with these stories and more is Crain's Chicago Business deputy managing editor Ann Dwyer.
United Airlines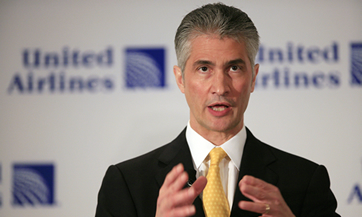 Former United CEO Jeff Smisek
United Airlines has replaced CEO Jeff Smisek with Oscar Munoz, CSX Corporation's COO. United had a rocky year with poor on-time arrivals, computer glitches and a federal probe into a flight route allegedly put in place for the chairman of the Port Authority of New York and New Jersey. Munoz must reverse declining revenues, bring new customers and smooth relations with labor groups.
Lagunitas
Chicago's largest brewery, Langunitas, is selling half the company to Heineken, the third-largest beer company in the world. Lagunitas opened a $26 million Chicago brewery last year in the Douglas Park neighborhood. The 300,000 square foot facility can produce up to 500,000 barrels of beer a year.
Lagunitas' founder, Tony Magee, is a Chicago-native and has been outspoken in his past criticism of "big beer" companies. So what will the sale mean for the craft beer company?
McDonald's
Oakbrook-based McDonald's said it will switch to cage-free eggs in an effort to lure more health and animal-rights conscious consumers. McDonald's currently uses an estimated 2 billion eggs annually to make menu items such as egg McMuffins. The massive fast food provider also recently announced all-day breakfast in its 14,350 stores which may lead to increased egg consumption and could drive up egg prices. The switch to cage-free eggs in the U.S. and Canada will take place over the next decade.
FOX's Empire
The FOX television hit show that's shot in Chicago, Empire, is so successful it's charging NFL rates for its advertising during the new season of the show.