McCormick Place sees an immediate return after striking a major new union deal. Kris Kridel of WBBM Newsradio 780 joins us to discuss this, and more top business news on Chicago Tonight at 7:00 pm.
Recent labor pacts negotiated by Mayor Rahm Emanuel and Gov. Pat Quinn are successfully wooing more business to the McCormick Place convention center. The change in labor laws, after discussion with Teamsters Local 727 and the Chicago Regional Council of Carpenters, now allows exhibitors to unload their own equipment and assemble booths by themselves, cutting set-up costs.
One of the most lucrative exhibitors lured by the labor deal is Solar Power International, a solar power trade show. SPI has agreed to exhibit in 2013 and 2015, and the conventions are expected to draw 27,000 attendees and infuse $80 million into the local economy. The National Restaurant Association, True Value and the Housewares show have also expressed renewed interest to convene in Chicago.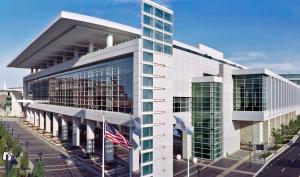 Area hotels have also responded positively to the agreement – Blackstone, which owns The Hilton Chicago, Hilton Chicago O'Hare Airport and Wyndham Chicago hotels, has committed to $125 million in renovations to its properties over the next few years.
With the new changes, Chicago may have enough incentive to rival convention hot spots Las Vegas and Orlando, suggested Mayor Emanuel.
"Throughout the process we said that the labor rules must be changed so McCormick Place could be the number one destination in the world for the convention and trade show industry," Mayor Emanuel said.
For more information on this and other top business stories, visit the links below.