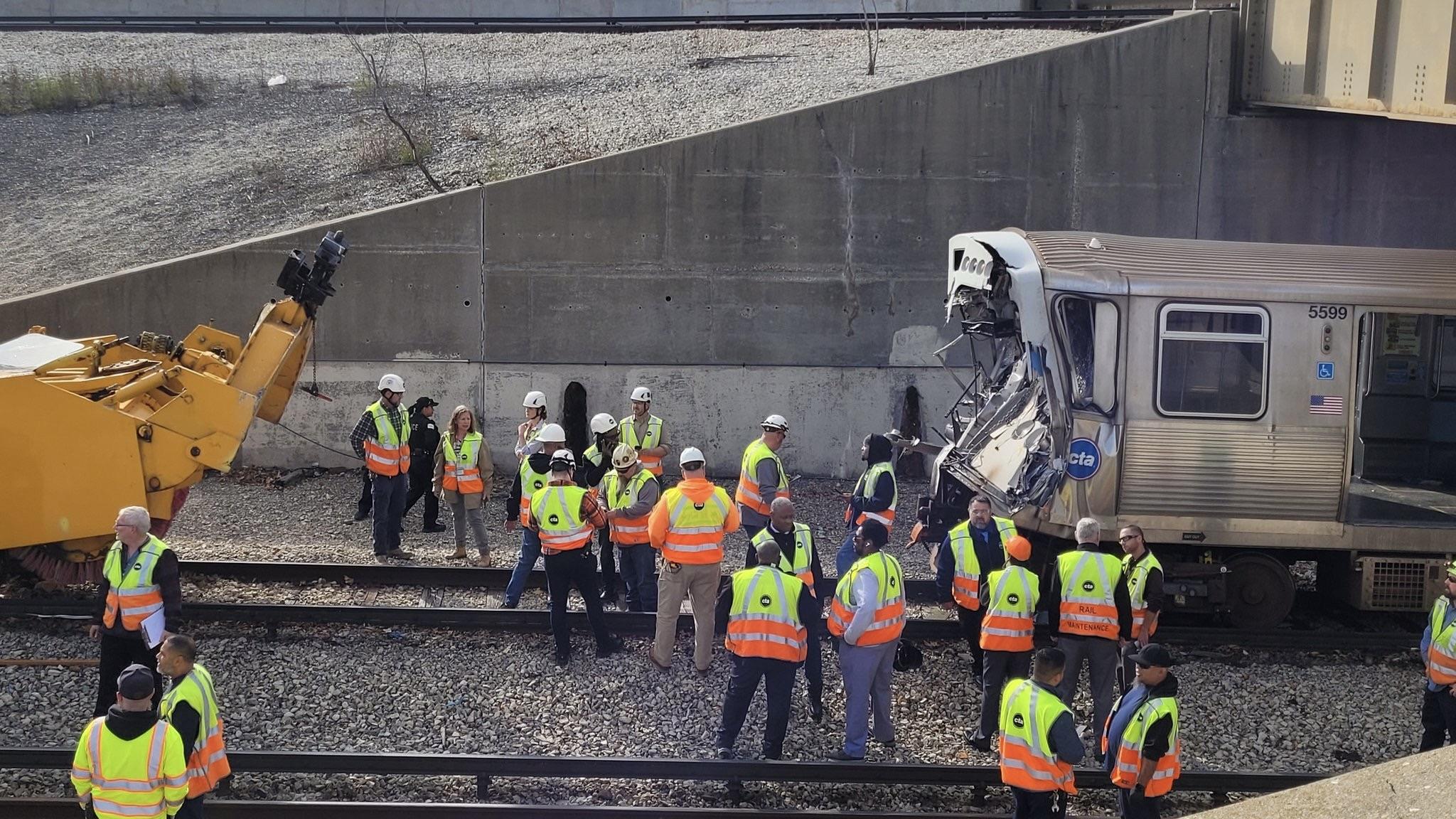 The derailed train. (Credit: Chicago Fire Department)
The Yellow Line could be down for several more days as the National Transportation Safety Board investigates a Thursday morning collision between a CTA train and a snowplow that left nearly two dozen people with injuries.
NTSB Chair Jennifer Homendy described the crash as "very serious," noting that children were aboard.
The train derailed around 10:39 a.m. Thursday when it crashed into the snowplow north of the Howard Street CTA station, Chicago Fire Department officials said.
The probe into what caused the CTA crash began Friday, and the federal team will continue its in-person survey for about five days. The focus will be on collecting and documenting "perishable evidence" that will be erased once service returns. Once that work is complete, the train can run again.
"We can't give you a time frame on that (the Yellow Line resuming service)," Homendy said at a news conference late Friday afternoon. "We are hoping it is within the five days, less than that, but I can't give you an exact time."
A shuttle is transporting would-be rail passengers in the interim.
Homendy said it's too early for NTSB to have findings, but that the agency will soon begin to interview witnesses and employees.
Separate teams will focus on portions of the investigation — the track's conditions, train signals, the crashworthiness of the train cars and survival factors, operations and mechanics.
A preliminary report will be released within weeks, though a final analysis could take up to a year and a half.
If investigators find an "urgent" safety issue, Homendy said NTSB won't wait to share it so that the CTA can make immediate changes.
"We never hesitate to issue urgent safety recommendations," she said.
A major question will be whether a Positive Train Control system could have prevented the collision.
The NTSB has recommended since 2014 that the CTA install a "transmission-based train control system on all passenger train routes."
The CTA did not follow that recommendation, but does use automatic train control, a system that NTSB officials describe as less comprehensive.
It "may not be a factor in this investigation — we don't know that yet — but it's something we're going to be looking at," Homendy said.
CTA officials did not speak at the news conference.
Asked by WTTW News via email Friday morning about why the CTA has not installed the NTSB-recommended technology, the CTA media team said it was "gathering information about this."
NTSB officials confirmed that a snowplow was on the train tracks and that CTA crew members were on it — but said they could not say why the plow was there.
Homendy said the CTA has been cooperative, and that the Illinois Department of Transportation, the local machinists' and amalgamated transit unions, and the Federal Transportation Administration are also parties to probe, though the NTSB will independently perform the analysis and issue findings.
Homendy was unable to provide an update on the condition of victims, some of whom were initially hospitalized. The NTSB assigns someone to work with victims.
Homendy said the goal is to prevent future injuries and potential fatalities.
She assured commuters that rail continues to be a safer option than driving.
"Rail transportation is incredibly safe," Homendy said. "Incidents unfortunately do occur, but the most dangerous part of any commute is going on our nation's roads."
---