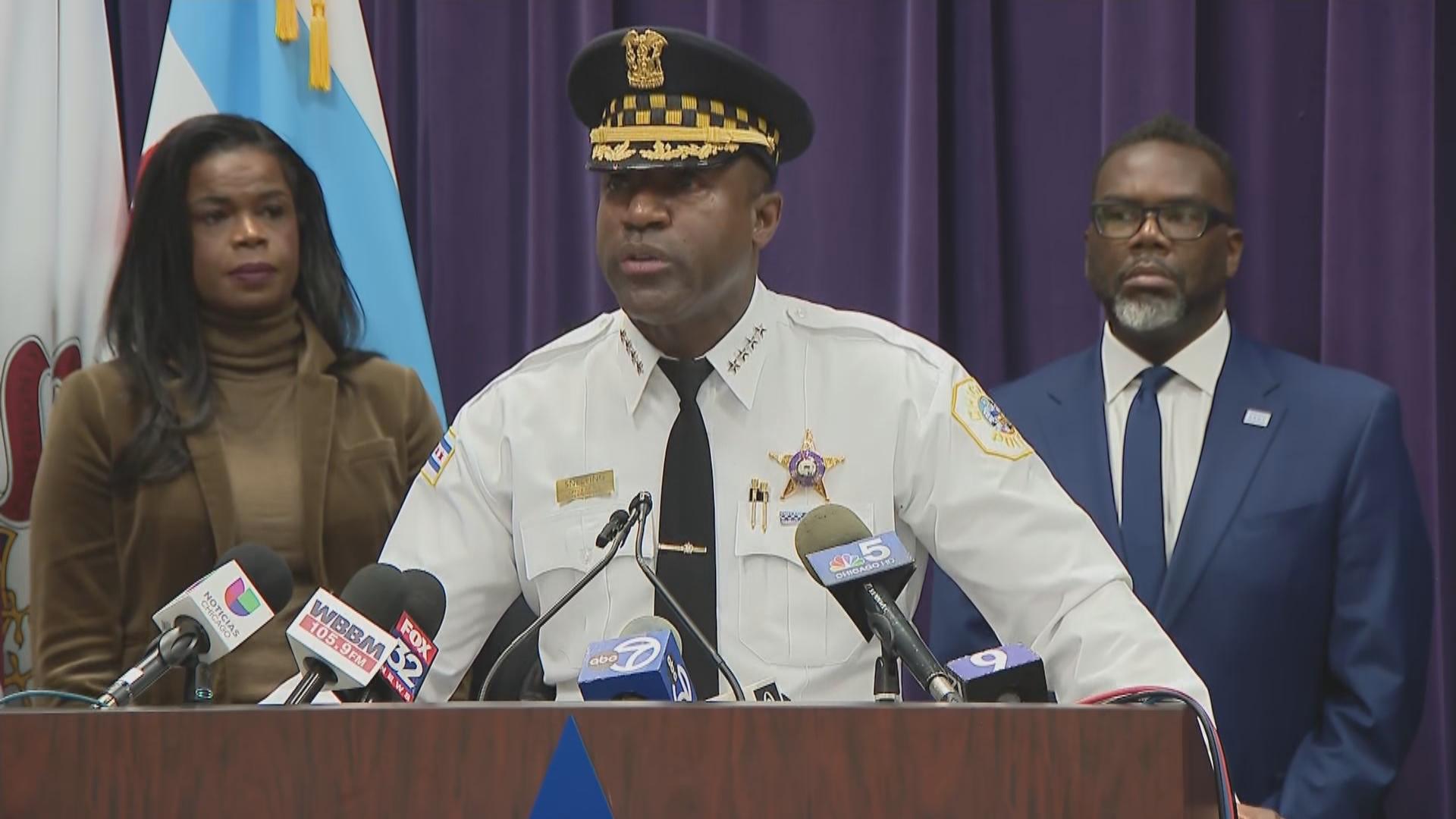 Chicago Police Superintendent Larry Snelling, alongside Cook County State's Attorney Kim Foxx and Mayor Brandon Johnson, announces criminal charges in a Halloween party shooting during a Oct. 31, 2023 press conference. (WTTW News)
A 48-year-old man is facing dozens of charges after he allegedly opened fire and wounded 15 people at an unsanctioned Halloween party Sunday in North Lawndale that he'd been kicked out of previously.
Chicago police officials Tuesday announced numerous charges against William Groves, including 15 counts of attempted first-degree murder, 15 counts of aggravated battery, one count of aggravated discharge of a firearm in an occupied building and one count of aggravated unlawful use of a weapon.
"This arrest brings a measure of justice to the 15 victims and all those who witnessed this violence that night," Police Superintendent Larry Snelling said during a press conference Tuesday. "The trauma remains. I want to focus, and we need to focus on the victims and support for them moving forward."
A judge during a hearing Tuesday ordered Groves to be detained in jail pending trial.
The shooting occurred just after 1 a.m. Sunday in the 1200 block of South Pulaski Road.
Police said there were around 100 people at an unlicensed Halloween party, which Groves had reportedly been kicked out of before he returned moments later and began shooting.
According to Cook County prosecutors, one of the victims is a comedian who had rented out the venue for a Halloween-themed comedy party, which was advertised on social media.
Groves was an attendee at the party and had even taken a selfie with that victim before he was kicked out of the party after Groves became intoxicated and bumped into other people, causing them to spill their drinks, prosecutors said in a proffer Tuesday.
After he was removed, Groves attempted to go back inside but was turned away by security and got into a physical altercation with an unknown person outside before walking away, prosecutors said.
When the party was ending and people began to leave, Groves allegedly returned with a firearm and began firing shots. According to prosecutors, he was firing "indiscriminately" into the crowd.
After he stopped shooting, Groves ran outside and was chased by a security guard, while a venue employee flagged down Chicago police officers who were nearby, prosecutors said. Groves was then arrested moments later.
Investigators recovered 17 shell casings, which had been fired from two different weapons — a .357 caliber semi-automatic handgun police allegedly found in Groves' possession and a 9mm handgun, which was not recovered.
The victims range in age from 26 to 53, according to police. Among them were a 26-year-old woman and a 48-year-old man who were each critically wounded. Both of their conditions have since been upgraded, police said, and none of the victims are believed to be facing life-threatening injuries.
According to police officials, witnesses on scene gave investigators a description of the alleged shooter, and officers quickly located and apprehended Groves.
Groves is a convicted felon, Snelling said, who should not have been able to possess a firearm.
Witnesses on scene knew Groves and were able to give investigators detailed descriptions of him prior to his arrest, according to police. The superintendent credited partygoers with their help in identifying him, saying the information they provided was "instrumental" to this arrest.
Police said the warehouse where the party was held has been previously shut down for hosting an unlicensed event, and Snelling confirmed the CPD has issued a summary closure order for the site after the shooting.
Cook County State's Attorney Kim Foxx said officials must do more to invest in communities that have seen mass violence like Sunday's shooting.
"While those bullets may have physically harmed them … the trauma will remain," she said, noting there was a different mass shooting around Halloween last year that left one dead and 13 wounded. "This should be shocking to our system. This should shake us to our core."
Groves is due back in court for a hearing Nov. 13.
Contact Matt Masterson: @ByMattMasterson | [email protected] | (773) 509-5431
---