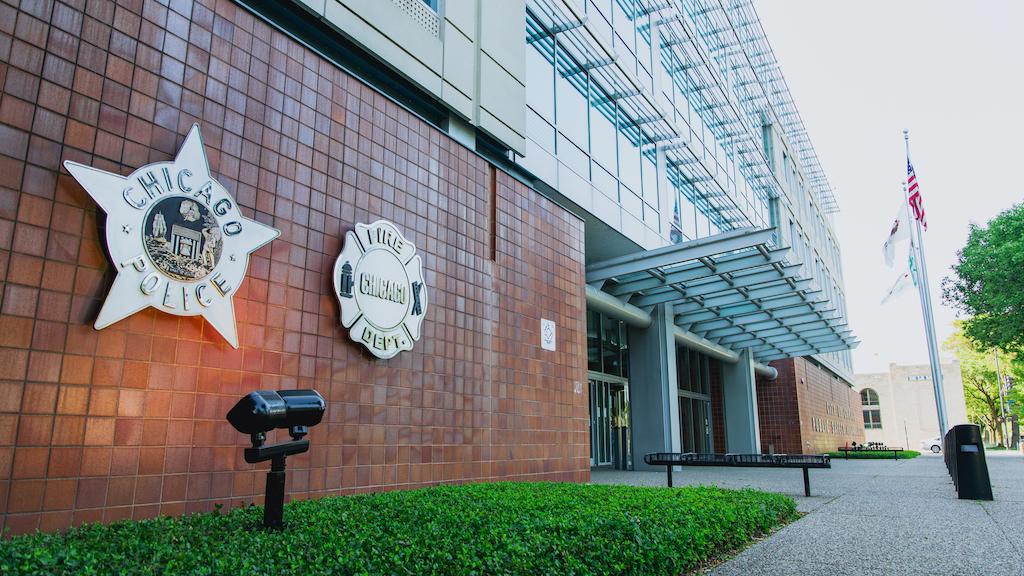 (Michael Izquierdo / WTTW News)
One person is in custody after he allegedly opened fire at an authorized Halloween gathering in North Lawndale, leaving 15 people wounded.
No one was killed, but two people were listed in critical condition and the other 13 victims were hospitalized in fair or good condition following the shooting that took place at around 1 a.m. Sunday in the 1200 block of South Pulaski Road.
Police said there were around 100 people at an unlicensed Halloween party, which the suspect had reportedly been kicked out of before he returned moments later and began shooting.
"I don't know whether to scream or to cry, " Ald. Monique Scott, whose 24th Ward includes the shooting site, said Sunday. "We shouldn't be out here on a Sunday because 15 victims lay in a hospital because they were shot, because someone couldn't get back into a party."
The victims range in age from 26 to 53, according to police. Among them were a 26-year-old woman and a 48-year-old man who were each critically wounded.
According to 10th District Commander William Betancourt, witnesses on scene gave police a description of the alleged shooter, and officers quickly located and apprehended him. A firearm was found in his possession, police said.
Betancourt said the site where this party was held has been previously shut down for hosting an unlicensed event.
"As with all acts of gun violence in our city, my heart is with the victims, families and communities impacted," Mayor Brandon Johnson said in a statement. "The Community Safety Coordination Center will ensure that victims and survivors have the resources they need to address trauma, and my office will continue to mobilize the full force of government in working with City agencies, community-based partners, faith leaders and others to reduce the number of guns on Chicago streets and bring safety to our neighborhoods and families."
This is at least the second year in a row where Chicago has seen a mass shooting at a Halloween gathering, after 1 person was killed and 13 were wounded during a vigil in Garfield Park on Halloween night 2022.
In total, 35 people were shot over the weekend across Chicago, including four people who were killed by gunfire.
A 51-year-old woman was fatally shot as she exited a vehicle at around 6:45 p.m. Friday in the 9200 block of South Manistee Avenue. She was initially hospitalized in critical condition, but later died of her wounds.
A man in his 40s died after being shot in the 12000 block of South Halsted Street just after 1:30 a.m. Saturday. Officers responding to a shots fired call found the man inside a vehicle in a parking lot. He'd been shot in his left armpit and right thigh, and died of his injuries.
A 64-year-old man was fatally shot as he rode a bicycle in the 6000 block of South Champlain Avenue just before 10 p.m. Saturday. He was struck once in the neck and died at a local hospital.
A 61-year-old man was killed in the 100 block of North Kilpatrick Avenue at around 6:30 p.m. Sunday. He was near the sidewalk in that area when he was shot in the back by an unknown person.
Contact Matt Masterson: @ByMattMasterson | [email protected] | (773) 509-5431
---