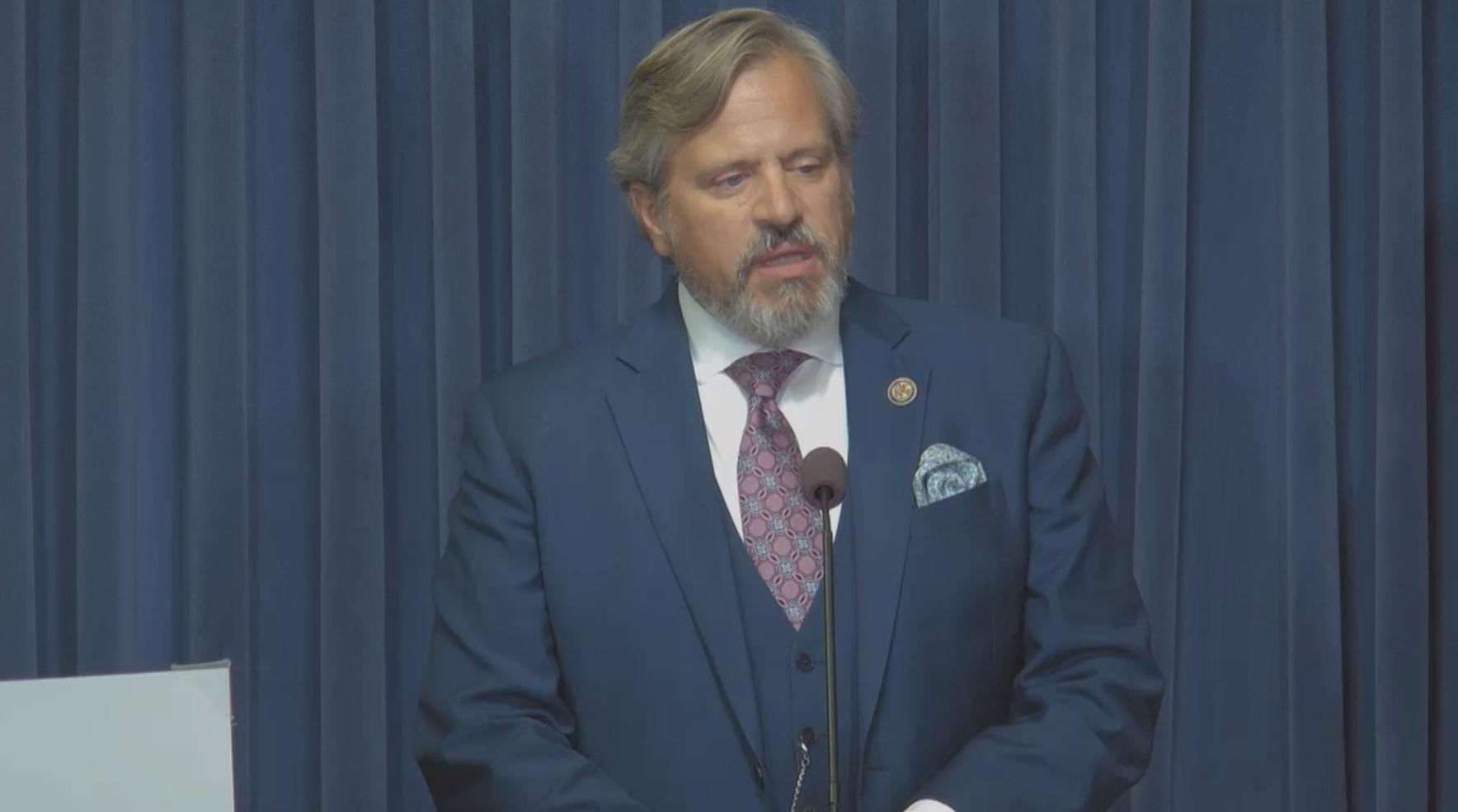 State Sen. Robert Martwick speaks at a news conference Oct. 24, 2023. (WTTW News)
The first elected members to Chicago's school board may also be the first to be paid for that work.
Chicago legislators who successfully changed state law to allow for an elected school board want to use the General Assembly's brief return to Springfield this week to move a measure (SB2610) that would allow for Chicago Board of Education members to receive compensation.
Sponsoring state Sen. Robert Martwick, a Democrat who represents parts of the city's Northwest Side, said if Chicago wants a diverse school board, it needs to remove barriers — like a lack of pay — that would prevent some residents from running for board seats.
"We cannot ask a person who is working three jobs to give up one so that they can serve, otherwise they can't serve. That's wrong," Martwick said Tuesday at a news conference in Springfield unveiling the new proposal. "We need to remove those barriers."
Backers of the effort include Educators for Excellence, a teachers' group. Chicago organizer Corrina Demma said compensation is necessary if Chicago's elected board is to be "functional," especially given the size Chicago's school system, with its 33,000 employees, 340,000-strong student body and $9 billion budget.
"We need to stop pretending that governing this district is a small volunteer position, because it's not," Demma said. "It is a significant job."
Martwick's plan does not specify how much board members would be paid; that would be up to the board to decide.
"I would much rather trust in the school board to understand what their responsibilities are, to understand what the obligations and the commitment of service to that school board will be — and then also be able to determine what that level of compensation needs to be in order to remove those barriers for service," Martwick said. "I don't think that's a decision that's best made here in Springfield. I think that's best made at the local board, and that's why we left it as such."
The first election for the board is set for November 2024. That will decide who makes up half of the Chicago Board of Education; the other half will still be appointed by the mayor, as will the board president. The remainder of the board seats will be on the 2026 ballot.
A lot is yet unresolved, including which seats will first be up for election and what the districts will look like.
After legislators missed a spring deadline to decide those questions, they gave themselves an extension. Now, lawmakers have until April to draw a school board district map.
But Martwick and state Rep. Kam Buckner, also a Chicago Democrat, said they hope to pass the compensation legislation over the six-day veto session, which began Tuesday for three days and picks back up in early November.
"Democracy takes time, and so the sooner that we can have a finished product, the sooner that people who would consider running for this can make their plans," Martwick said. "And I think that understanding if the position will be compensated, understanding how the boundaries are going to be drawn, understanding how we transition from fully appointed to partially elected to fully elected will help crystallize that picture."
New York City and Chicago do not currently pay school board members, while those who oversee Los Angeles receive compensation; according to Martwick, they make $125,000.
---