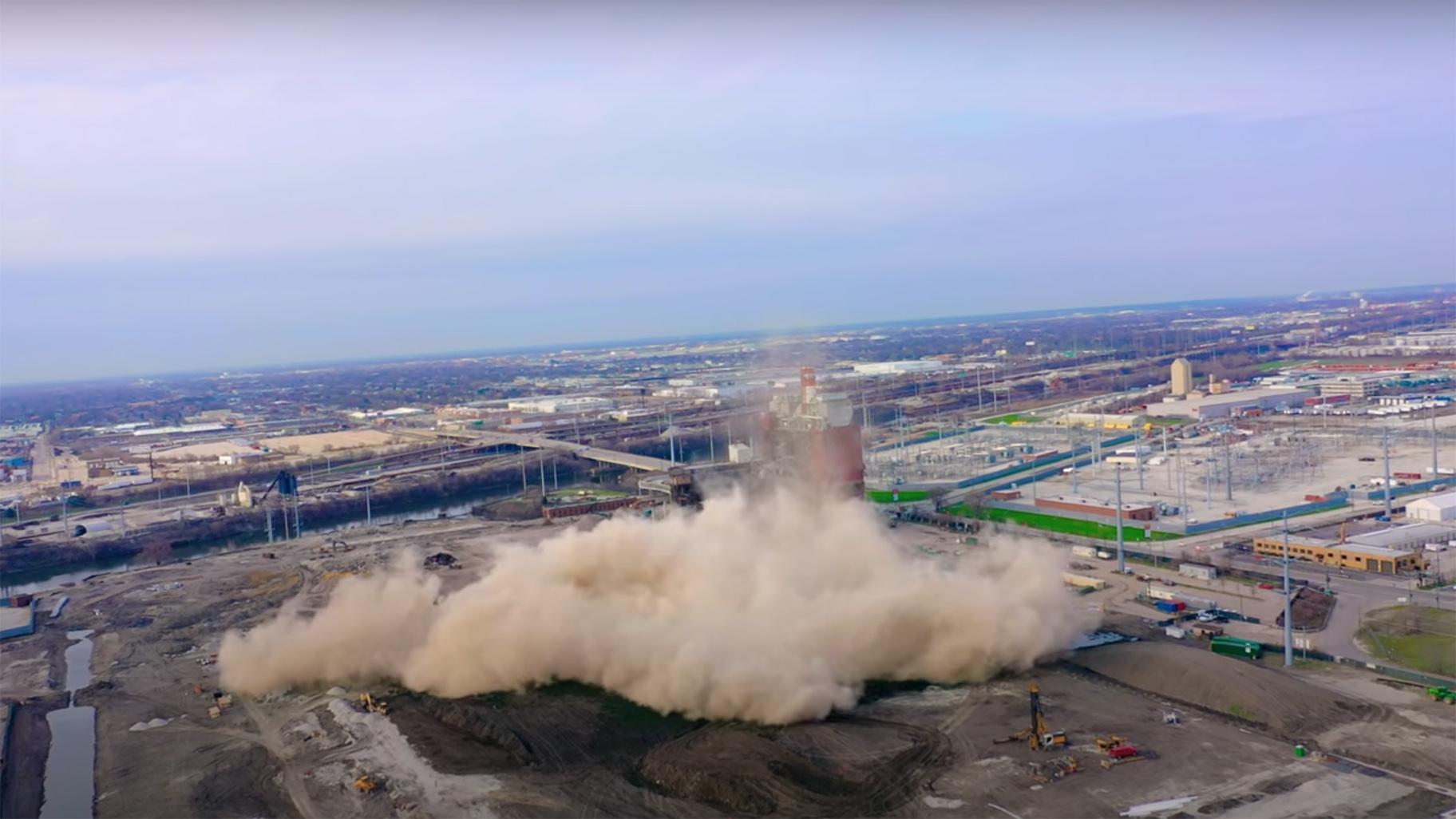 A still image from a video taken of the demolition of the Crawford Coal Plant smokestack, April 11, 2020. (Alejandro Reyes / YouTube)
The Chicago Department of Public Health recently shifted responsibility over environmental compliance to a key figure involved in a controversial West Side demolition. 
Dave Graham, assistant commissioner for CDPH, is now the director of environmental health and safety compliance following the resignation of deputy commissioner Megan Cunningham. Cunningham left the job in September following the ouster of former Commissioner Allison Arwady.
Graham's responsibilities now include management of environmental inspections and enforcement at CDPH. The department confirmed the appointment was permanent. 
The move has drawn the ire of some local residents.
In April 2020, the botched implosion of an industrial smokestack at a former coal power plant covered six blocks of Little Village in a particle-filled dust cloud, surprising and angering the local community. A CDPH inspector summarizing the events that day wrote that the demolition, "generated conditions detrimental to the health of the nearby residents, and therefore also created a nuisance."
The full 94-page report from the Office of the Inspector General, first reported by WTTW News, urged punishment for Graham up to termination, saying evidence demonstrated he was responsible for the "abdication of responsibility and willful bureaucratic negligence" for issues including the failure to adequately soak the ground prior to the implosion, which was led by Hilco Redevelopment Partners.
Graham could have stopped the demolition by informing his bosses of the health risk posed by the action, according to the investigation.   
City health officials told members of the City Council they took unspecified disciplinary action against Graham, but would not further discuss personnel matters. CDPH added, "No one person was responsible for the implosion."
For their part, department officials in some ways prefer to look forward rather than back.
"Structural changes now in place will ensure that we are acting collectively to protect the environment and community members going forward," a spokesperson for CDPH told WTTW News.
Graham, who has worked for the city since 1999, declined to confirm his new job or responsibilities when reached by phone, saying the media would, "throw me under the bus no matter what I say." He was paid $112,850.50 in 2022, according to records from the city.
CDPH maintained that Graham's responsibilities had not changed appreciably since Cunningham left in August because he is generally working on similar tasks. The job manages technical and scientific functions of federal, state and local compliance in permitting and inspections, CDPH wrote in a statement, in addition to working on environmental policies, supervising inspectors and advising city departments, including the mayor's office.
In addition to the environment, the department's overall public health duties include behavioral health, community health, emergency preparedness, food safety and infectious diseases.
CDPH has been under interim leadership since Arwady's exit.
Long-term responsibility over the city's environment by CDPH is less clear after Chicago Mayor Brandon Johnson included a renewed Department of the Environment in his recent budget proposal.
The city's health department has been facing a staffing crunch for some time.
There are almost 500 vacancies spread evenly across all areas of the department, acting Commissioner Fikirte Wagaw said at a City Council budget committee hearing on Oct. 19 where CDPH staffing levels were a major focus.
The proposed CDPH budget for next year is almost $888 million, down about 8.8% from 2023.
The Mayor's Office did not respond to questions about the CDPH leadership plan or staffing within the department.
Residents of Little Village have historically experienced a greater impact from air pollution and health access than much of the rest of Chicago. Longtime resident Kim Wasserman,  executive director of the Little Village Environmental Justice Organization, said she's concerned about Graham's role with CDPH.
"This individual has given problematic advice to our community. The OIG report states he should be punished," Wasserman said. "You expect us to trust the same individual who put us in this situation? It's hard to do."
Wasserman said information on what was in the dust spreading out from the former Crawford power plant demolition and its impact on health won't be known for years. Still, she is cautiously optimistic about working with the new administration on environmental concerns.
However, she remains skeptical of Graham's involvement with CDPH.
"There are some things you can come back from," Wasserman said. "This isn't one of them."
Note: This article was updated to clarify the month of Cunningham's departure. 
Contact Jared Rutecki: @JaredRutecki | [email protected]
---