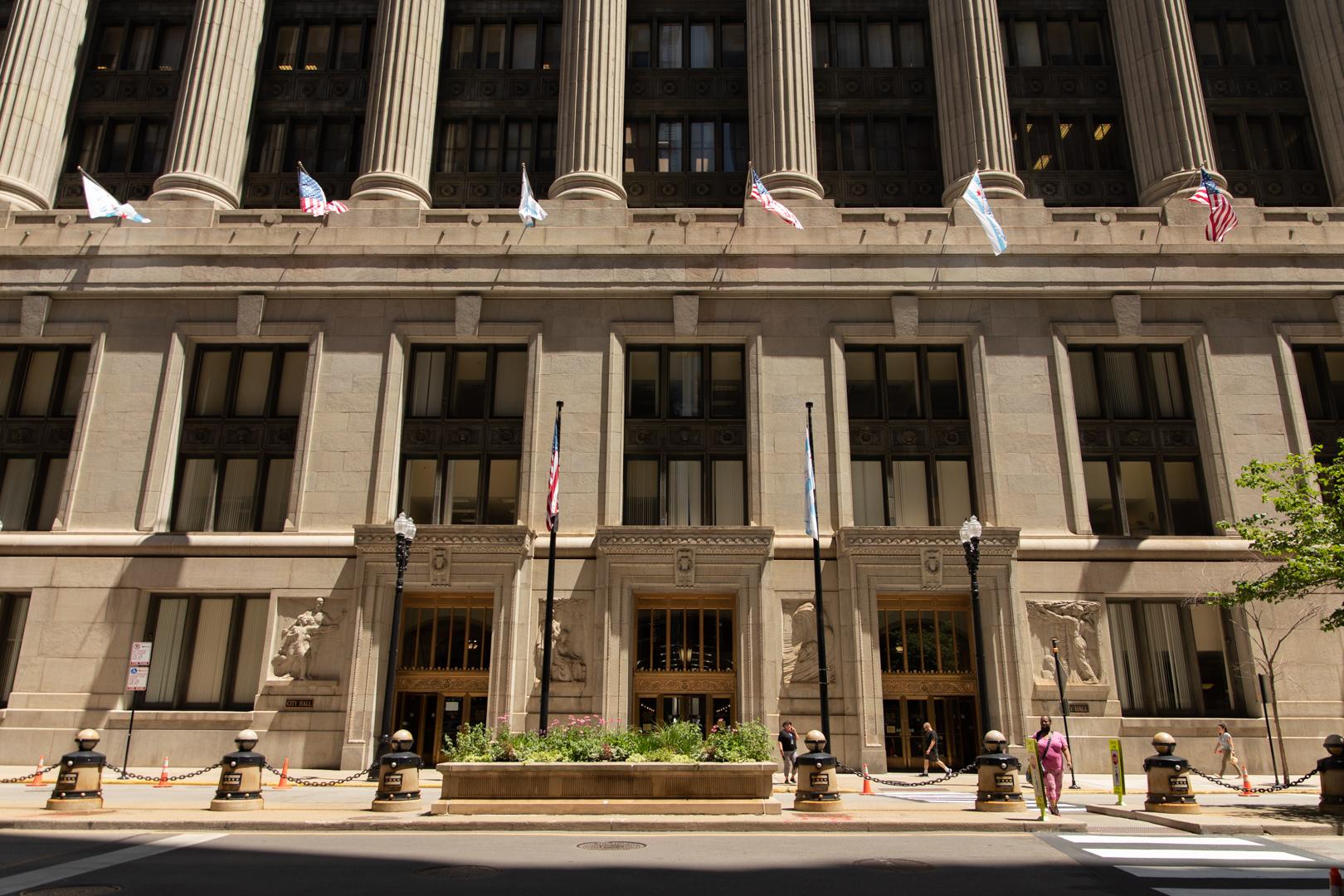 Chicago City Hall. (Michael Izquierdo / WTTW News)
A vote on a measure to require all Chicago businesses to pay their workers the same minimum hourly wage, regardless of whether they earn tips, has been delayed after an error by City Clerk Anna Valencia's office, officials said Tuesday.
The earliest the Chicago City Council could vote on the compromise crafted by Mayor Brandon Johnson and backed by the Illinois Restaurant association to give restaurants five years to prepare for the end of the tipped minimum wage would be Friday morning, because state law requires the public to be given at least 48 hours' notice before a legislative body takes final action on a measure.
Valencia acknowledged her office had erred, delaying a triumphant moment for Johnson and the progressive political movement that elected him to office earlier this year. Valencia, who was reelected without opposition, blamed "an administrative and human issue" and pledged new procedures "to ensure this doesn't happen in the future."
The City Council's Workforce Development Committee voted 9-3 on Sept. 20 to advance the proposal to the full City Council. However, the agenda published Monday morning by the clerk's office did not include that action, preventing a vote.
---
Read More: How Brandon Johnson Crafted the Deal to Phase Out Tipped Minimum Wage in Chicago
---
Chicago is set to join Alaska, California, Guam, Minnesota, Montana, Nevada, Oregon, Washington and Washington D.C. in ending the tipped minimum wage. But before it is phased out entirely on July 1, 2028, servers and other workers who earn gratuities will get annual 8% raises starting July 1, 2024.
Opponents of the plan say it will hurt efforts to attract new restaurants to Chicago and force restaurants to scale back their staffs.
However, supporters of the proposal said the City Council must act to protect workers who rely on tips because they are more vulnerable to sexual harassment, wage theft and abuse than other employees.
The restaurant industry is the largest employer of Chicagoans age 16 to 24, and Johnson and his allies believe raising their wages could reduce homelessness and crime throughout the city.
Chicago's minimum wage for most workers rose to $15.80 per hour on July 1, an increase of 40 cents, to keep pace with inflation.
The minimum hourly wage for employees of large Chicago businesses who earn tips rose by 48 cents on July 1 to $9.48 per hour, officials said. If a worker's tips are not sufficient to cover the gap between employees' wages and the city's minimum wage, employers are required to make up the difference.
Contact Heather Cherone: @HeatherCherone | (773) 569-1863 | [email protected]
---