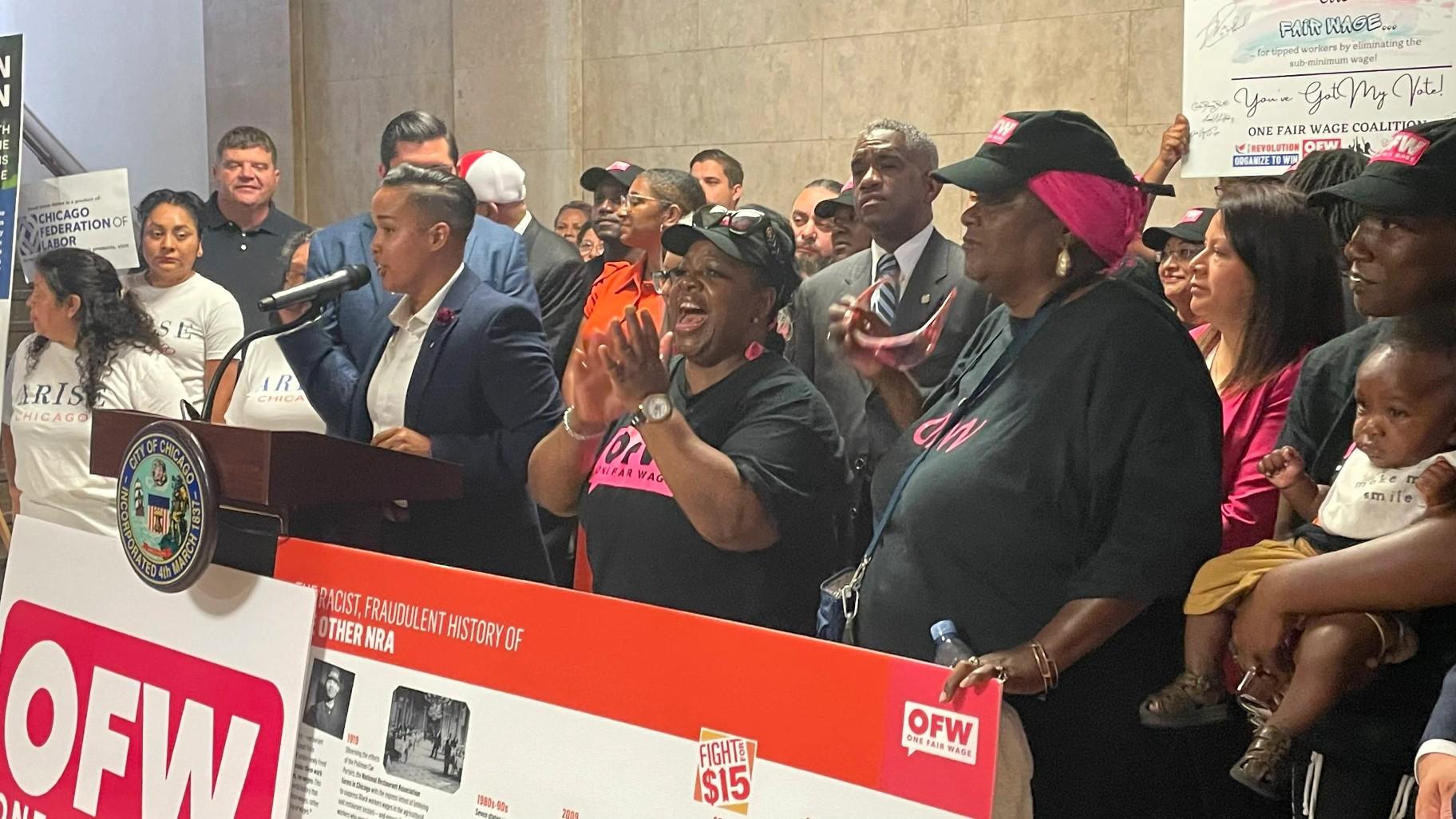 Ald. Jessie Fuentes (26th Ward) said the tipped minimum wage should be eliminated to protect workers from sexual harassment, wage theft and abuse. (Heather Cherone / WTTW News)
All Chicago businesses would be required to pay their workers the same minimum hourly wage, regardless of whether they earn tips, by July 2028, under a deal crafted by Mayor Brandon Johnson that, if ratified, could bolster his efforts to govern by building consensus rather than issuing orders.
Originally, the proposal introduced by Ald. Jessie Fuentes (26th Ward) in July would have phased out the tipped minimum wage by July 2025. But Fuentes and Johnson said they were open to negotiations with the Illinois Restaurant Association, and would consider giving businesses until July 2027 to prepare for the change.
But the compromise backed by Johnson establishes a five-year phase-out period, a change that won the backing of the restaurant leaders and appears to have put the measure on a glide path to approval by the full Chicago City Council on Oct. 4, if the council's Workforce Development Committee endorses the plan as expected at its meeting scheduled for Wednesday.
If approved, Chicago would join Alaska, California, Guam, Minnesota, Montana, Nevada, Oregon, Washington and Washington D.C. in ending the tipped minimum wage.
"Mayor Johnson was able to bring both sides to the table in securing this agreement, which is a huge step forward in delivering a fair wage for workers, many of whom are Black and Brown women who are heads of households and anchors of their communities," said Ronnie Reese, Johnson's spokesperson.
Before reaching the agreement with Johnson, allies of the restaurant industry on the City Council prevented the measure from heading directly to a committee hearing and vote after the City Council's August recess. But with 25 official co-sponsors, the measure was back on track by the end of the Sept. 14 City Council meeting.
Efforts to delay or block a phase out of the tipped minimum wage suffered another setback when Johnson's allies sent a measure backed by the restaurant association that would have ended the tipped minimum wage only at restaurants that earn $3 million or more in annual revenue to legislative purgatory.
With that proposal dead-on-arrival, a long weekend of negotiations between 35th Ward Ald. Carlos Ramirez Rosa, the mayor's floor leader, Fuentes and representatives of the restaurant industry resulted in the compromise.
"It is extremely important for this mayor to bring people together," Ramirez Rosa said.
The Illinois Restaurant Association endorsed the compromises in a statement that acknowledged they continue to oppose the end of the tipped minimum wage, but said the delay will allow restaurants to remain open.
"The compromise will give our city's restaurants the time they need to adjust to operating within these new parameters," according to a statement from the association. "Change is always difficult, but negotiations require concessions by both sides to find a solution."
A report published by the city's Office of Labor Standards urging the City Council to end the tipped minimum wage found that 80% of tipped workers suffered from customer abuse
"When workers depend on tips to comprise significant portions of their incomes, customer whims and preferences lead to incredible power imbalances within workplaces," according to the report written by Alison Dickson and Augustus Wood, who teach at the School of Labor and Employment Relations at the University of Illinois at Urbana-Champaign. "Violations of employment laws in the form of wage theft and discrimination are widespread within food service, restaurant, and drinking establishments."
Key Campaign Promise
Johnson's mayoral campaign platform called for an end to the tipped minimum wage, noting that those who rely on tips to earn a living wage are more likely to be Black and Latina women. Johnson was endorsed by the Service Employees International Union Healthcare Illinois, which is part of the One Fair Wage campaign.
The restaurant industry is the largest employer of Chicagoans age 16 to 24, and Fuentes said raising their wages could reduce homelessness and crime throughout the city.
Chicago's minimum wage for most workers rose to $15.80 per hour on July 1, an increase of 40 cents, to keep pace with inflation. That comes two years after Chicago's minimum wage hit $15 per hour after a six-year fight that energized the labor movement and fueled new laws designed to improve the working conditions for the city's lowest-paid workers, who are disproportionately Black and Latino.
The minimum hourly wage for employees of large Chicago businesses who earn tips rose by 48 cents on July 1 to $9.48 per hour, officials said. If a worker's tips are not sufficient to cover the gap between employees' wages and the city's minimum wage, employers are required to make up the difference.
The proposal set for a vote Wednesday would raise the tipped minimum wage annually by one-fifth of the difference between the regular minimum wage and the tipped minimum wage, or about 8% or $1.25 per hour, beginning on July 1, 2024, before reaching parity on July 1, 2028, officials said.
In 2019, former Mayor Lori Lightfoot blocked a proposal backed by progressive members of the City Council to eliminate the tipped minimum wage by 2023. That proposal faced intense opposition from restaurant industry groups.
If the agreement is ratified by the City Council, Johnson will trumpet the compromise as evidence that he can make good on his campaign promise to create a "Chicago for all" by building consensus before making tough decisions — an approach that has confused and frustrated some Chicagoans long accustomed to mayors governing by fiat and asking for neither permission nor forgiveness.
Johnson's collaborative approach may take longer and result in compromises that fall short of initial demands for change, Ramirez Rosa said.
"But in the end, we get it done" and expand the coalition supporting Johnson, rather than leaning into fights that can leave all sides bruised and angry, Ramirez Rosa said.
The expected approval of the end to the tipped minimum wage also sets the stage for additional measures to be adopted as part of Johnson's efforts to center the interests of working-class Chicagoans, Ramirez Rosa said.
"This is not the only change we are looking to make," Ramirez Rosa said.
A separate measure introduced in July and backed by Johnson would require Chicago employers to offer their workers one hour of paid leave for every 15 hours worked, regardless of whether they are sick.
If approved, the measure would be the largest expansion of paid time off in any city in the United States, by ensuring Chicago employees have at least 15 days of paid time off every year, according to the Chicago Federation of Labor.
Contact Heather Cherone: @HeatherCherone | (773) 569-1863 | [email protected]
---