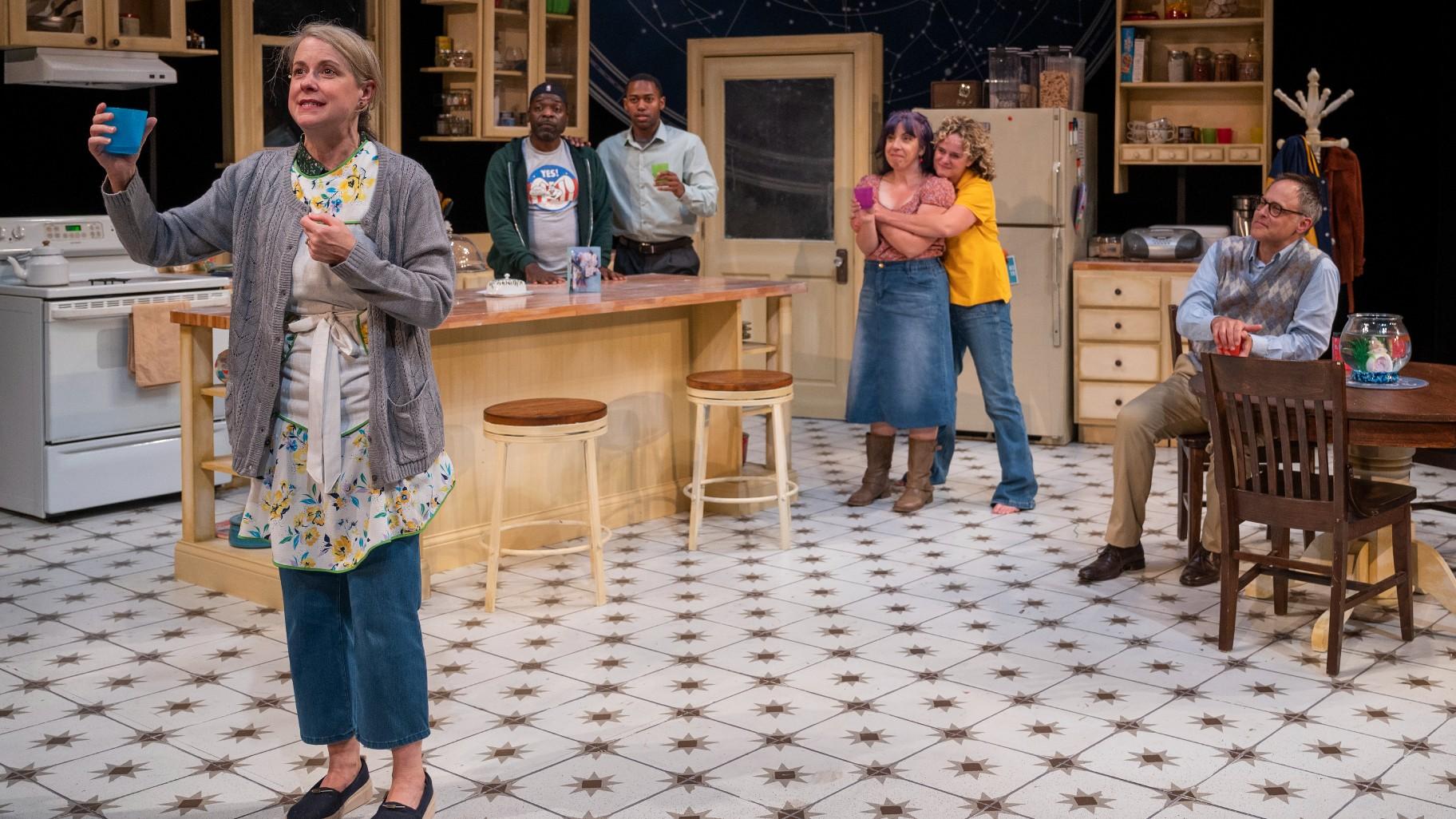 The cast of "Birthday Candles" at the Northlight Theatre. (Credit: Michael Brosilow)
Noah Haidle might not be an American playwright who has become a household name, although his remarkable, award-winning work — including "Smokefall," "Mr. Marmalade" and "Vigils" — has been widely produced at top theaters throughout the U.S. and beyond. But whether or not you have experienced his plays, there could be no better way to enter his world than to catch "Birthday Candles," now receiving an exceptional production by Northlight Theatre.
Haidle's work defies easy labeling, but perhaps the best description of his plays might be that they are magical realist portraits that capture the dynamics of the American family in unique ways.
"Birthday Candles," expertly directed by Jessica Thebus, features a stellar performance by Kate Fry as Ernestine Ashworth, a woman whose life spins out in her kitchen (and into the universe) from the ages of 17 to 41, 70 and 101 during the course of just 90 minutes. And as time truly flies by, she celebrates those four birthdays — with a marriage, children, grandchildren, a lifelong admirer, a favorite homemade cake all part of the picture.
What really feeds the story is the palpable sense of her place in the universe that spins out in the kitchen of her quite ordinary house in Grand Rapids, Michigan (where, as it happens, the playwright himself was born). But it all notably unfolds on set designer Sotirios Livaditis' backdrop for that kitchen — a large image of the cosmos.
The essential questions and conundrums that confront Ernestine over the many decades of her life are rooted in the everyday: Relationships with her husband Matt (Chike Johnson); her lifelong admirer, Kenneth (Timothy Edward Kane, who just happens to be Fry's longtime real-life husband, and is ideal in this role); and her son and daughter-in-law and others (played by Samuel B. Jackson, Cyd Blakewell and Corrbette Pasko).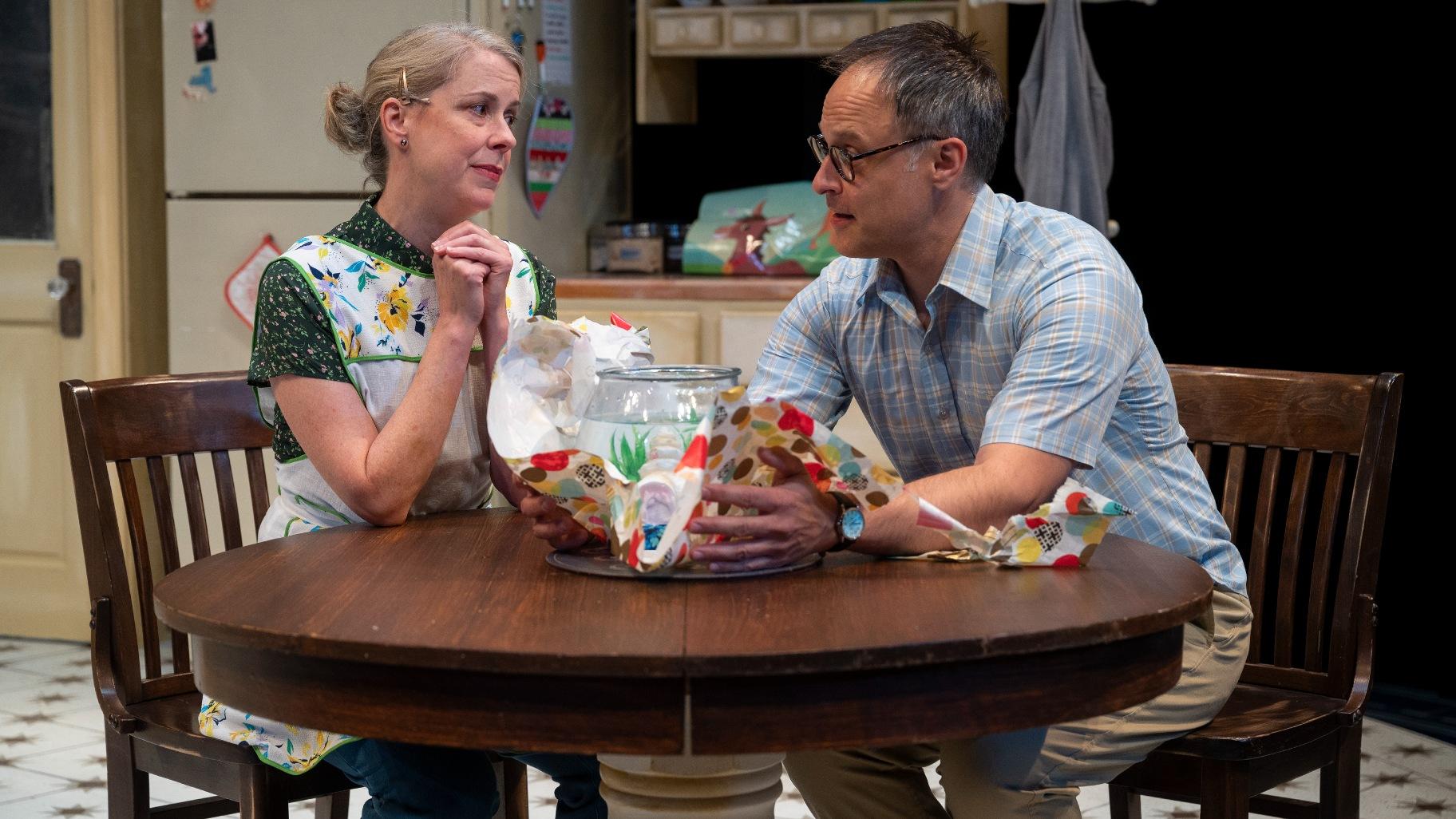 Kate Fry and Timothy Edward Kane in "Birthday Candles" at the Northlight Theatre. (Credit: Michael Brosilow)
Fry's impeccable performance is wonderfully real, but there is just enough of a hint in her character's yearning to leave something unsettled, and it subtly emerges throughout each stage of her rather unexceptional life. And that pervasive yearning is to not only live each moment but to perhaps leave a mark. And that is at the very core of Haidle's play.
The familiar aspects of life, love, family dynamics and all the rest underscore the great question that emerges as one nears the end of "Birthday Candles." What's it all about, and will the extraordinary nature of an ordinary life leave any sort of imprint on the infinite universe? What is ephemeral, and what endures? And are we all drawn into the immeasurable expanse of the universe in the wake of even a full but unexceptional lifetime?
"Birthday Candles" runs through Oct. 8 at Northlight Theatre, 9501 Skokie Blvd., Skokie. For tickets visit northlight.org or phone (847) 673-6300.
Note: Northlight's 2023-24 season will continue with four exceptionally varied plays including: "Dial M for Murder" (Nov. 30 - Dec. 31), the source of the Hitchcock classic; "Selling Kabul" (Jan. 25 - Feb. 25), Sylvia Koury's story of an Afghan translator who might risk his life to meet his son; "Brooklyn Laundry" (April 11 -May 12), a "rolling world premiere" by John Patrick Shanley about a middle age romance by way of a lost load of laundry; and "2 Pianos, 4 Hands" (July 5 - Aug. 4), a work by Richard Greenblatt and Ted Dykstra in which "piano wizardry and roaring comedy" are at play.
Follow Hedy Weiss on Twitter: @HedyWeissCritic
---