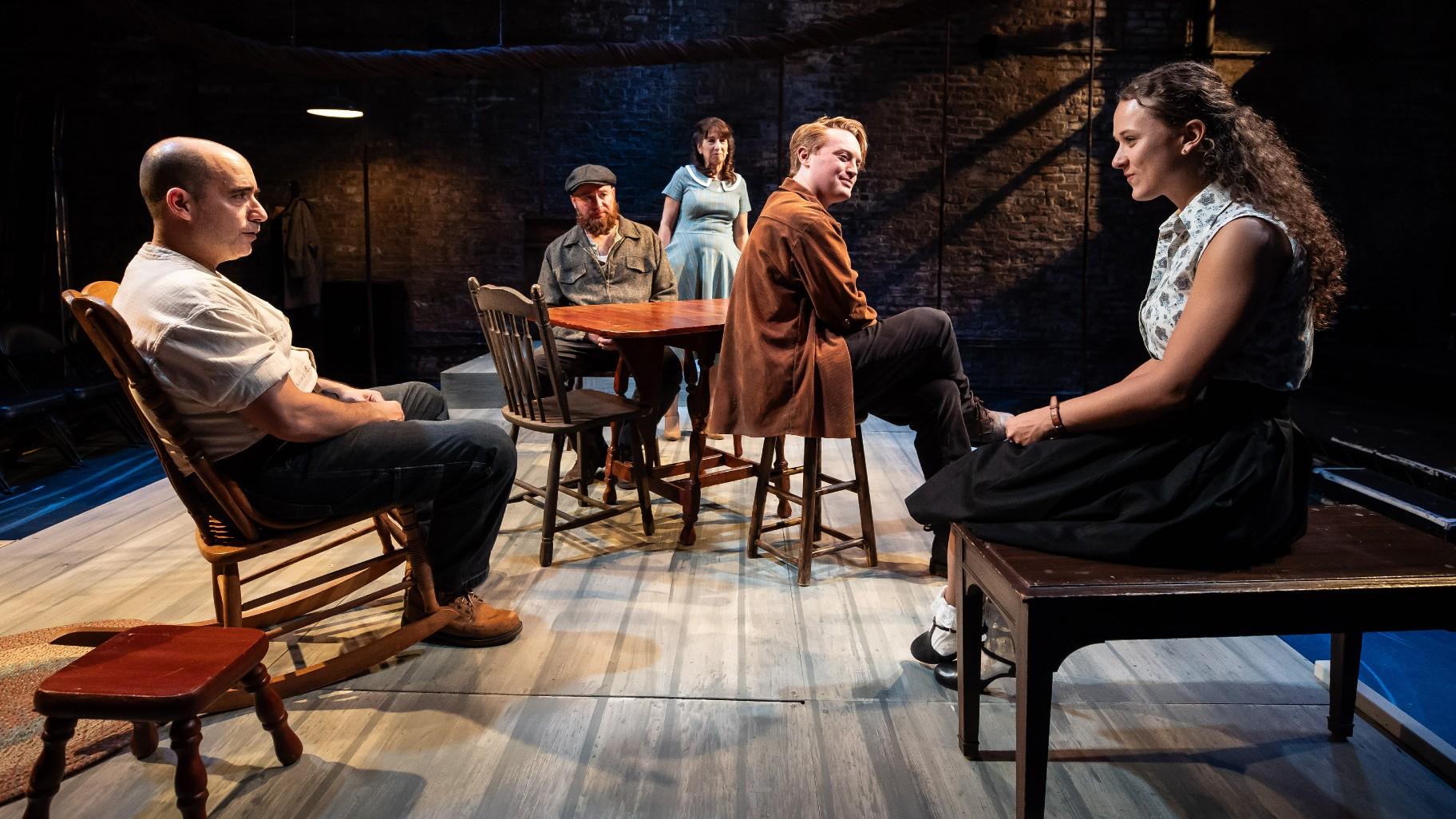 From left, Scott Aiello plays Eddie, Mike Cherry is Marco, Eileen Niccolai plays Beatrice, Harrison Weger is Rodolpho, who has his eye on Catherine, Isabelle Muthiah is Catherine in Shattered Globe Theatre's "A View From the Bridge." (Credit: Liz Lauren)
Immigration has been the foundational building block of American life for centuries. And of course it is a powerful and intensely controversial force at this very moment. So Shattered Globe Theatre's vividly acted and deeply disturbing revival of "A View From the Bridge" — the Arthur Miller classic that opened in New York in 1955 (but, ironically enough, was produced in London a year later in the revised form that made it the classic we now know) — could not have been revived at a more ideally timely moment.
While the particular circumstances and nationality that drive Miller's story are somewhat different from current events (the play is set in 1950), this intensely heated drama ideally capture the hopes and dreams of two brothers — Italian immigrants from Sicily who arrive in the U.S. (illegally), and move into the home of Brooklyn longshoreman Eddie Carbone (Scott Aiello), and his wife Beatrice (Eileen Niccolai), who is related to the young men.
Miller intensifies the story with the heated family issues that develop as the middle-aged Eddie is consumed with lust for Beatrice's pretty young 18-year-old niece, Catherine (Isabelle Muthiah), who has lived with them since the death of her mother.
The older of the two brothers, Marco (Mike Cherry), is married, and plans to return to his wife and children in Italy after earning enough money in the U.S. The younger one, Rodolpho (Harrison Weger), is a playful artist and performer who wants to make New York his home. And, much to the ferocious jealousy it generates in Eddie, he and Catherine are clearly attracted to each other — a relationship that triggers a tragic outcome for all involved.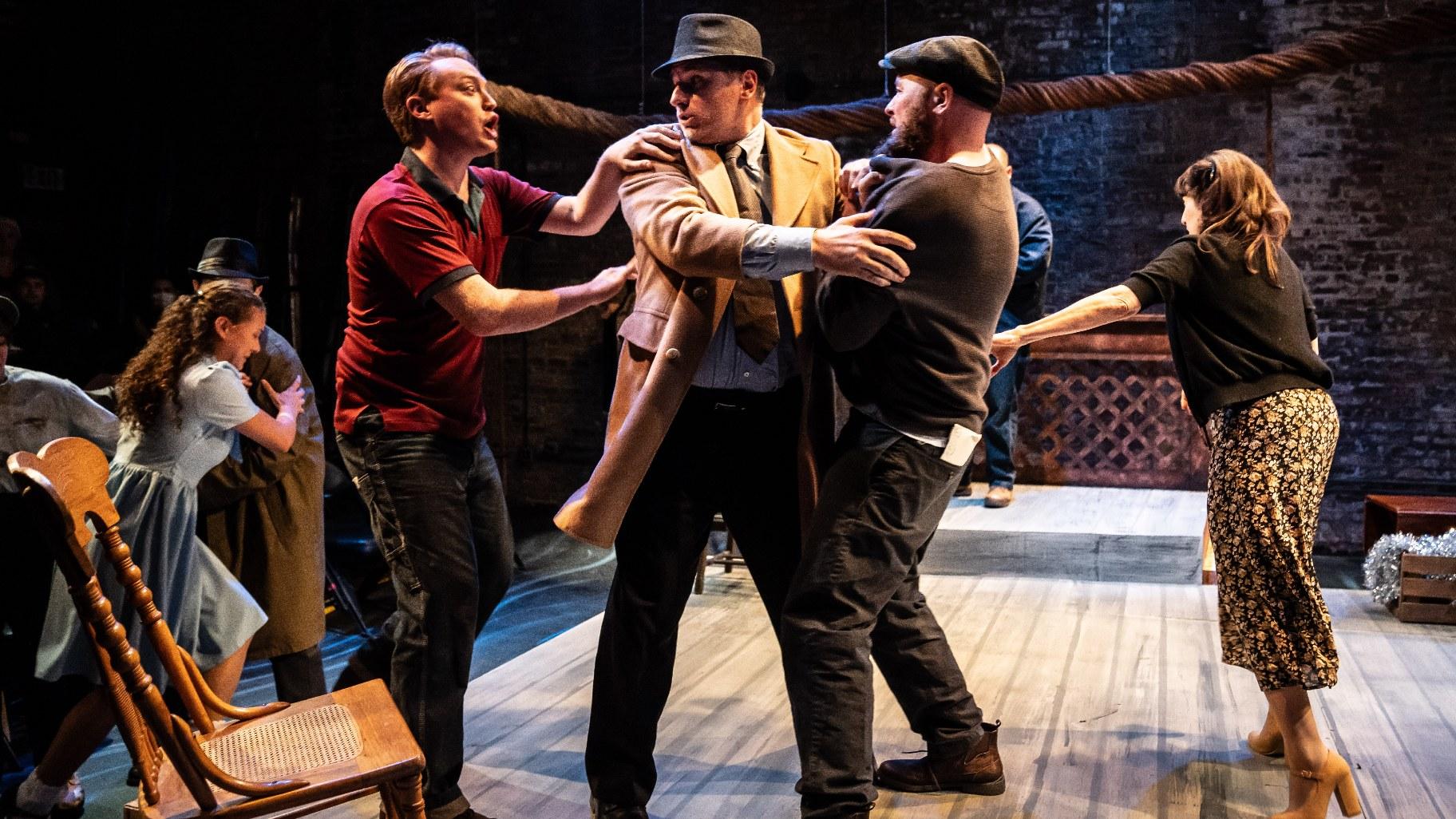 Harrison Weger, Adam Schulmerich, Mike Cherry, Isabelle Muthiah and Eileen Niccolai in Shattered Globe Theatre's "A View From the Bridge." (Credit: Liz Lauren)
The production has been expertly directed by the immensely experienced Louis Contey, who has gathered an outstanding cast. And the spare but ideal set by Shayna Patel focuses largely on the apartment in the Red Hook neighborhood near the shipyard where Eddie works, but also deftly suggests the nearby Brooklyn Bridge with a large coil of rope that stretches across one side of the stage.
Aiello convincingly captures Eddie's incestuous middle age hunger and rage, while Niccolai deftly suggests Beatrice's complex attempt to deal with her husband, and protect both Catherine (whose move into adulthood is winningly played by Muthiah), and Rodolpho (whose free spirit, artistic impulses and playfulness are ideally captured by Weger). And serving as Alfieri, the family's Italian-born but Americanized and emotionally insightful lawyer, is John Judd, who tries to reason with Eddie in a most straightforward but compassionate way.
Miller's approach to tragedy — and this play is most definitely one of the great American tragedies — is socially and psychologically profound. And at this moment, as thousands of migrants risk all as they attempt to find a place in what they believe might be a land of promise, the dark side of that quest is captured in all its pain and despair and disappointment.
This Shattered Globe production of "A View From the Bridge" runs through Oct. 21 at Theater Wit, 1229 W. Belmont. For tickets visit sgtheatre.org or phone (773) 975-8150.
Follow Hedy Weiss on Twitter: @HedyWeissCritic
---