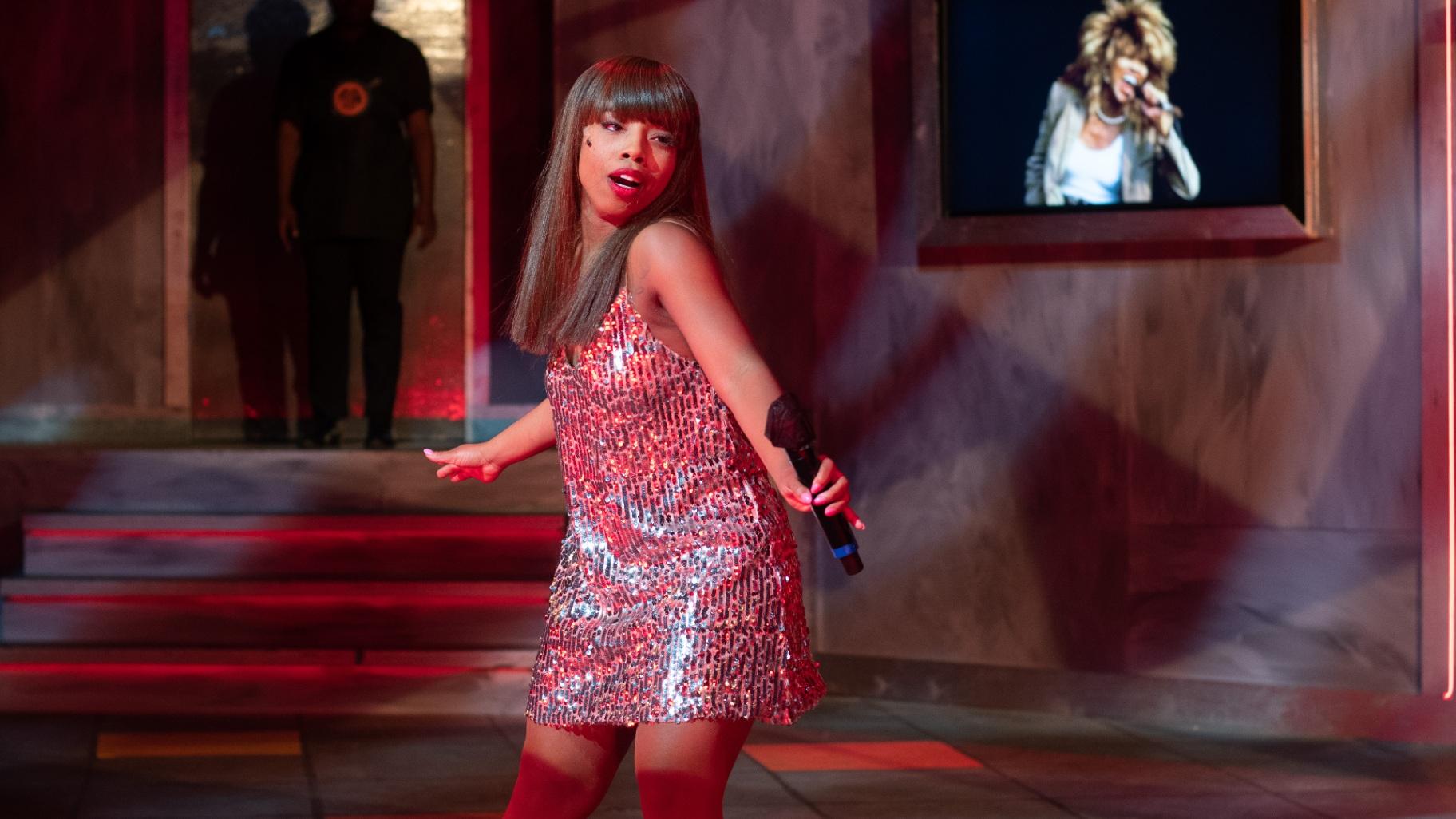 Britt Edwards performs in "A Taste of Soul." (Darin M. Gladfelter)
Attention all big-time Broadway producers: If you are in search of a sure-fire mega-hit musical, you are advised to hop on a plane to Chicago ASAP and head straight to the Black Ensemble Theater. That is where you will discover "A Taste of Soul." The world premiere production is a knockout on every level and is sure to attract a vast New York audience hooked on the irresistible music whose "golden age" was in the 1950s, '60s and '70s — yet remains every bit as golden all these decades later.
The show is ideally written and directed by Daryl D. Brooks (the Black Ensemble's managing director) with a cast of 12 uniformly multitalented actor-singer-dancers and an absolutely sensational onstage band of eight musicians led by conductor/keyboardist Adam Sherod. The production is simply delicious on every level, with exuberantly danced choreography by Reneisha Jenkins, stylish costumes by Marquecia Jordan and a wonderfully imagined kitchen set designed by Denise Karczewski that cleverly captures the show's theme of soul music and soul food. It is, all in all, a recipe for great success with not a single change of ingredients needed.
Featuring nearly 40 hit songs by 26 solo artists and groups of the period during which it was cooked up, the show takes an exceptionally clever approach to celebrating the irrepressible exuberance and heartache of both soul music and the many composers and performers who grew out of the gospel tradition and went on to dominate the pop music scene that coincided with the Civil Rights Movement. At the same time, the musical is a splendid showcase of the immense contemporary talent now at home in Chicago.
Serving as "head chefs" of the show's musical kitchen are Thee Ricky Harris (as Chef Ricky) — who kicks things off with stylish renderings of the spiritual "I Know It Was the Blood," "How Blue Can You Get" (a blues classic notably recorded by B.B. King) and "Tutti Frutti" (the rock and roll classic that was Little Richard's first hit) — as well as Qiana McNary (Chef Qiana), who nails the blues sound with her performance of Aretha Franklin's 1971 hit song "Dr. Feelgood." And while Harris oversees the "menu" of music and food throughout the show, McNary returns in the second act with a terrific rendering of Patti LaBelle's "Lady Marmalade."
But every one of the nine "sous chefs" in this production is sensational, including seven men (Vincent Jordan, Trequon Tate, Spencer Davis Milford, Makenzy Jenkins, Percy Nesbary III, LaRon James and Brandon Lewis) and two women (Caitlin Dobbins and Britt Edwards). And as they arrive on the set, entering from either its giant central "oven door" or one of the two "pantries" on either side of the stage, they sing and dance and cook up a delicious soulful feast that pays homage to Sam Cooke, The Temptations, Gladys Knight and the Pips, Marvin Gaye, Al Green, Barry White, Simply Red, McFadden and Whitehead, Peaches and Herb, The Whispers, The O'Jays, Otis Redding, Ashford and Simpson, Tina Turner, Friends of Distinction, Bobby Caldwell, The Delfonics, The Isley Brothers, Cheryl Lynn, Lou Rawls, Hall and Oats, George Benson and Gala Kahn.
And to bring it all to a rollicking finale, there is the Kool and the Gang song "Celebration," whose lyrics ("There's a party going on right here / A celebration to last throughout the year") ideally sum things up. It is only the actual servings of chicken, pot roast, mac and cheese, collard greens and peach cobblers that are missing.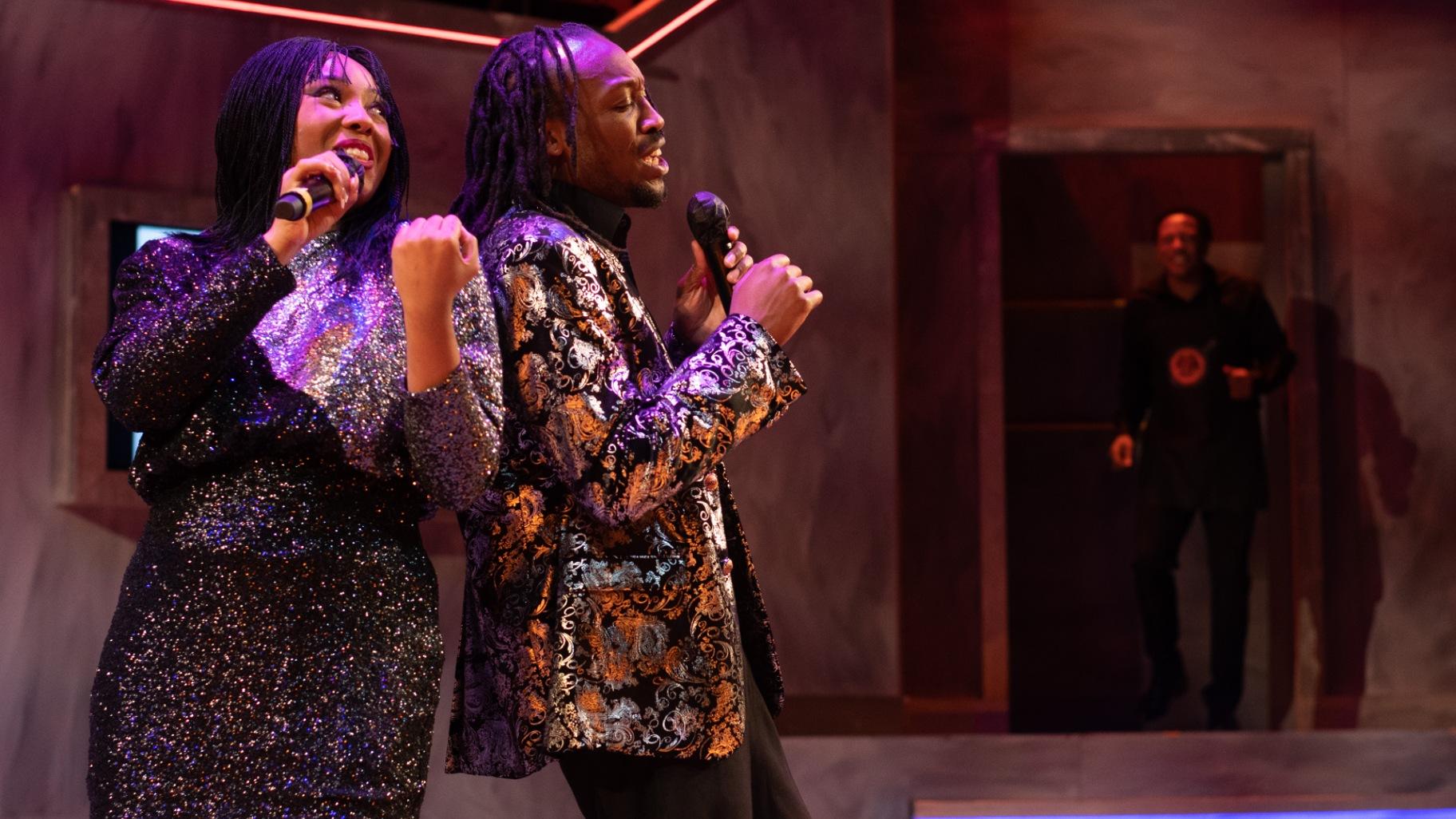 Caitlin Dobbins and Percy Nesbary III perform in "A Taste of Soul." (Darin M. Gladfelter)
Along the way each member of the cast has a chance to shine. And Brooks has supplied just enough of a brief introduction for each of the songs performed, along with a reminder of their famous creators and/or original performers.
Decked out in a grand blonde wig, Britt Edwards is a terrific Tina Turner as she sings "River Deep" and "Simply the Best." And in a toast to Gladys Knight and the Pips, she performs "Imagination," backed by Trequon Tate (who also sings as one of the O'Jays) and Brandon Lewis.
LaRon Jones uses his mellow voice to capture both Otis Redding (in performances of "Sitting on the Dock of the Bay" and "Try a Little Tenderness"), as well as Barry White (singing "My First, My Last, My Everything" and "Can't Get Enough of Your Love Babe").
Makenzy Jenkins sings Al Green's "Let's Stay Together" and "Love and Happiness." Percy Nesbary pays homage to Marvin Gaye with "Got to Give It Up," and joins Tate and the excellent Vincent Jordan to form The Isley Brothers and deliver a powerful take on "Fight the Power," as well as "That Lady" and "Groove With You." And Caitlin Dobbins is solid as a rock singing the Ashford and Simpson number "Solid." She also joins McNary and Edwards in Cheryl Lynn's "Got to Be Real."
The only White member of the cast (and there is a playful, knowing comment made about this fact) is Spencer Davis Milford, a superb dancer who performs two songs ("Holding Back the Years" and "If You Don't Know Me by Now" as Muck Hucknall, the lead singer of Simply Red, a British soul band of the 1980s). He also plays the American singer Bobby Caldwell, whose signature song was "What You Won't Do for Love."
Not surprisingly the opening night audience was on its feet dancing and singing to the show's grand finale, set to Kool & the Gang's "Celebration." A more ideal title for this show could not have been chosen. And once again I will shout out to all those New York producers who should come and see what's cooking on Chicago's Black Ensemble stage and then proceed to stir the pot on Broadway.
"A Taste of Soul" runs through Oct. 15 at the Black Ensemble Theater, 4450 N. Clark St. For tickets, visit blackensemble.org or call 773-769-4451.
One final note: As always, Jackie Taylor, the actress, playwright and producer who founded the Black Ensemble Theater in 1976 and serves as its CEO and executive producer, has big plans. In 2024, BET will break ground for its "neighborhood development initiative," a project designed to "create a cultural corridor along Clark Street" that will include a media center and new performance spaces, with plans for affordable apartments for artists to follow.
Note: This article was updated to specify Edwards performed songs by Tina Turner, not Patti LaBelle.
Follow Hedy Weiss on Twitter: @HedyWeissCritic
---