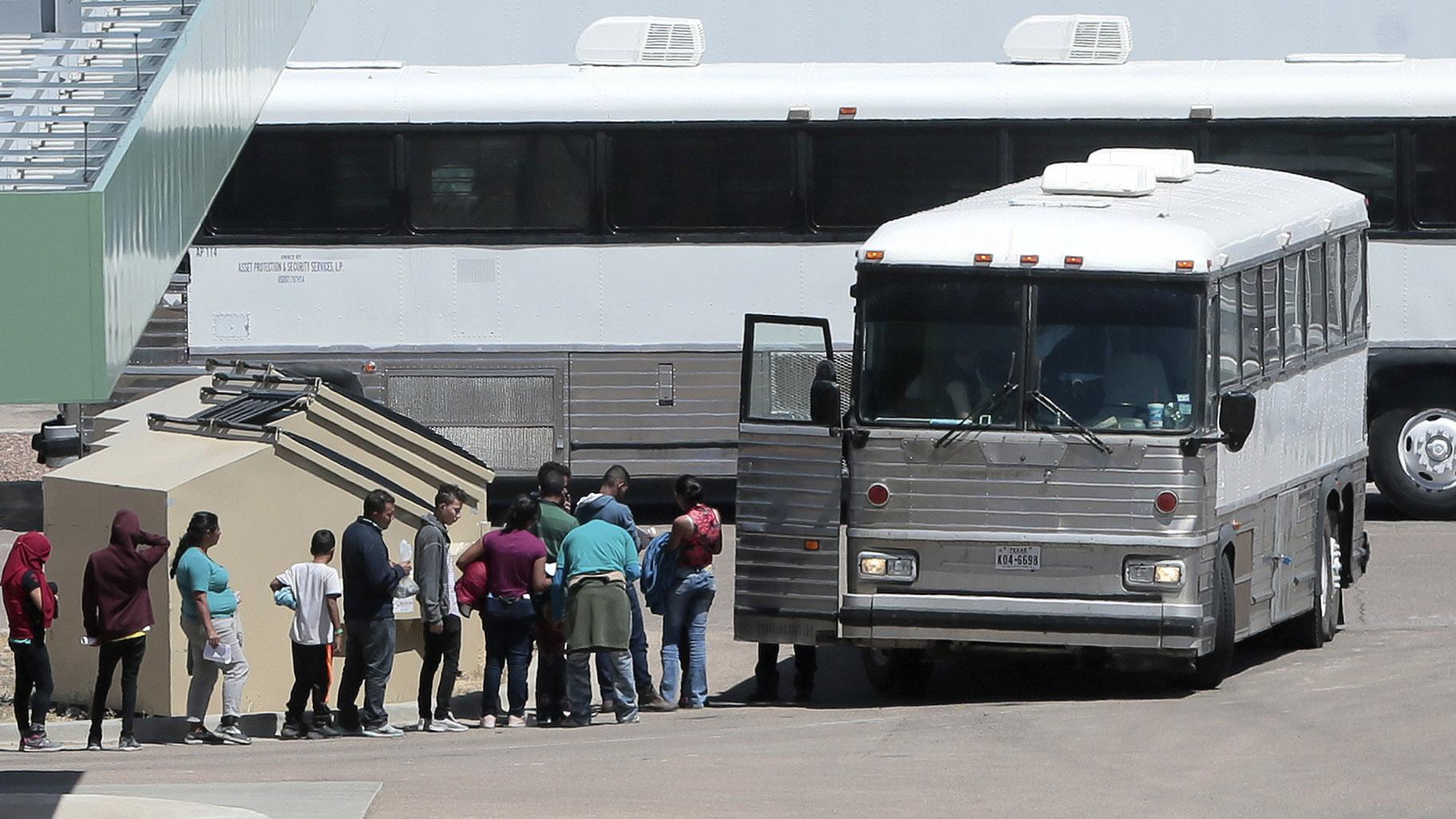 In this April 20, 2019 file photo, migrants are loaded onto a bus at the Border Patrol headquarters on Hondo Pass, in El Paso, Texas. (Mark Lambie / The El Paso Times via AP, File)
SPRINGFIELD, Ill. (AP) — Illinois will provide for Thursday's funeral and burial for the migrant toddler who died last week on a bus headed to Chicago from Texas, officials said.
Jismary Alejandra Barboza González, who would have turned 4 next week, died Aug. 10 while on a chartered bus, part of Texas Gov. Greg Abbott's program begun last year of sending migrants crossing into the state to Democratic-led cities across the country.
Rachel Otwell, spokesperson for the Illinois Department of Human Services, confirmed the girl's name and said the Illinois Welcoming Center, a partially state-funded program, will cover burial costs for Jismary. The child's great aunt, Gisela Gonzalez, said the family set out for the United States in May from their home in Colombia, where Jismary was born.
The funeral service for the girl is scheduled for Thursday at a church in Warsaw, Indiana.
Welcoming centers offer comprehensive services for migrants. But Otwell said the family has not requested other help.
Otwell declined to identify which of the 36 welcoming center locations would provide the service. Nor would she say from what country Jismary's family had emigrated.
"Given the sensitivity of this tragic event, and the way migrancy has been unfortunately politicized, (the department) does not believe it is appropriate to share certain details, such as the exact center that has supported the family," Otwell said.
Jismary died Thursday while the bus traveled Interstate 57 through Marion County, in southern Illinois, about 90 miles east of St. Louis. County Coroner Troy Cannon's autopsy was inconclusive as to the cause of death. He ordered microscopic tests of tissue samples from the child in a search for abnormalities. The coroner's office said Wednesday it had no updates.
Gisela Gonzalez, who lives in Venezuela, said there was no indication that the child was in distress or needed medical attention before she apparently suffered cardiac arrest on the bus. She said Jismary's parents faced down the treacherous Darien Gap and crossed five Central American countries and Mexico before turning themselves in at a U.S. immigration checkpoint.
According to the Texas Division of Emergency Management, passengers on the bus, which departed from the border city of Brownsville, were given temperature checks and asked about health conditions before boarding. The agency's Friday statement confirming the girl's death marked the first time Texas authorities have announced a death since it began shuttling migrants last August.
Texas officials said that when the child became ill, the bus pulled to the side of the road and on-board security personnel called emergency responders. Paramedics assisted the girl, but she later died at a hospital.
Abbott's Operation Lone Star has dispatched 30,000 migrants who have crossed into Texas seeking asylum to Chicago, Washington, New York, Philadelphia, Denver and Los Angeles — so-called sanctuary cities — in a protest he says will end when President Joe Biden "secures the border."
---