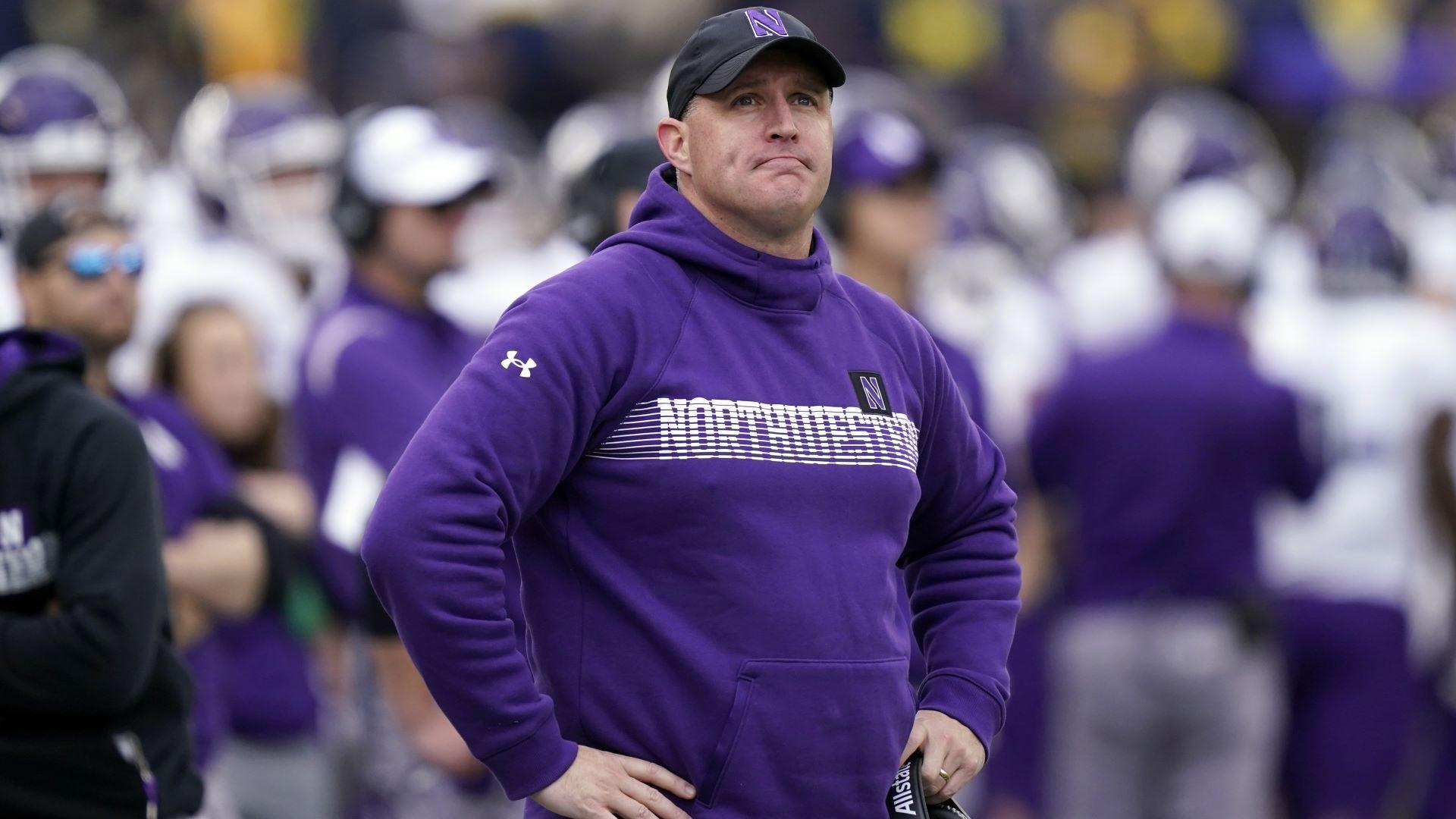 Northwestern head coach Pat Fitzgerald stands on the sideline during the first half of an NCAA college football game against Michigan, Oct. 23, 2021, in Ann Arbor, Mich. (AP Photo/Carlos Osorio, File)
A former Northwestern football player filed the first lawsuit against Pat Fitzgerald and members of the school's leadership, seeking damages stemming from a hazing scandal that cost the former football coach his job.
The player, identified in the lawsuit as John Doe, alleged Tuesday in the Cook County Court in Chicago that Fitzgerald, Northwestern University President Michael Schill, the board of trustees and athletic director Derrick Gragg enabled and concealed sexual misconduct and racial discrimination.
The player, who was on the football team from 2018 to 2022, had his filing submitted by the Chicago-based Salvi Law Firm.
"It wasn't just confined to one bad actor," attorney Parker Stinar said in an interview with The Associated Press.
The lawsuit allegations include naked players in locker rooms forcing freshmen to also strip naked and then perform various acts. It also accuses Fitzgerald of enabling a culture of racism, including forcing players of color to cut their hair and behave differently to be more in line with the "Wildcat Way."
Northwestern spokesperson Jon Yates said the school's policy is to not comment on the specifics of pending litigation.
"Protecting the welfare of every student at Northwestern University is central to our mission and something we approach with the utmost seriousness," Yates said.
Fitzgerald's agent, Bryan Harlan, declined comment and the office of Fitzgerald's lawyer, Dan Webb, said Tuesday that Webb had no comment. Webb is a former U.S. attorney has been one of the most sought after private lawyers in the country for decades. A message seeking comment was left with Gragg.
More lawsuits, filed by multiple law firms, are expected to follow from former football and baseball players as well as from student-athletes who played other sports for the Wildcats.
Criminal charges are also possible.
Illinois, like nearly all states in recent decades, has criminalized hazing. It is typically a Class A misdemeanor, which can carry up to one year in prison.
At least eight former Northwestern football players have retained attorneys following recent revelations that led to Fitzgerald's firing and sharp criticism of university leadership for its initial response to the allegations.
Civil rights attorney Ben Crump and the Chicago-based Levin & Perconti law firm have scheduled a news conference Wednesday morning in Chicago with former Northwestern athletes. Crump has represented the families of George Floyd and others in high-profile civil rights cases.
Stinar represented about 200 of the 1,050 people who shared in a $490 million financial settlement last year with the University of Michigan after saying they were sexually assaulted by a late sports doctor, Robert Anderson. The attorney also had clients among the hundreds of victims of sexual abuse by former Michigan State and USA Gymnastics doctor Larry Nassar and were part of a $380 million settlement in late 2021.
Northwestern may eventually join a long list of American universities that have made large payouts following accusations of sexual abuse.
Fitzgerald was fired last week after a university investigation found allegations of hazing by 11 current or former players, including "forced participation, nudity and sexualized acts of a degrading nature," Schill wrote.
Fitzgerald, who led Northwestern for 17 seasons and was a star linebacker for the Wildcats, has maintained he had no knowledge of the hazing. Fitzgerald said after being fired that he was working with Harlan and Webb to "protect my rights in accordance with the law."
After the school initially suspended Fitzgerald, The Daily Northwestern published an article including allegations from a former player who described specific instances of hazing and abuse and suggested he may have been aware.
"He knew what was going on and he permitted it for years upon years upon years," Stinar told the AP.
---