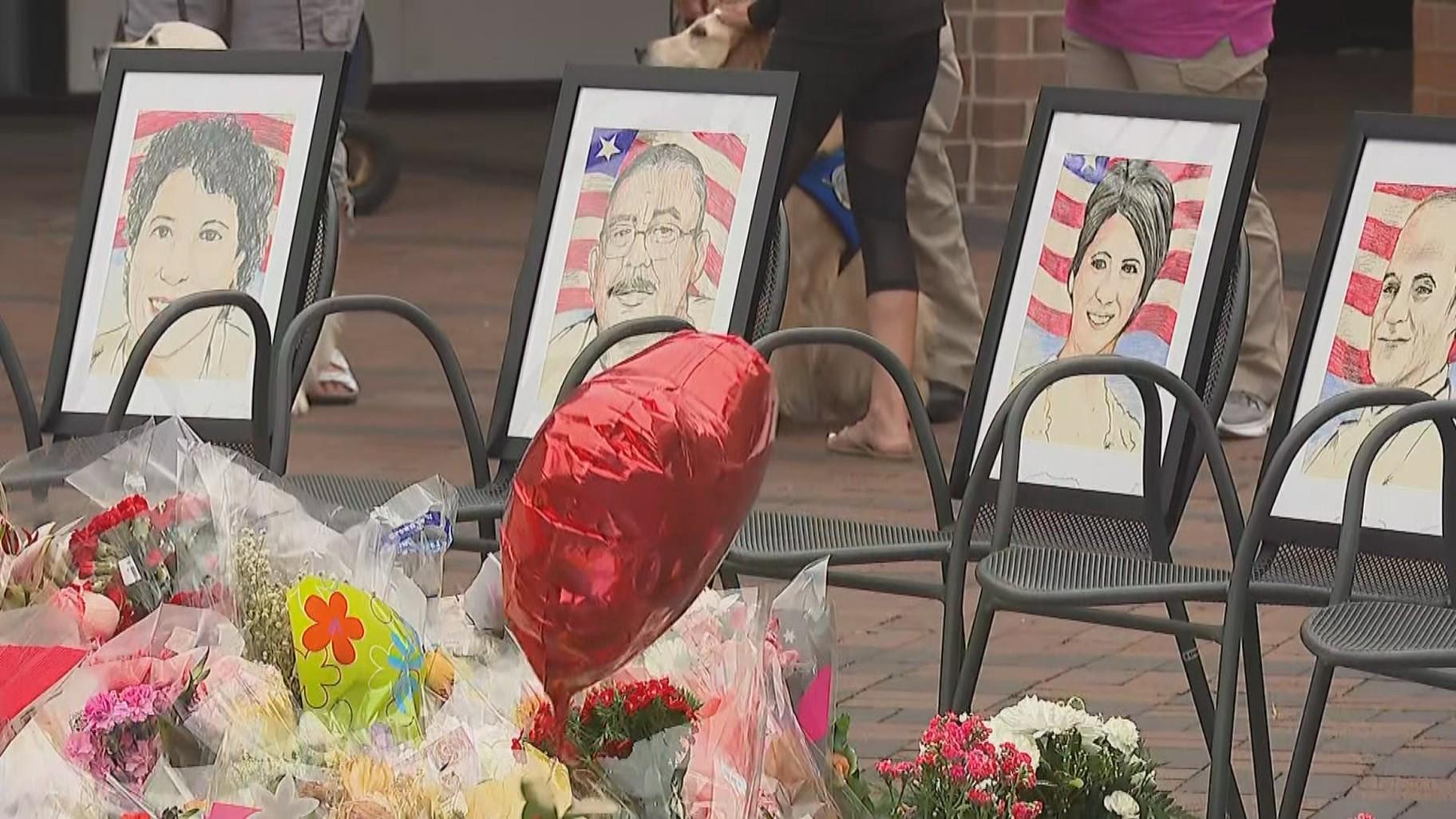 A memorial to the victims of the July 4, 2022, shooting in Highland Park. (WTTW News)
The father of the alleged Highland Park parade gunman is set to go to trial in November on several reckless conduct charges.
Judge George Strickland set a Nov. 6 trial date for Robert Crimo Jr. during a hearing Friday. Crimo Jr. faces seven counts of reckless conduct for allegedly helping his son, Robert Crimo III, obtain a firearm owner's identification card (FOID).
Crimo III is accused of killing seven people and wounding dozens more during Highland Park's Fourth of July Parade last year.
Crimo Jr. informed the court Friday he has waived his right to a jury trial and is instead opting for a bench trial where his fate will be determined by Strickland alone. Attorneys in the case believe that trial could last a week or more.
Prosecutors have alleged Crimo Jr. took a "reckless and unjustified risk" in December 2019 when he signed his son's application for a FOID card. At the time, Crimo III was only 19 years old and could not legally obtain a FOID card or purchase a firearm without his father's assistance.
Highland Park police had two previous interactions with Crimo III in 2019. One occurred that April after he allegedly attempted suicide. Months later in September, Crimo III allegedly threatened family members, saying he was "going to kill everyone," according to prosecutors.
Lake County prosecutors on Friday said they're also seeking to introduce Crimo III's school disciplinary and therapeutic records at trial to try and prove Crimo Jr. had knowledge of his son's "violent ideations" prior to aiding him in his FOID application.
Strickland did not immediately rule on whether those records would be admitted at trial.
"So from what I understand of the state's theory, it involves the mental state of the defendant in this case, vis-à-vis his son," Strickland said. "In other words, what did he know and when did he know it."
The judge is also still weighing a request for extended media coverage of the trial. He set a hearing date in August to hear from any potential witnesses who may be opposed to their testimony being filmed or recorded.
Reckless conduct charges are a Class 4 felony in Illinois and Crimo Jr. faces up to three years in prison per count, though sentences on such charges are typically served concurrently.
His son, Crimo III, has been indicted on 117 charges, including 21 counts of first-degree murder stemming from the mass shooting. His defense attorney previously indicated a trial date could be set in that case at their next hearing in September.
Highland Park residents recognized the anniversary of the mass shooting earlier this month with a moment of silence, remembrance ceremony and march in honor of the victims.
Contact Matt Masterson: @ByMattMasterson | [email protected] | (773) 509-5431
---