Prosecutors say the man charged with killing seven people at Highland Park's Fourth of July parade allegedly confessed his involvement to investigators, telling them he "looked down his sights, aimed and opened fire" at parade-goers, stopping twice to reload his high-powered rifle with 30-round magazines.
A Lake County judge on Wednesday ordered Robert Crimo III, 21, held without bond following his arrest after Monday's mass shooting.
Lake County prosecutors on Tuesday charged Crimo with seven counts of first-degree murder stemming from the attack. He is expected to face numerous additional charges that have not yet been filed.
Crimo, who was arrested after an extensive manhunt Monday, fired more than 80 rounds from a Smith & Wesson M&P 15 semi-automatic rifle during the attack and disguised himself in women's clothing in order to conceal distinctive face and neck tattoos and blend into the crowd as he made his escape, prosecutors alleged.
Six of the seven people killed were previously identified: 64-year-old Katherine Goldstein of Highland Park; 35-year-old Irina McCarthy and her 37-year-old husband Kevin McCarthy, both of Highland Park; 63-year-old Jacquelyn Sundheim of Highland Park; 88-year-old Stephen Straus of Highland Park; and 78-year-old Nicolas Toledo-Zaragoza of Morelos, Mexico.
On Wednesday, prosecutors named Eduardo Uvaldo, 69, as the seventh victim killed at the parade.
During the hearing, prosecutors said Crimo accessed a business rooftop at the corner of Central Avenue and 2nd Street via a fire escape and began firing down on pedestrians at around 10:14 a.m.
A witness told investigators Crimo was "scanning the crowd" just before they saw muzzle flashes coming from the rifle, prosecutors said. Investigators recovered numerous surveillance and cell phone videos from the scene, one of which allegedly showed Crimo running from an alley near the business and dropping an object wrapped in cloth.
Police later recovered that object — a Smith & Wesson M&P 15 semi-automatic rifle that still had a round in the chamber — and discovered that it had been purchased by Crimo at a local gun store in 2020, prosecutors said.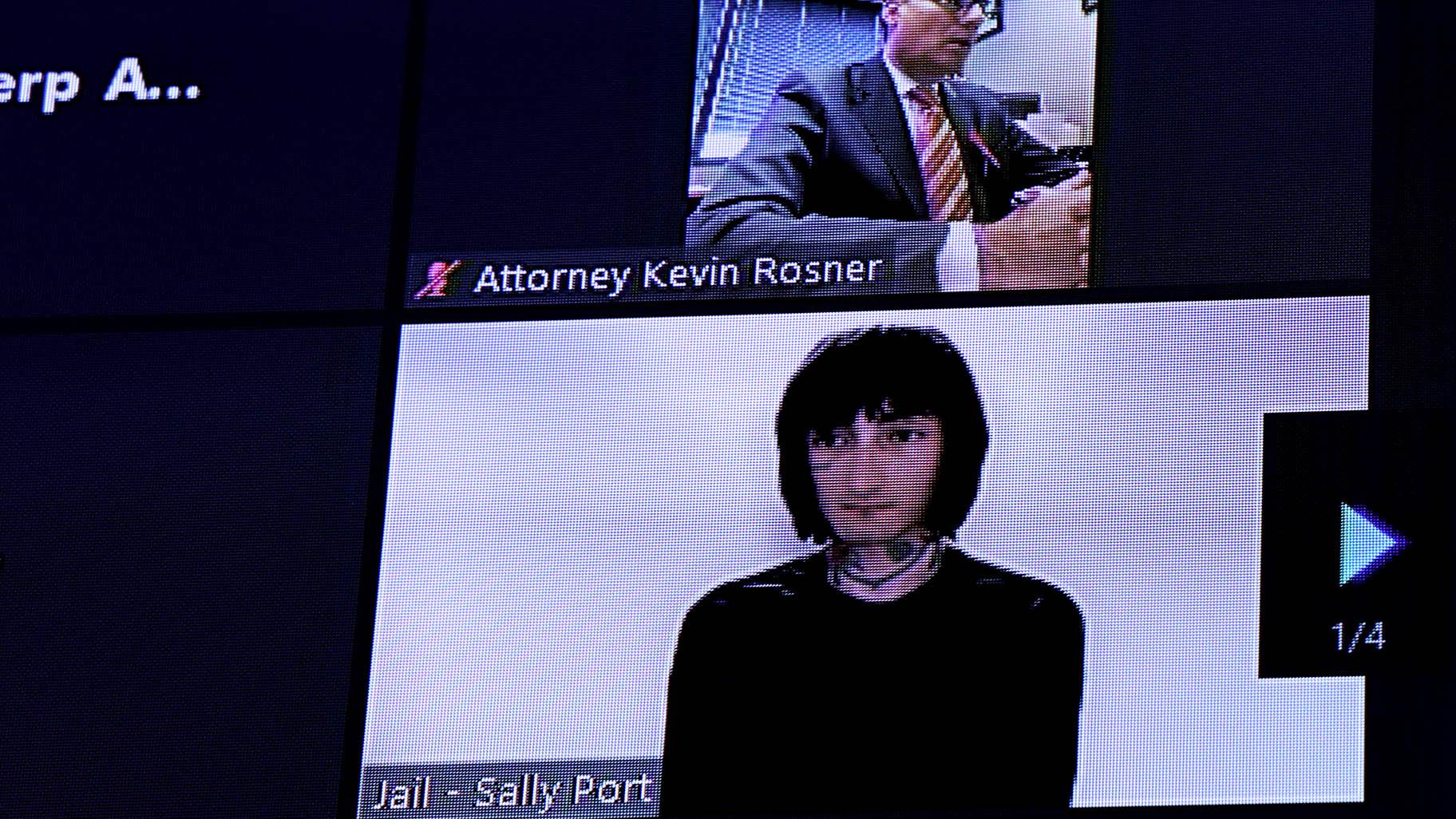 Robert E. Crimo III, 21, who is charged with seven counts first-degree murder, appears virtually for a bond hearing on July 6, 2022, at Lake County Circuit Court in Waukegan. (Antonio Perez / Chicago Tribune via Pool Photo)
An hourslong manhunt during which residents hunkered down in businesses or received police escorts to their homes ended with a traffic stop and brief chase Monday evening, when authorities detained Crimo.
Following his arrest, prosecutors said Crimo made voluntary statements to investigators, telling them he had dressed in women's clothing and wore makeup to cover his tattoos because he believed he would be recognized.
He further stated that he had "looked down his sights, aimed and opened fire" at people across the street from the rooftop where he was located, according to prosecutors. During this interview Crimo allegedly stated he fired a full 30-round magazine, reloaded with a second 30-round magazine that he emptied, and then reloaded a second time with a third 30-round magazine.
Investigators later recovered those three magazines and 83 spent shell casings from the rooftop, prosecutors said.
Crimo also allegedly identified both himself and his rifle in still images taken from surveillance footage.
After the shooting, police said Crimo walked to his mother's home, took her vehicle and drove out of state to Wisconsin. Crimo later turned back to Illinois, where he was later arrested after deciding he was not prepared to pull off a shooting in Wisconsin, Lake County Major Crime Task Force spokesman Christopher Covelli said Wednesday.
According to Covelli, Crimo had not specifically planned to drive to Madison and carry out another attack, but rather happened upon a celebration while driving in that area and considered doing so. He also discarded his phone in the Madison area, which Covelli said has since been recovered.
The Highland Park shooting occurred along a spot on the parade route where many residents had staked out prime viewing points early in the day for the annual celebration. Dozens of fired bullets sent hundreds of parade-goers — some visibly bloodied — fleeing. They left a trail of abandoned items that showed everyday life suddenly, violently disrupted: a box of chocolate cookies spilled onto the grass; a child's Chicago Cubs cap; baby strollers, some bearing American flags.
Highland Park police had two previous interactions with Crimo in 2019. One occurred that April after Crimo allegedly attempted suicide. Months later in September, Crimo allegedly threatened family members, saying he was "going to kill everyone."
Police at that time confiscated from him 16 knives, a dagger and a sword, but no charges were filed against him. Crimo did not own any firearms at that time, but was able to legally purchase the rifle used in Monday's shooting, according to law enforcement.
Crimo purchased four firearms in 2020, according to Covelli: the rifle used Monday, a Kel-Tec SUB2000, a Remington 700 rifle and a shotgun. The following year, he allegedly bought a Glock 43x handgun.
No federal charges have been brought against Crimo as of Wednesday. U.S. Attorney for the Northern District John Lausch atteneded a press conference in Highland Park this week where he declined to speak on the potential for any federal charges in this case and told reporters that state murder charges are appropriate at this time.
On Tuesday, private attorney Thomas Durkin had indicated he'd been retained to represent Crimo, but during Wednesday's hearing, he told the court that he'd since learned of a "personal conflict of interest" that would prevent him from serving as his attorney.
Crimo was instead represented Wednesday by Lake County's public defender's office.
Crimo is due back in court for a hearing July 28.
The Associated Press contributed to this report.
Contact Matt Masterson: @ByMattMasterson | [email protected] | (773) 509-5431
---