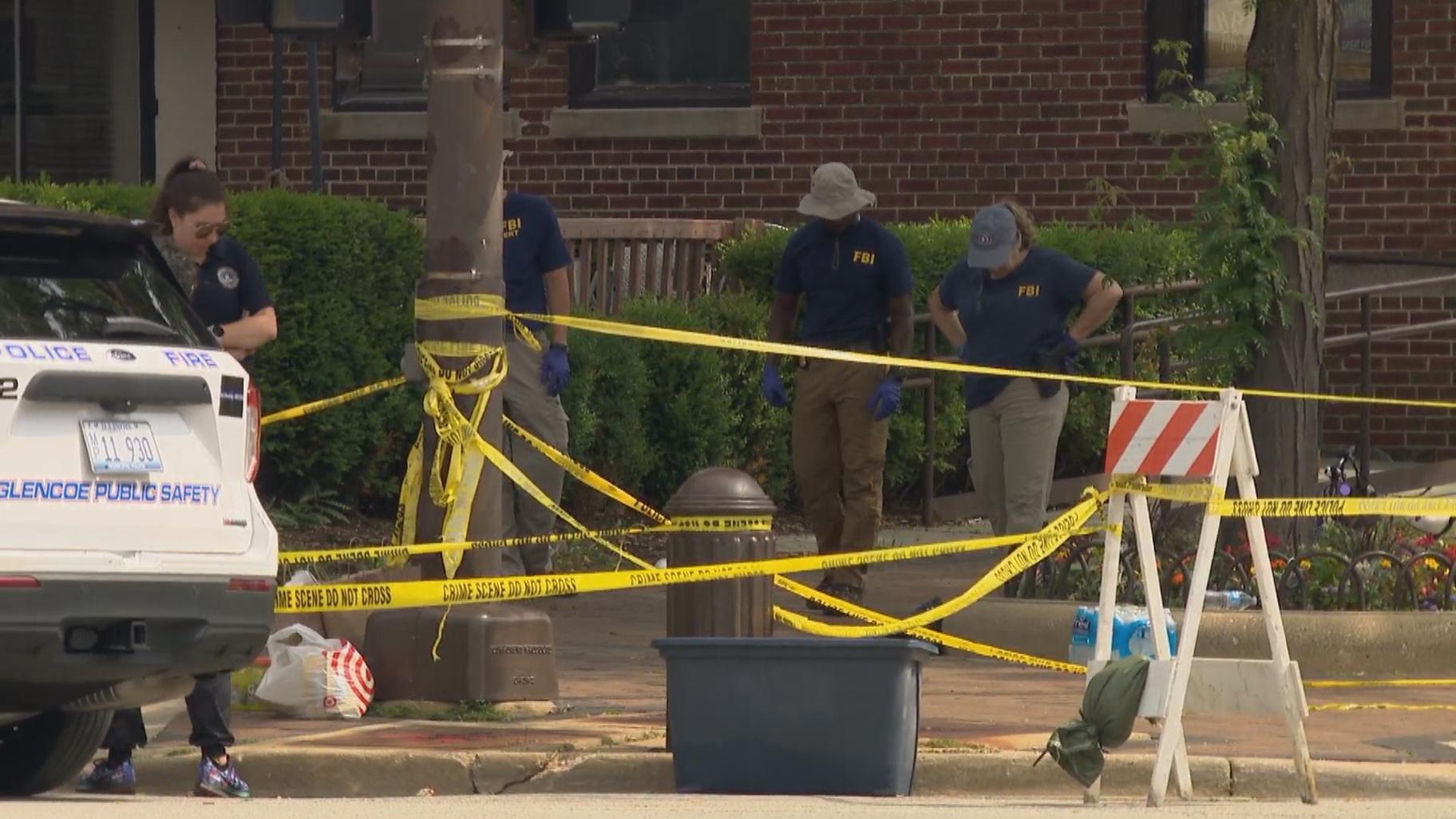 FBI investigators examine the scene in downtown Highland Park on July 5, 2022, a day after a mass shooting occurred at the Fourth of July parade. (WTTW News)
The father of the man accused of killing seven people and wounding dozens of others during the Fourth of July parade in Highland Park has been charged, prosecutors announced Friday.
Lake County State's Attorney Eric Rinehart announced Robert Crimo Jr. — the father of Robert Crimo III — was arrested Friday and charged with seven counts of reckless conduct for allegedly helping his son obtain a Firearms Owner Identification (FOID) card.
"In this case, that system failed when Robert Crimo Jr. sponsored his son," Rinehart said during a press conference Friday. "He knew what he knew, and he signed the form anyway. This was criminally reckless and a contributing cause to the bodily harm suffered by the victims on July 4."
Reckless conduct charges are a Class 4 felony in Illinois and Crimo Jr. faces up to 3 years in prison per count, though sentences on such charges are typically served concurrently.
Crimo III, who was arrested in July after an extensive manhunt, allegedly fired more than 80 rounds from a Smith & Wesson M&P 15 semi-automatic rifle during the attack and disguised himself in women's clothing in order to conceal distinctive face and neck tattoos and blend into the crowd as he made his escape.
According to Rinehart, Crimo Jr. took a "reckless and unjustified risk" when in December 2019 he signed his son's application for a FOID card. At the time, Crimo III was only 19 years old and could not legally obtain a FOID card or purchase a firearm without his father's assistance, Rinehart said.
According to Rinehart, Crimo Jr. acted recklessly because "of the information he had about his own son."
Rinehart didn't get into specifics Friday, but Highland Park police had two interactions with Crimo III in 2019. One occurred that April after he allegedly attempted suicide. Months later in September, Crimo III allegedly threatened family members, saying he was "going to kill everyone."
The seven charges filed Friday relate to the seven people killed during the parade, Rinehart said. Those victims were: 64-year-old Katherine Goldstein, 35-year-old Irina McCarthy and her 37-year-old husband Kevin McCarthy, 63-year-old Jacquelyn Sundheim, 88-year-old Stephen Straus, 78-year-old Nicolas Toledo-Zaragoza and 69-year-old Eduardo Uvaldo.
Crimo III has since been indicted on 117 criminal charges, including 21 counts of first-degree murder stemming from the mass shooting.
Rinehart said Crimo Jr. turned himself in to authorities in Highland Park and will appear in bond court Saturday.
"Everyone deserves to feel safe in every community," Rinehart said. "For too long we've allowed gun violence to destroy lives and neighborhoods, we have allowed a cloud of fear to hang over every part of American life."
Contact Matt Masterson: @ByMattMasterson | [email protected] | (773) 509-5431
---