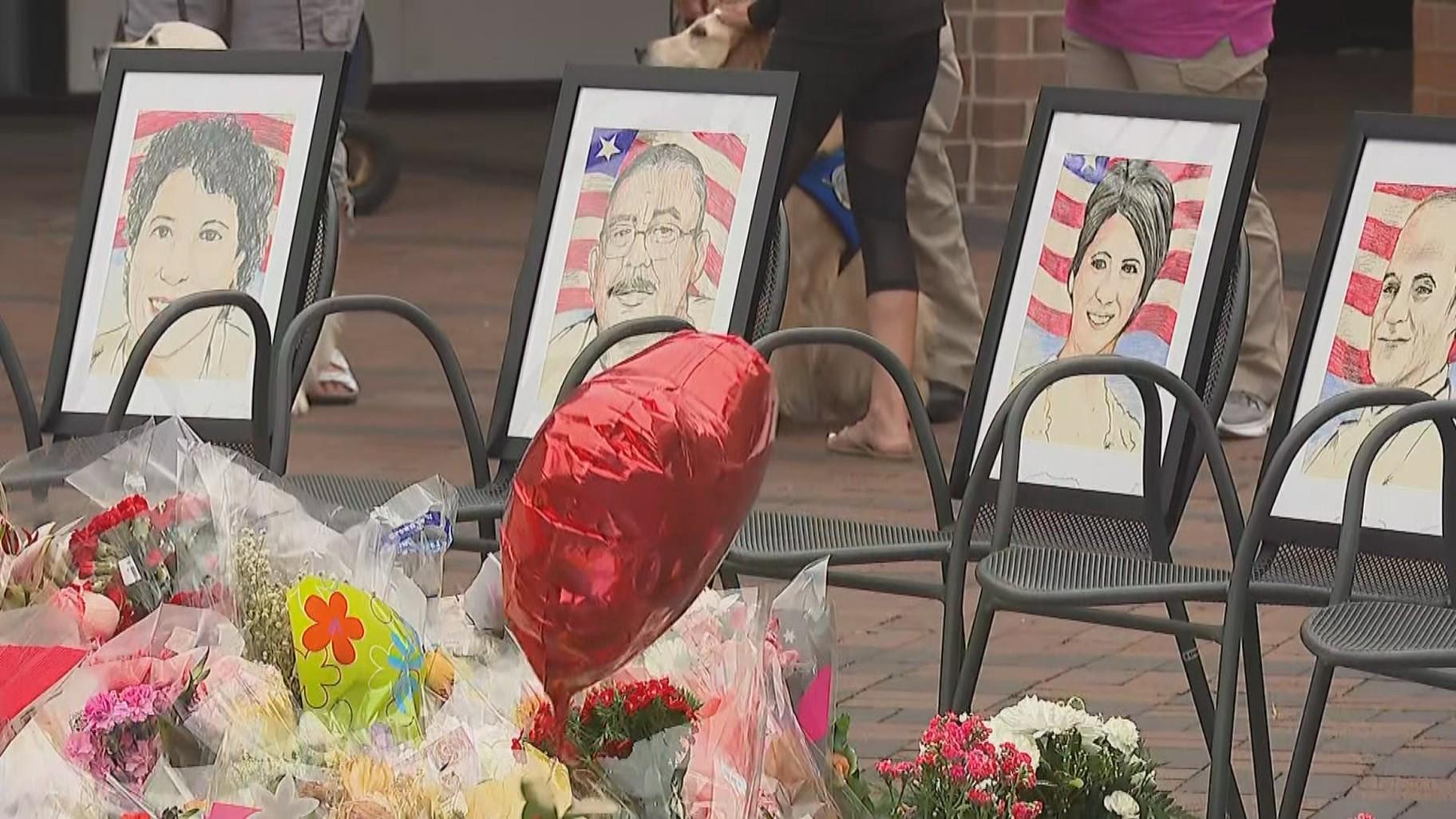 A memorial to the victims of the July 4, 2022, shooting in Highland Park. (WTTW News)
Attorneys for the man accused of killing seven people and wounding scores more in a shooting at Highland Park's Fourth of July parade last year believe a trial date could be set at an upcoming hearing.
Robert Crimo III, 22, appeared in court during a brief management hearing Tuesday. Lake County prosecutors outlined the extensive discovery evidence they are continuing to compile and turn over to the defense.
While that process remains ongoing, defense attorney Anton Trizna said he believes the sides may be ready to schedule a trial when they next meet for a hearing on Sept. 11.
"We believe at that point we'll be able to set a meaningful trial date," Trizna told the court Tuesday.
Crimo III was indicted last year on 117 charges, including 21 counts of first-degree murder stemming from the mass shooting.
He allegedly fired more than 80 rounds from a Smith & Wesson M&P 15 semi-automatic rifle during the attack and disguised himself in women's clothing in order to conceal distinctive face and neck tattoos and blend into the crowd as he made his escape.
More than 50 people were shot, including seven people who were killed. Those victims were: 64-year-old Katherine Goldstein, 35-year-old Irina McCarthy and her 37-year-old husband Kevin McCarthy, 63-year-old Jacquelyn Sundheim, 88-year-old Stephen Straus, 78-year-old Nicolas Toledo-Zaragoza and 69-year-old Eduardo Uvaldo.
Prosecutors have said Crimo III confessed to the shooting after his arrest, telling investigators he "looked down his sights, aimed and opened fire" at parade-goers.
Also attending Tuesday's hearing was Crimo III's father, Robert Crimo Jr., who has been charged separately with seven felony counts of reckless conduct for allegedly helping his son obtain a Firearms Owner Identification (FOID) card even after Crimo III had made past violent threats.
Crimo III remains held in custody without bond.
Contact Matt Masterson: @ByMattMasterson | [email protected] | (773) 509-5431
---